Merissa McCullugh
This stunning gal is Merissa McCullugh; the longtime girlfriend of NFL player LeGarrette Blount, the fab running back with the Philadelphia Eagles. He also played with the Tennessee Titans, Tampa Bay Buccaneers, Pittsburgh Steelers and New England Patriots, the team with whom he won two Super Bowls rings, first against the Seahawks and subsequently against the Atlanta Falcons
LeGarrette Blount the University of Oregon graduate, was born in Madison, Florida. He was named the FedEx NFL Ground Player of the Week last year. LeGarrette signed with the Tennessee Titans as an undrafted free agent in 2010.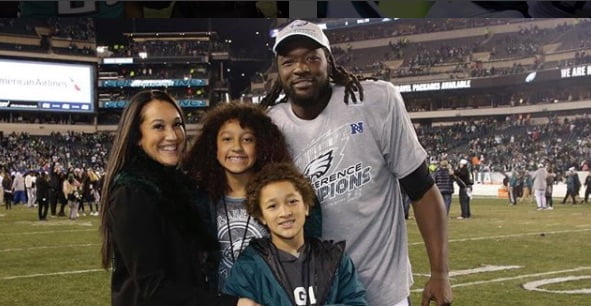 The Titans waived him on September 5, 2010. Was claimed off waivers by the Tampa Bay Buccaneers the following day; TB then traded him to the Patriots on April 27, 2013.
We all know Blount has his temper, some people think he is no stranger to trouble. Who can't forget that interview with Sports Illustrated about the Boise State Broncos in 2008 while in college in Oregon?
He was suspended for the rest of the 2009 season; sometime later, threw a punch at his Titans teammate Eric Bakhtiari.
However, he has been on his best behavior ever since. But even in those dark days, when the rest didn't speak highly of him, one person stood by his side, supporting him and showing him all the love she had for him, that person is his girlfriend Merissa.
Meet Merissa McCullugh
30-year-old Merissa T. McCullugh from Eugene, Oregon; she is the daughter of Frank and Alaina McCullugh, met her football stud in 2009, while they attended at the University of Oregon.
Merissa gave birth to her beautiful daughter Tiara in May 2007 and LeGarrette's son LeGarrette Jr., on September 16,  2009; while he was suspended from the Ducks, the birth of his son was indeed a wake-up call to Blount; he realized he had to mend his ways. A few months after the birth of the son, Blount was reinstated in the team, Merissa remembers that day.
"He was so happy" Merissa said. "In that moment knew he'd gotten the chance to play the sport he loved again. He could see that all the hard work he had put in had paid off."
More photos below.