Lisa Porter
This stunning lady is Mrs. Lisa Porter! She is the loving and caring mother of NBA player Michael Porter Jr.; her son is the 6'10" power forward for the Denver Nuggets.
Before entering the  2018 NBA Draft, where the Nuggets selected him 14th overall in the first round, Porter Jr. played college basketball with the Missouri Tigers at the University of Missouri.
His decision to go to the University of Missouri after he had committed to play with the Huskies at the University of Washington came after his father, Mike Porter Sr., replaced Lorenzo Romar in the coaching position at Missouri.
Michael and dad Mike Porter came Lisa's younger son Jontay Porter, the 6'11" power forward currently playing for the Memphis Grizzlies.
Michael Porter Jr. NBA Career
June 21, 2018: The Denver Nuggets selected Michael Porter Jr. in the first round (14th overall selection) in the 2018 NBA draft out of the University of Missouri.
 July 3, 2018: Michael Porter Jr. signed a rookie-level contract with Denver.
July 19, 2018: He underwent a second back surgery.
October 31, 2019: Portter Jr. made his NBA debut against the New Orleans Pelicans.
December 29, 2019: He made his first career start against the Sacramento Kings.
 September 29, 2021: He signed a contract extension with the Denver Nuggets.
Michael Porter Jr. Contract and Salary
On September 29, 2021, Michael Porter Jr. signed a five-year, $172.55 million contract extension with the Nuggets; the deal included a $150,493,600 guarantee and an annual salary of  $35.8 million.
Michael Porter Jr Parents
The NBA small forward Michael Porter is one of the children born to Lisa and Michael Porter Sr.
Michael Porter Jr.  mother Lisa Porter
Lisa Porter was born Lisa Jo Becker on July 19, 1965; in 1983, Mrs. Porter averaged  58.7 points per game at Cedar Rapids High School and subsequently at the University of Iowa. Her sister Robin Pingeton also played basketball at St. Ambrose University; she is nowadays head coach of Mizzou's women's basketball team.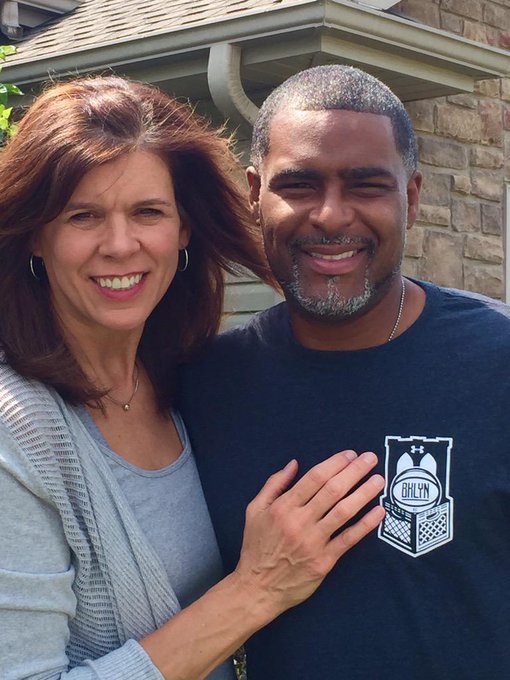 In July 2018, he gifted his momma with a brand new car; he posted Lisa's reaction on Instagram along with a heartfelt caption.
Mom…I love you so much! It's such a blessing for me to be able to bless you like this, it's been a dream of mine! You are an angel to me and the most incredible mom in the world. There are so many things you've done for us kids that are so selfless of you I can't comprehend it. I wanna say thank you for stopping your career of being a professional basketball player to raise 8 kids.

Thank you for being a stay-at-home mom and homeschooling all of us. Thank you for being the last one to go to sleep and the first one awake. Thank you for the endless amount of clothes and dishes you've washed for us growing up. Thank you for all the food you've cooked for us.

Thank you for making sure we all made it to our AAU tournaments and summer camps even when the money wasn't always there. But most of all thank you and Dad for raising us to trust God's word and lean on Him! I know I'm a knucklehead sometimes but I just wanna make you proud.
Michael Porter Jr. Father Michael Porter Sr.
Lisa Porter met her husband, Michael Porter Sr. through Athletes in Action; at the time, she was working as a  financial analyst for Hewlett Packard in Fort Collins, Colorado; they tied the knot in May 1993.
Mr. Porter Sr. played college basketball at the University of New Orleans; he graduated in 1989 with a degree in Literature. Michael Porter worked several years with  Robin Pingeton's women's basketball staff; in 2016, he coached the Huskies at Washington and finally joined Mizzou coaching staff in 2017; he served as Director of Player Development in 2019-20.
Michael Porter Jr. Siblings

In addition to Jontay and Michael, Lisa is the proud momma of six more children; Jayda, Jevon, Coban, Izaak, Bri, and Cierra. All of Mrs. Porter's children play basketball, Cierra and Bri promising basketball athletes whose careers came to an end due to knee injuries.
6'3″ Bri Porter was born Abrianna   May 18, 1995, in Cincinnati, Ohio. She graduated from Mizzou with a double major in Mathematics and Physics. Bri married Reece Bader in April 2018. Her stud born Aaron Reece Bader is a loan specialist at Veterans United Home Loans; he graduated with a bachelor's degree in History from the University of Missouri in 2019.
6'4″ Cierra, born September 7, 1996, also graduated from Mizzou. Before Mizzou, Cierra played at Rock Bridge High School. Cierra lives in Columbia; she owns the swimwear brand Amini Swim and is a photographer and videographer of Cierra Jade Photography. A couple of years ago, Cierra dated NBA player Matisse Thybulle, a shooting guard for the Philadelphia 76ers.
Michael's brother Coban Porter was born May 6, 2001; Coban, who is 6'4, played basketball at Father Tolton Catholic High School before committing to the University of Denver.
6'8 Jevon Porter, also an outstanding power forward with the Trailblazers at Father Toltpon catholic, will graduate in 2022; he has verbally committed to play at Pepperdine. Jevons averaged 13.6 points per game, 9 rebounds, and 1.2 assists.
Izaak Porter, also a Father Tolton Catholic High School student, opted for a different path, as the young freshman plays on the football team (tight end and defensive end).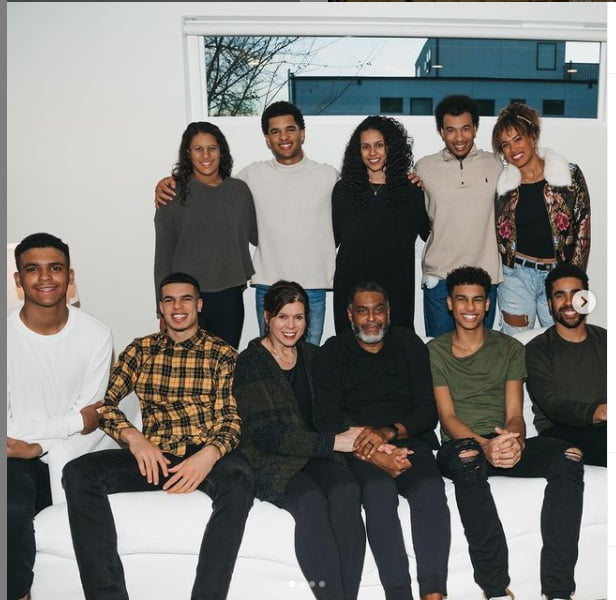 Michael Porter Jr Girlfriend
It looks like Michael Port Jr. is single now; he split up from former Bachelor's contestant Madison Prewett in April 2021. However, here is what we can tell you about his former flames.
Michael Porter & Madison Pettis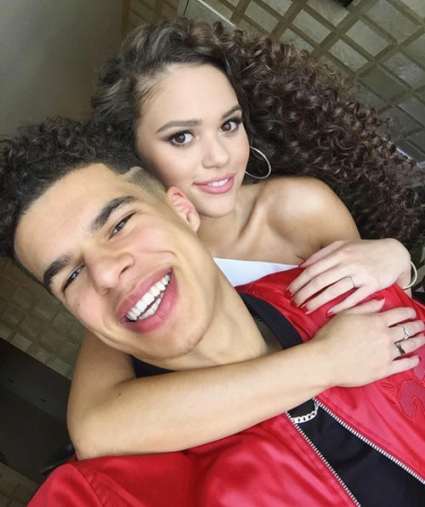 Michael and actress Madison Pettis dated in 2017; Pettis, originally from Arlington, Texas,  appeared on the Disney series Cory in the House, Hannah Montana, starred as The Rock's daughter in the film  The Game Plan, Beverly Hills Chihuahua 2 and 3, American Pie Presents Girls' Rule, and He's All That. They split up in 2018.
Michael Porter & Tiffany Chantharangma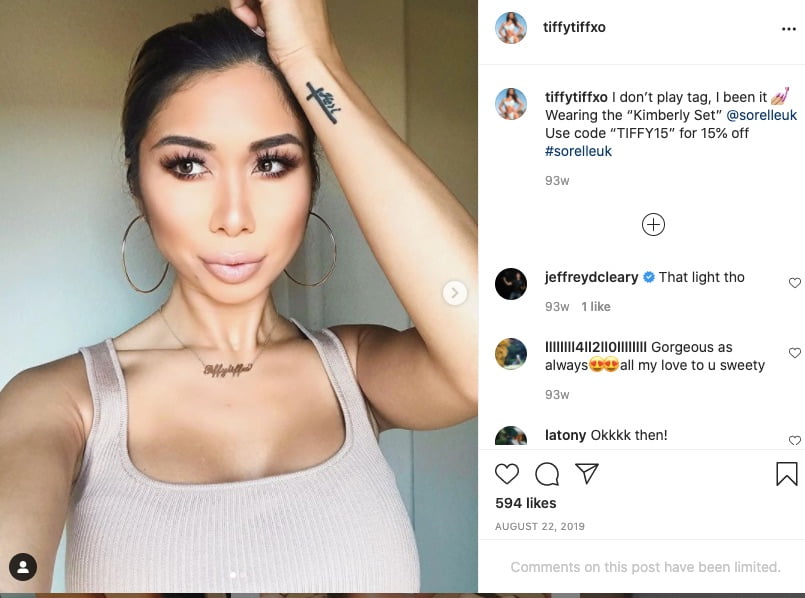 Instagram model Tiffany Chantharangma and Michael Prter Jr. started dating in December 2018; she confirmed their relationship in March. Their relationship, however, didn't last long, and it started to crumble after media reporter Porter Jr. was cheated on Tiffany with a girl named Elsy Guevara, another Instagram model and close friends with LiAngelo Ball's ex-girlfriend Izzy Morris.
Michael Porter & Madison Prewett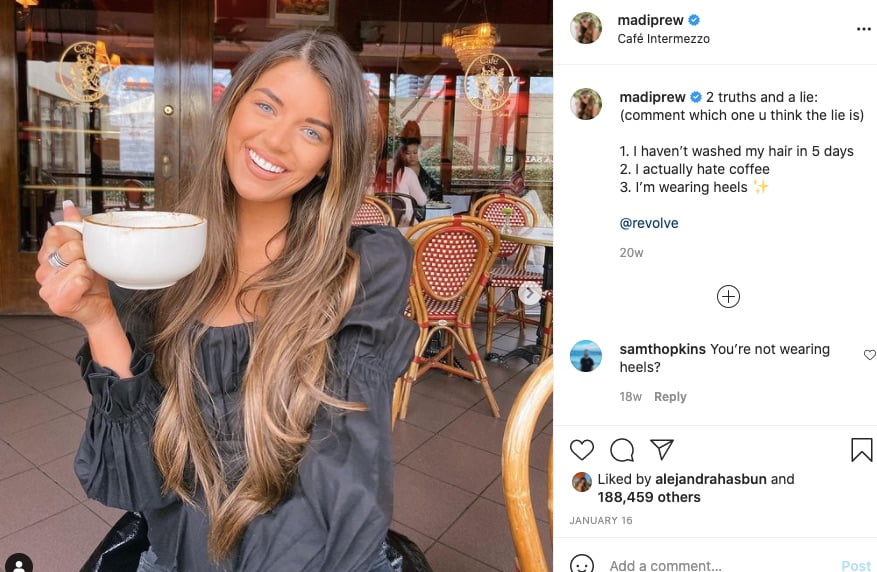 In 2020, Michael Porter Jr. started dating Madison Prewett,  the Auburn, Alabama native-born on March 25, 1996, who won four high school basketball state championships with the Auburn Tigers, where her dad Chad Weber is the director of operations under head coach Bruce Pearl.
She was a runner-up on the 24th season of The Bachelor, starring Peter Weber. Madison and Porter Jr. dated for eight months; she revealed they were no longer dating in April.
"I definitely was in a relationship for about eight months or so," she said at the end of the video. "But it just didn't work out, it just wasn't the right time. Who knows what the future holds."
Michael Porter & Nicole Shiraz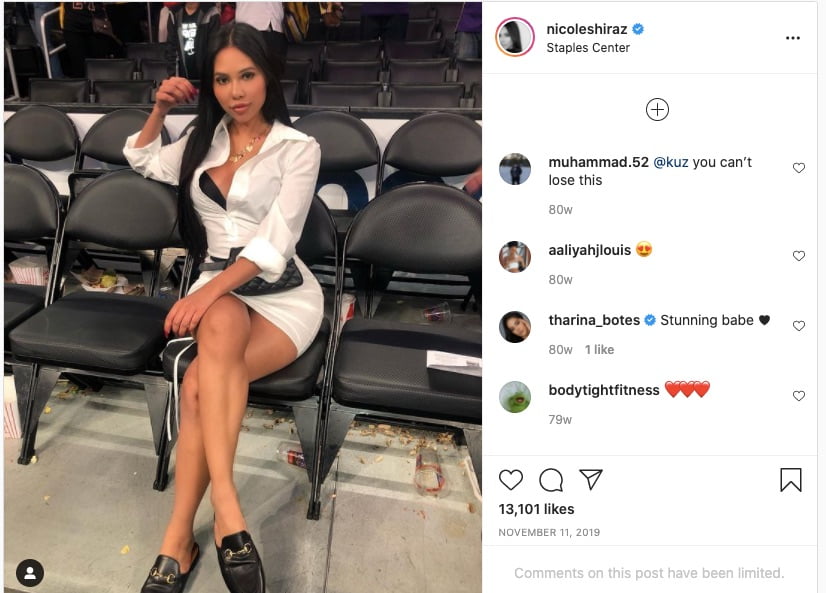 According to media, Australian stunner Nicole Shiraz is the founder and CEO of handbag hire service Boss Ladies; she now runs Nadia Swim; according to media, these two allegedly hooked up while he was dating Madison. According to BlackSportsonline, Nicole once faked a relationship with Kyle Kuzma.
Michael Porter Jr Jersey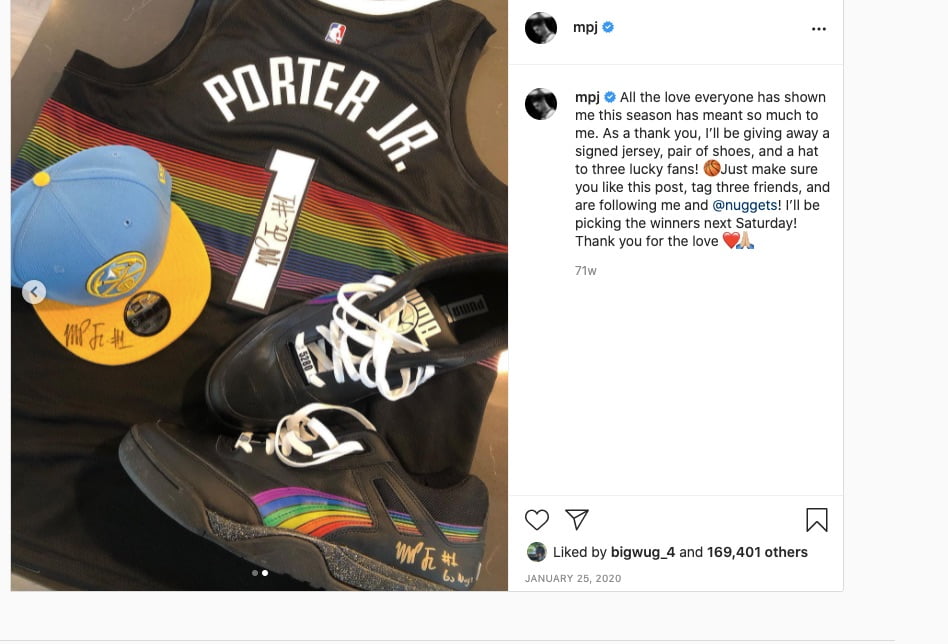 Michael Porter Jr.'s official Denver Nuggets jersey with his current #1 is available at the NBAstore; prices start at $74.99. Around the same prices are available at Fanatics.com. If you are looking for variety, then you should head out to the Nuggetsfanstoreonline website.