Meet Nevalee O'Neill
Nevalee O'Neill is the lovely wife of former MLB great, Paul O'Neill. The baseball great is hard to miss, back in the day, Paul was the man, he won five world series in a 17-year-career.
Paul O'Neill was born Paul Andrew O'Neill in Columbus, Ohio; on February 25, 1963. The son of a medical technician mother and a businessman father. He was one of six children, the youngest of the boys.
His father, Charles 'Chick' O'Neill, ran his own excavation business, but his true passion was baseball.
Paul who was a Reds fan growing up, was drafted by the Cincinnati Reds in the 4th round of the 1981 Major League Baseball Draft. In 1985 he made his major league debut; he split his time between the minors and the major league until 1988, his first full season with the Reds.
In his final season as a member of the Reds, O'Neill played in 148 games batting .246 with 14 home runs and 66 RBI.
In late 1992, O'Neill was traded to the Yankees. In his first season as a Yankee, O'Neill played 141 games batting .311 with 20 home runs and 75 RBI.
He led the Yankees to the postseason for the first time since 1981 but lost to the Seattle Mariners in the division series despite winning the first 2 games.
He appeared in six World Series and earned five World Series rings, one with the Cincinnati Reds and four with the New York Yankees. He also played in five All-Star games and won the American League batting title in 1994 with a .359 average.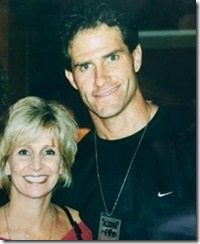 Baseball wag, Nevalee O'Neill has been married to Paul for over three decades. Nevalee O'Neill was born Nevalee Davis. She and Paul met as children, since she lived a few houses away from the O'Neill family in Ohio. As we can imagine, Nevalee O'Neill has been a great support for her husband during the ups the downs of the sport.
Her husband once stated: "Even at five years old, I was taken in by Nevalee. Sweet, pretty and smart, she was the girl next door, almost literally."
Nevalee Davis and Paul grew up together, and began dating in their teens. On December 29, 1984, she officially became Nevalee O'Neill, at the time Paul was only 21. The couple tied the knot in Columbus, Ohio.
Nevalee O'Neill 53, is the mother of the couple's three children; sons: Aaron and Andrew O'Neill, and one daughter, Alexandra O'Neill.
In June of 2008, O'Neill was named "Father of the Year" by The National Father's Day Council at its 67th Annual Father of the Year awards dinner in New York.
After retiring from MLB in 2001, he returned home to Ohio. The following year he took a job as most of retired players do –as a sports commentator. Since 2002, O'Neill has worked as an in-game color commentator and analyst for the New York Yankees YES Network. He received New York Emmy Award nominations in 2011 and 2013 for his work on YES.