Nilou Saniri
Nilou Saniri a former NBA cheerleader for the Charlotte Hornets is the beautiful girlfriend of NBA player Gerald Henderson, shooting guard for the Philadelphia 76ers who also played college basketball for the Duke Blue Devils at Duke University.
Nilou Saniri's stud, Gerald Henderson was born December 9, 1987 in Caldwell, New Jersey one of three children born to Marie and former NBA veteran Gerald Henderson, who played 13 years at the NBa and won two NBA championships before he retired and became a real estate agent. Gerald has one older brother Jermaine and Jade his little sis.
Henderson attended at Episcopal Academy in Merion, Pennsylvania before enrolling at Duke university where he hoped to graduate with a major in psychology with a certificate in markets and management studies, however he never graduate and instead entered the 2009 NBA Draft where he was drafted 12th overall in the first round by the Charlotte Hornets.
Henderson played with the Hornets until June, 2015 when he was traded to the Portland Trail Blazers, on July 5, 2016 it was reported Henderson agreed on a $18m deal for over two seasons with the Philadelphia 76ers.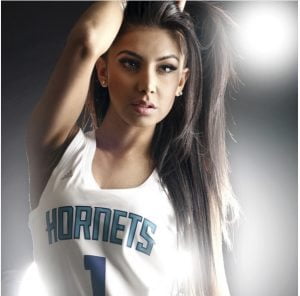 Gerald Henderson was playing with the Charlotte Hornets when he fell head over heels for single momma Nilou Saniri, a Charlotte Hornets Honeybees dancer who managed to be the caring, loving mother to her six-year-old daughter Roya and a hard working NBA dancer.
It was hard for Nilou Saniri,with late night practices and waking up early in the morning to make breakfast and have Roya ready for school.
"I'm very driven for her," Saniri said. "At the end of the day I know I have to be there for her, so I wake up in the morning and I'm like 'look let's do it."
"I've had to give up a lot of things with being young and a single mother. This is the one thing that I'm holding on to, that no matter what I'm going to make it work," she said.

"When she sees me out there I know it excites her. It makes her proud, so just feeling that from her makes me feel some kind of way," Saniri said.

"I only have this chance with her once. When she gets older and she gets to the age where she doesn't want to hang out with me anymore, I'm going to wish I did hang out with her when I had the chance. So I do, I really hang on to those moments with her," Saniri said.
Nilou Saniri joined the Charlotte Hornets in 2014, she has two beautiful sisters Shareen and Tanaz Zeba a model and singer. Nilou and Gerard welcomed their daughter Zara Jade on March 3, 2016.
Follow Nilou on Twitter