The 22 years-old MMA wrestler Michael McDonald "Mayday" the bantamweight champion who became the youngest champion at the UFC will be facing Renan Barao Pegado  UFC on Fuel TV: Barao vs. McDonald and we wonder if his pretty girlfriend Rachel will be there to support him? I guess she will be there!!
Michael likes to keep his personal very  private, but when it comes to a hot wrestler, Fabwags is eager to know who  is the new wag at the UFC dating this hottie, and that is how we gladly introduced  you  to Michael Mayday McDonald's beautiful lady Rachel Esteller.
Rachel Esteller a pretty Christian girl from California, (now resides in Cedar Rapids, Iowa) whose family are the owners of Esteller Martial Arts her father Ron is a martial arts trainer and the owner, her beautiful mother is Karen, and she also has an older brother.  Mr. Esteller a  well-known trainer and very respected..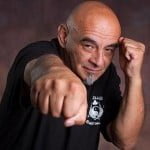 "Sifu Ron began his martial arts training in 1968 at the age of 13, his training includes
A 8th degree black belt in the Hawaiian art of Kajukenbo, he also holds under ranks in Tae Kwan Do, Jujitsu, and  Escrima.He began teaching in 1984 at the San Leandro Boys/Girls Club, where he ran the kajukenbo program until 1999. In July 2000 EMA moved to its current location."
Rachel Esteller called our attention first because of her beau's upcoming bout and secondly because her name continuously  comes up on McDonald's social networks. Noticed her exotic looks? that is because her family comes from Hawaii, Aloha Rachel!
Michael talked about his girlfriend Rachel Esteller in a recent interview where he called her "his amazing and loving girlfriend."
Aww, young love!!
You can follow Michael "Mayday" McDonald on Facebook and Twitter
And find his lady Rachel Esteller on Twitter here and Facebook here.