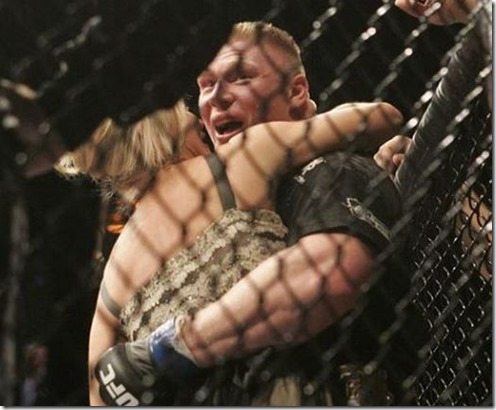 The name Rena Marlette Lesnar might not be very familiar but she and "Sable" are the same person. Model, actress and former professional wrestler who is the wife of WWE Brock Lesnar. Her hubby of 8-years and former UFC Heavyweight Champ retired three years ago due to health issues.
Recent reports say the despite his massive 6-foot-3 frame and muscles cascading down his body like it was chiseled out of stone, inside Lesnar was falling apart. Diagnosed with Diverticulitis the former champ apparently never stepped foot in the UFC Octagon as a fully healthy athlete.
Good news for Rena's man is he's been free of any side effects and will face John Cena for the WWE heavyweight title at Summerslam airing on pay-per-view and the WWE Network this weekend.
We could tell you all about her husband but Rena is a wrestling reference on her own! She was a pioneer who broke new ground for the ladies of the ring.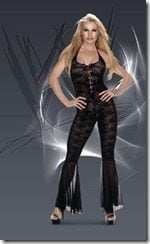 Rena Marlette Greek was born on August 8, 1967 in Jacksonville, Florida.
Sable debuted in 1996 when she accompanied a young Triple H to the ring at WrestleMania XII. Their alliance was short-lived as The Game mistreated his valet and "Wildman" Marc Mero came to her rescue.The glamorous pair captured the imagination of WWE fans as Mero briefly held the Intercontinental Championship. But when The Wildman was sidelined by a knee injury in 1997, Sable remained in the WWE spotlight, and she became far more popular than her Superstar husband.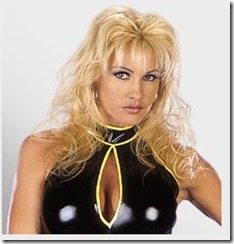 Rena and her man got engaged in 2004, briefly separated in 2005 and managed to get married in 2005 and have been ever since. Rena has been married twice prior marrying Brock. She first married late husband, Wayne Richardson –who died in a car accident –the couple had a daughter named Mariah in 1991.
In 1993 she married second husband professional wrestler and former boxer Marc Mero. She divorce him in 2004 after ten years of marriage. After the divorce she soon became dating Brock who is tean-years her junior.
She became a mother again to the couple's sons Turk, born June 2009 and Duke, born July 2010. The now 47-year-old is also a grandmother to her oldest daughter Mariah's baby boy, born in 2012. She has been retired since 2004 and is most likely the responsible for Lesnar's recovery. She's been ever since known as "The original Diva"
Sable's popularity skyrocketed as she landed on the cover of mainstream magazines like TV Guide, but the weight of fame may have been too much for Sable to bear. WWE fans and Superstars soon noticed that she developed a massive ego. She began wearing Hollywood shades to the ring, and looked down on the people who loved her with scorn. In the ring, she mocked her opponents with "the grind."
In Sable's last WWE run in 2003 and 2004, she found new rivals in Torrie Wilson and Stephanie McMahon. She also served as a trusted confidante of Mr. McMahon in a war with Stephanie. But despite her evil tendencies, WWE fans loved to see Sable. Her bio states; today's Divas owe Sable a lot of gratitude. After all, she defined what it means to be a woman in the rough world of WWE.
Do you remember her as the Diva of WWE Divas or a magazine cover girl?
Find her on Facebook here.