Rochelle Ishikawa is the wife of MLB player Travis Ishikawa. Rochelle and her hubby are sure having a great postseason; by that little fact of "man and wife" she is vowed to be proud of her man no matter what, but now a days the 31-year-old first baseman is making a whole lot of people happy.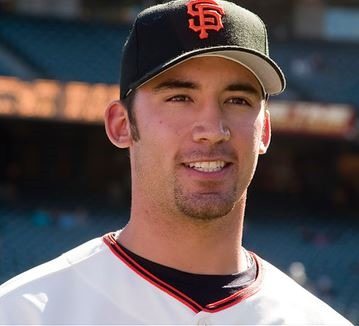 Her hubby was drafted by the Giants in the 21st round of the 2002 First Year Player Draft. Although he has been successful in his private life with wife Rochelle, there was a time "Ishy" thought about the possibility of leaving the sport.
Rochelle who is a dental assistant, met her hubby under unusual circumstances, although during interviews, he prefers to describe it as "being in the right place at the right time." According to a story from Fox Sports, it was during his first game with San Jose,  Travis was hit in the face by a pitch. The next morning, the team trainer suggested Ishikawa see a dentist to make sure nothing was structurally wrong. He went and immediately took notice of Rochelle.
He said of the moment: "She wasn't even supposed to be in that day," "She has come in to help out. I saw her and saw how beautiful she was.
Unfortunately, he was too shy to talk to her because he had arrived the night before and his personal bag didn't so he was wearing the same smelly clothes from the day before. Luckily Rochelle didn't remember he looked like a boxer who had taken a beating so lets say she barely noticed him. Two weeks later he came back for a check up and things took off! That was back in 2004.
Rochelle came to see him play and soon after she was being the sluggers tour guide around San Jose, and sparks flew.
The couple tied the knot in 2007 but faced trouble to get pregnant. They asked to God for a child and their payers were answered when Rochelle gave birth to baby girl Faith, to make it even more special she was born on Travis' 25th birthday, September 24, 2008. He and wife Rochelle chose the name as a promise to God after they prayed for a child. Now they have two more children!
She quit her job at the dental office and is now a full-time mom looking after the couple's three children.
Ishikawa has bounced around through parts of seven seasons in the majors – besides playing for eight teams in the minors – never getting more than the 363 plate appearances he had with San Francisco in 2009. He has a career batting average of .259 with 22 home runs. Just when he though of another way to make a living injuries sustained by left fielder Michael Morse and first baseman Brandon Belt prompted San Francisco to call up Rochelle's hubby and he's been doing great ever since!