Sherry Pollex
This pretty lady is Sherry Pollex and she is the girlfriend of NASCAR race car driver Martin Truex  Jr.. want to know more about her? Check her story below..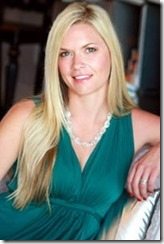 35-year-old Martin Truex Jr from Trenton, NJ has been dating pretty Sherry Pollex for a couple f years now, Ms. Pollex  a resident of North Carolina owns a women's designer boutique where the ladies can find every clothing item made in denim, the store located in Mooresville, North Caroline is called Lavendar Boutique.
Sherry L. Pollex from Michigan was born on May 10, 1979; she is one of the two daughters of PPC Racing's owner Greg Pollex and his wife Julia Pollex had, Sherry's sister is Jill Pollex.
Sherry Pollex holds a degree in Sports Marketing from Florida State University, in 2006 while she worked at NASCAR as a public relations representative she met Martin Truex Jr. They have been together ever since.
These days Sherry is highly involved in Martin's foundation, in 2009 she came up with the idea of creating a fashion event called Catwalk for a Cause created to raise money to help children with cancer, the event was sponsored by Toyota this years and raised close to $100.000
In August,  2014 Sherry Pollex began to feel ill, she went to several doctors , but neither found what was wrong with  her, she had stage III ovarian cancer, a week after her diagnosis she underwent surgery which lasted 8 hours, Sherry's appendix, spleen, ovaries, fallopian tubes and part of her stomach were removed. Martin recalled those days.
"She had gone to three or four doctors, and they couldn't figure out what was going on," Truex said. "This went on for a couple of months. … Finally, we got her to a surgeon — a friend of a friend — in Lake Norman. He said right away, 'Let's do a CT scan.'

"They did the scan. Two hours later, he called and told us to come down to the office. Right away he told us, 'You have ovarian cancer.' "
The first thing that went through Sherry's mind was the only chance to be a mother one day was to save her eggs.
I had stopped taking birth-control pills," she said. "As soon as I had the CT scan and heard the diagnosis, I did ask if I could save my eggs. The doctor told me there was no time for that. He said, 'We have to get you to surgery in the next few days, or you're going to die.'

"There was no time to think about the fact that I was devastated that I could never be a mother. I don't know what hit me worse – the devastation that I couldn't carry my own child or the devastation that I had Stage III cancer. To hear all that in a matter of five minutes — it was so hard."
Four weeks after her surgery Sherry started chemo treatment, her last round of chemo came a couple of days before Martin's attempt to capture his first championship in NASCAR's premier division.
Follow Sherry Pollex on Twitter here