Stephen A. Smith is the sports commentation, television host on ESPN's First Take along with Max Kellerman and Molly Querin Rose. Stephen A.  hosts the Stephen A. Smith radio show, is a regular guest on SportsCenter and columnist for the Philadelphia Enquirer, ESPN.com, and ESPNNY.com, and a former college basketball player at Winston-Salem. It no secret Stephen A. Smith has a lucrative career with an even more lucrative salary, so what is Stephen A. Smith's net worth in 2021?
Stephen A. Smith Parents
Stephen Anthony Smith was born on October 14, 1967, in Bronx, New York one of six children (1 brother, 4 sisters) born to Janet Smith, sadly we couldn't find his father's name, the only thing out there about Stephen A.'s dad is that like Janet Smith. he was born in  Saint Thomas, U.S. Virgin Islands, he was a former basketball and baseball player in the 50s' before settling in New York where he ran a hardware store. Stephen A. said he and his dad were not close, but their relationship improved before he died from Parkinson's disease in August 2018.
Janet Smith, his mother was without a doubt his queen. He was devastated when Janet Smith died of colon cancer on June 1, 2017.
"The crying every day stopped after about a year," he tells me. "Now it's once every few days. The misery that hits you before it ventured towards paralysis, where the memories hit you and you sit down and hours pass before you do anything. You suddenly don't move. You don't want to talk to anybody. I've been going through that for two years. My mama," he adds, "was everything to me."
Losing his parents wasn't the first loss Stephen A. Smith experience, he was 25, when his 33-year-old brother Basil died in a car crash on October 11, 1992.
"He was a traveling salesman and fifteen people were in the passenger van with him. He was the only one that died, because he was asleep."

He continues: "Everyone else was awake. They were able to brace themselves. He got thrown from the van and he was killed. And so I prefer to drive myself. Period.
Stephen A. Smith College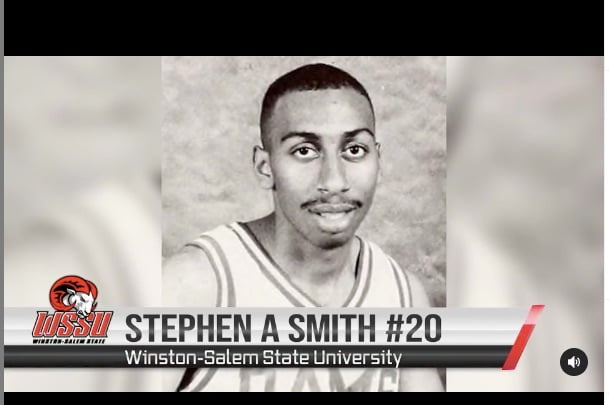 Stephen A. Smith graduated from Thomas Edison High School before enrolling at the Fashion Institute of Technology; he left after one year when he received a basketball scholarship from Winston-Salem State University in North Carolina. He played basketball under coach Clarence Gaines and graduated in 1991, with a Bachelor of Arts in Mass Communication. Around the time he attended Winston-Salem, Stephen A. worked in print media for the Greensboro News and Record, the Winston-Salem Journal, and the New York Daily News.
Stephen A. Smith Height
Stephen A. Smith's height is  1.85 m or 6'1, he weighs 62 kg. Stephen played for the Rams at Winston-Salem State University but sadly his career was cut short after suffering a knee injury during his freshman year.
Stephen A. Smith Net Worth
As of 2021, Stephen A. Smith's net worth has been estimated at $18 million. Stephen A. started his impressive career in 1994, with the Philadelphia Enquirer; reported for the 76ers as their NBC columnist and the cable network CNN/SI in 1999. In 2005, hosted the radio show on WEPN, the show subsequently moved to ESPN radio and the t.v. show Quite Frankly with Stephen A. Smith. until it was canceled in January 2007.
In 2008 left the Enquirer and started his blog called stephena.com, the following year joined Fox Sports, returning to the Philly Enquirer in 2010. He left ESPN radio in 2013 when he joined Sirius XM radio. Stephen A. joined ESPN's First Take in 2012.
Stephen A. Smith Salary & Contract
Stephen A. Smith's salary is $8 million per year. He signed a five-year contract extension with ESPN in November 2019. According to the New York
Stephen A. Smith Acting
Stephen A. has some acting skills on his resume, back in 2007 made his first appearance as a reporter in an episode of General Hospital and played Allan in Chris Rock's film I Think I Love My Wife. In 2016 returned to General Hospital as Brick and appeared as himself in the holiday film Almost Christmas alongside Omar Epps, Danny Glover, and Gabrielle Union. This year Stephen A. will be the voice of a character in the sports animated film Rumble.
Stephen A. Smith Quotes
You probably are a fan of Stephen A. Smith's catchphrases blasphemous, Baaaaad man, however, Stephen A.'s quotes are out of this world.
You can criticize me. You can crucify me. You can love me. You can hate me. Just don't make the mistake of calling me inauthentic, because you'd be a liar.
You have haters from all walks of life. I could care less who wants me to fail. They inspire me.
I'm not just a black man, I'm a brotha. I love my people. When I'm on the air I am fully aware that I am not just representing myself but representing us.There is nothing worse than being mediocre at a whole bunch of different things.

Like, when they say to me, 'Screamin' A.' – I'm the only dude on the air who's loud? I know plenty of white dudes who are screaming and going off. They're called passionate. I'm called loud.
I know what I know, and what I don't know, I'm willing to admit.
I care about how I look, but I don't care about the fashion industry;  I care about how I carry and present myself.
Stephen A. Smith Wife
As far as we all know, Stephen A. Smith isn't married, he is coy about his personal life, so if you are wondering about whether or not Stephen A. Smith has a girlfriend you won't find her. Stephen A. was once engaged and ready to walk the aisle, but her former fiancee's identity was never revealed.
"It didn't work out. Matter of fact, I just told my sister that the other day: none of your business."
Stephen A. Smith has two beautiful daughters, ages 12 and 11.
Does Stephen A. Smith have a son?
No, Stephen A. Smith doesn't have a son, but if he had, he would surely have looked like baby Stephen A., don't you agree?
View this post on Instagram