Deion Sanders the former NFL defensive back, MLB outfielder, turned football coach became known Neon Deion and Prime Time is until today the only athlete to play at a Super Bowl and a World Series, it no secret Deion knows how to earn money, so what is Deion Sanders' current net worth?
Deion Sanders Highlights
Consider one of the strongest pass defenders Deion Sanders played 14 years in the NFL, spent nine years playing part-time in the MLB. Here are some of the highlights of Deion Sanders's career.
Won two Super Bowls 1995 and 1996.
6× First-team All-Pro (1992–1994, 1996–1998)
8× Pro Bowl (1991–1994, 1996–1999)
NFL 100th Anniversary All-Time Team
NFL 100th Anniversary All-Time Team
First-team NFL 1990s All-Decade Team
First-team All-Pro (1992)
First-team All-Pro (1998)
NFL Defensive Player of the Year (1994)
Atlanta Falcons Ring of Honor
Jim Thorpe Award (1988)
Twice selected unanimous All-American (1987, 1988)
How many Super Bowl rings do Deion Sanders have?
Deion Sanders has two Super Bowl rings, he won his first with the San Francisco 49ers at Super Bowl XXIV when the 49ers defeated the San Diego Chargers 49-26. Deion won his second Super Bowl ring with the Dallas Cowboys, at Super Bowl XXV, the Cowboys defeated the Pittsburgh Steelers 27-17.
Deion Sanders Net Worth
Deion Sanders's Net Worth has been estimated at $40 million; back in the day when he was playing in the MLB and NFL he was earning over $60 million from his contracts and around $10 million in endorsement deals.
Here is how that breaks down
From 1989 to 1993, Deion played with the Atlanta Falcons, he earned $880,000 each year with the Falcons, so $4,400,000 in five years
Earn $660,000 in 1991, $600,000 in 1992, $3,166,667 in 1993, and $3,632,513 in 1994 playing with the Atlanta Braves.
In 1994, received $1,250,000 from his contract with the San Francisco 49ers,
In 1995, earned $3,666,667 while playing with the Cincinnati Reds
From 1996 to 1999, played with the Dallas Cowboys, receiving a $7,000,000 annual salary.
In 1997, received $1,200,000 from his contract with the Cincinnati Reds and $300,000 in 2000, from the Reds.
Earned $3,200,000 from the Washington Football team, then Washington Redskins.
$1,800,000 while he played with the Baltimore Ravens.
Total earnings sum $45,650,000 from the NFL and $13,225,847 from the MLB.
Deion Sanders Quotes
Deion Sanders has been a mentor for many football players like Dez Bryant, Michael Crabtree, Devin Hester, and Noel Devine to name a few. He is also a motivational and Christian speaker, some of Deion's more inspiring quotes are.
If you don't believe in yourself how will somebody else believe in you?
Athletes know kids look up to them, and it's important for athletes to be responsible.
I expect to be great. I expect to do what hasn't been done. I expect to provoke change.
Time is a wonderful storyteller
If your dream ain't bigger than you, there's a problem with your dream.
When we have public success we also have private struggles.
Who is Deion Sanders with now?
Deion Sanders is now a coach, Coach Prime on Twitter. He is the head coach for the Jackson State Tigers at Jackson State University. Thus far in his first season with the FS Tigers, Deion Sanders has a coaching record of 3-2; Sander and the Tigers defeated Edward Waters 41-14 during his debut as head coach
How much is Deion Sanders getting paid to coach?
Deion Sanders' four-year coaching contract is worth $1,200,000; he is earning a $300,000 annual salary from his contract as head coach for the Tigers at Florida State, who will also gift sanders with incentives like $10,000 for each Southwestern Athletic Conference Title, $25,000 for each win over an FBS team, $30,000 for a conference championship, and $50,000 for a win in the Celebration Bowl.
Deion Sanders Rookie Card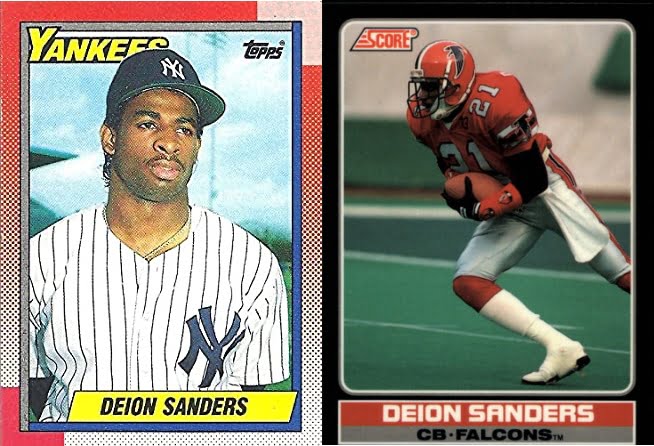 If you are looking for Deion Sanders' rookie card with the NFL or MLB, Gold Card Auction has prepared sweet deals for you, if you are looking for a shortcut into purchasing your Deion Sanders' rookie card then we suggest you head over to eBay.
Deion Sanders House
Deion Sanders' 29,000-square-foot mansion in Prosper, Texas had 11-bedrooms, 10-bath; the master bedroom has a 3,000-square-foot custom closet, kitchenette, Jacuzzi and fireplace, the house built in 1999, also had a 14 car motor court, 1 indoor basketball court, 1 bowling alley, 2 pools, it hit the market last December for $4,950,000. Check the Photos
Deion Sanders Jersey

Well, you are probably looking for Deion Sanders' JERSEYS!! Either Deion's jerseys from the NFL or the MLB, Amazon has all of his NFL jerseys, plus a variety of Sanders' memorabilia that you'll surely find interesting.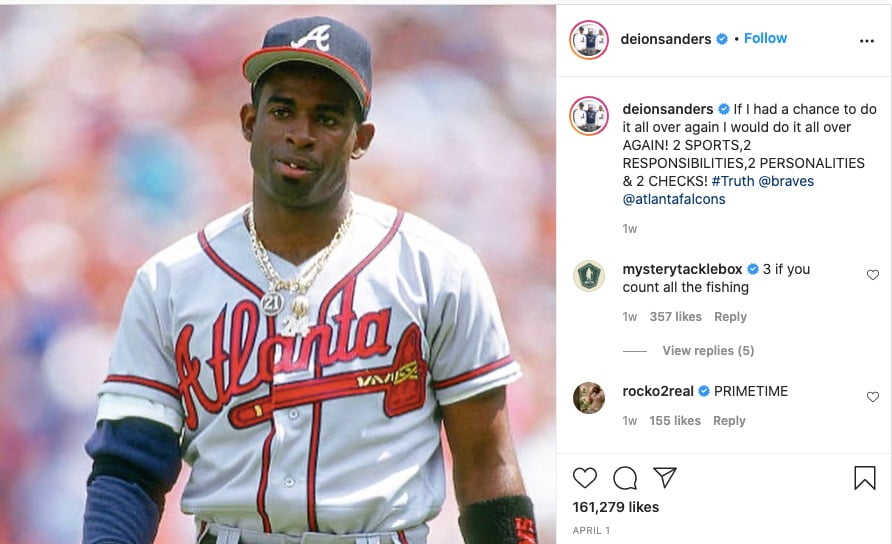 The first MLB team Deion Sanders played with were the New York Yankees,
Fanatics.com
has Deion's Yankees jersey, if you are looking for Braves Jersey it is available at the
AB Fan Store
. His last MLB appearance was with the Cincinnati Red, his Red jersey is available on
eBay
.
Deion Sanders School
Deion Sanders' school was the Prime Prep Academy which he founded in 2012, the group of charter schools in Texas was forced to shut down in January 2015, due to financial problems insolvency. The TEA, Texas Education Agency did an investigation regarding Prep Academy's failure to perform required criminal background checks, hiring unqualified teachers, a lawsuit between a board member and the board president over meeting violations, inadequate financial reports, violations in the National School Lunch Program.
Deion Sanders Music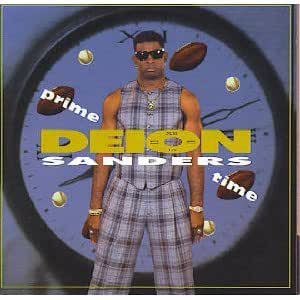 Yes, you read it correctly, Deion Sanders is also a musician, he released his first music album, Prime Time in 1994 on MC hammer's Bust It Records, it placed #70 in the US hip-hop charts. His second album The Encore Mix, went on sale in 2000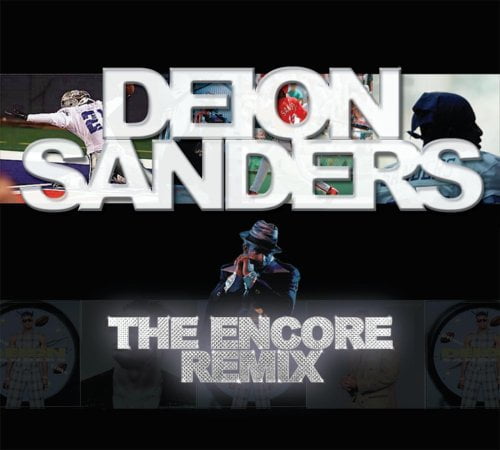 Deion Sanders Family
Deion Sanders has been married twice and has five children from those two marriages. In 1989, married Carolyn Chambers, together they had two children, son Deion Sanders Jr. and daughter Deiondra Sanders; Deion and Carolyn divorced in 1998.
Sanders married Pilar Biggers sanders in 1999; Pilar is mom to Deion's younger children, sons Shilo and Shedeur, and daughter Shelomi Sanders. Pilar and Deion divorced in 2013; he first filed for divorce on September 22, 2011.
Sanders has been dating the lovely Tracey Edmonds since 2012.
Deion Sanders Girlfriend Tracey Edmonds
Tracey Edmonds was born Tracey Elaine McQuarn on February 18, 1867, in L.A. She changed her name to Tracey Edmonds after her marriage to singer Babyface (born Kenneth Edmonds) which lasted from 1992 to 2005 and produced two children Brandon and Dylan Edmonds.
Tracey holds an honorary doctorate in business from Southern University and a B.A. in psychology from Standford. She is the CEO of Tracey Edmonds Entertainment, serves on the national board of directors for the Producers Guild of America, and producer of t.v shows and films like Deion's Family Playbook, Josie and the Pussycats, Light it Up, Soul Food, DMX: Soul of A Man, among others. You can read Tracey Edmonds' full bio from our previous post.