Chiharu Sato
It's an honor to introduce you to Chiharu Sato; she is the beautiful wife of Takuma Sato, the Japanese Indycar series driver for Andretti Autosport. Her hubby is the 2013 Toyota Grand Prix of Long Beach champion.
First and foremost, Chiharu's husband was born on January 28, 1977, in Tokyo, Japan. He is a 2002 Formula One graduate with Jordan team; the following year switched to British American Racing (BAR).
In 2006, joined Super Aguri F1 and the IndyCar Series in 2010.
Sato has raced in the IndyCar Series, first with KV Racing Technology, second with Rahal Letterman Racing, third with A.J Foyt Enterprises and finally Andretti Autosport. In addition to Indy, Sato raced Formula Nippon and Formula E.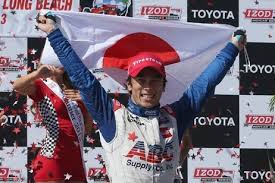 What about Takuma's wife?
Unfortunately, there isn't much out there about Mrs. Sato; thus, far we know that Chiharu and Takuma Sato dated for several years before getting married on July 31, 2005. They have two children; she gave birth to their first child a son on December 23, 2006; their daughter was born on September 30, 2008. Their daughter was born at Monaco's Princess Grace hospital.
Chiharu Sato and her beloved family reside in Denver, Colorado.