Betsy Stephenson
Meet Betsy Stephenson, the partner of US Soccer coach Jill Ellis. Stephenson must be very proud of her gal as she's making headlines for her job in leading the US women's soccer team in the Women's World Cup.
Betsy has made headlines herself in the past. She's was Emory's University (Atlanta) former Director of Athletics; prior to that, she was UCLA's Associate Athletics and Senior Women's Administrator. Director for almost 8-years.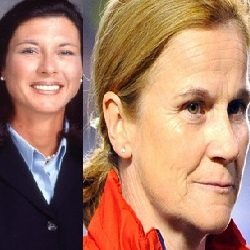 Following her 3-year at Emory she moved on to Los Angeles Children's Hospital as their Assistant Vice President, Foundation Giving; according to her LinkedIn, she works as a Director of Development at Marlborough School.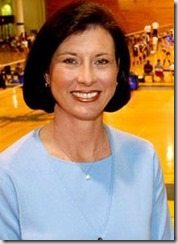 Betsy gained her Bachelor's Degree, Personnel Administration in 1983 from the University of Kansas. As Associate Athletics Director, she supervised Bruin head coaches, academic services, recruiting and student services and marketing and promotions. During her UCLA career, the Bruins won 16 NCAA Division I national team titles, including 11 in women's sports – five in gymnastics, two each in softball and water polo, and one apiece in indoor and outdoor track.
According to her profile, she served on the NCAA Division I Management Council, the highest ranking governing body in college athletics for administrators; and on the NCAA Division I women's volleyball committee and numerous Pac-10 Conference committees, during her collegiate administrative career.
In 2013 she was offered a job as Development Director for Sports Medicine at the University of Miami Miller School of Medicine, so she and Ellis along with their daughter Lilly -whom they adopted as a baby –made the move to Miami. Also in 2013, they tied the knot.
Find Betsy on Facebook here.