Valerie Begue
Valerie Begue is the lovely model wife of French swimmer, Camille Lacourt. Her hunky husband had a little temper tantrum after losing to Chinese swimmer Sun Yang in the 200m freestyle.
The 31-year-old swimmer and backstroke specialist told a French radio station after his race, swimming is becoming as tainted as athletics, "with two or three doped in each final." In his comments, Valerie's hubby also added "Sun Yang, he pisses purple."
Camille Lacourt was born April 22, 1985 in Nabornne, France. According to online profiles, Camille Lacourt is an elite backstroke specialist. Standing 6'7″, Lacourt's height is beneficial to his sprint backstroke events. He is used to being in the spotlight from a young age. Lacourt began swimming at the age of 5, by the time he turned 16, Lacourt was moving up the  ranks in French swimming.
After his breakout season in 2010, Lacourt's career took off. He competed at the 2011 World Championships in Shanghai, winning a gold and silver. Lacourt was selected to France's Olympic Team in 2012, and finished fourth in the 100-meter back just missing the podium. The following year Lacourt took two gold medals at the Barcelona World Championships, but missed the 2014 European Championships due to a hip injury.
He came second in the 2015 world championships in the 100m backstroke.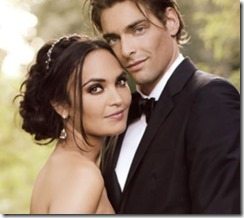 Valérie Bègue was born September 26, 1985 in Reunion, France. She became the 61st elected Miss France in 2008.
The model had to apologize for a series of  images she had taken prior to her crown. Following the controversy she had to be replaced by her second runner up.
Nevertheless fame came for the gorgeous Valerie Begue who took the reality TV path. She became an "actress" and TV presenter. In 2009, she appeared in two episodes of Second Chance on TF1. She also known for hosting TV programs on W9, and MCM Direct 8.
She participated in the show Dancing with the Stars in 2011 on TF1, then co-hosted the Wheel of Fortune with Benjamin Castaldi early 2012.
She and Lacourt began dating in 2008 and tied the knot in 2013. She gave birth to their only child, on October 20, 2012. The couple welcomed daughter, Jazz Lacourt.
Valerie Begue and Camille married at the Marseilles City Hall August 8, 2013. The had a ceremony for family and friends held in in Vaucluse on August 17, 2103.