31-year-old English football star Laura Basset was inconsolable after her country was eliminated from the World Cup in the most cruel of ways.
Laura and the rest of the team lost the chance to face the U.S team in the final to Japan when in last night's game disaster struck.
The blonde defender –who currently plays for Notts County Ladies F.C. and the England women's national football team –in attempting to cut out a teasing cross, inadvertently diverted the ball into the England net via the underside of the crossbar in the final minute of stoppage time, leaving the final score Japan 2-1 England.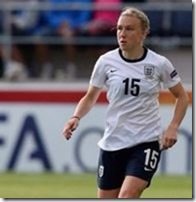 Though Laura is being praised for her performance throughout, we can't help to feel for her.
Laura was born in Warwickshire on August 7, 1983. She joined Coventry City at the age of 14 playing in the FA Women's Premier League Northern Division.
While on a scholarship at the FA's education centre in Loughborough, she joined Birmingham City Ladies and was instantly made club captain.
In the summer of 2006, she went to America and plied her trade with New York Magic. In 2008 the defender left the Blues and joined Arsenal Ladies but made the switch to Leeds Carnegie in 2009 helping the Whites to win the Premier League Cup.
The 31 year-old spent some time without a club due to funding issues with Leeds, but re-joined Birmingham in 2013 and then secured a move to Chelsea.
According to her bio, the experienced defender signed a three year deal with Notts County ahead of the 2015 FA WSL season. The centre back has been a regular in the national squad, making over 40 appearances.
Though we couldn't find who is she currently dating, we are sure she'll be surrounded by her family, friends and many fans.
This was her second World Cup. You can find her on Twitter here. Do you know who is Laura's boyfriend back home?