Meet Mrs. Shametka Britt! She is the pretty and lovely mother of NFL player Xavier Gibson, the outstanding 5'9 wide receiver currently signed by the New York Jets. Gipson previously played college football at Stephen F. Austin and Woodror Wilson High School in Dallas, Texas before that.
Xavier Gipson College Career
Before committing to Stephen F. Austin, Xavier Gipson had committed to the Mustangs at Southern Methodist University on July 7, 2018. He later signed with Stephen F. Austin on February 9, 2019.
Freshman Year
Started and appeared in all 12 games for the 'Jacks football team.
Recognized as a Freshman All-American by HERO Sports.
Led the team in receiving yardage (934), catches (52), and touchdown receptions (7) as a freshman.
Ranked fourth in the league in kickoff return yards (354) and kickoff return average (20.8)
Recorded a season-high eight catches against Southeastern La. on November 2nd.
Scored two touchdown catches against Abilene Christian on October 19th
Achieved a season-high of 132 receiving yards against Incarnate Word on November 9th.
Returned five kickoffs for a season-high 135 yards against Nicholls on September 21st.
Sophomore Year
Played in all 10 games during the season.
Led the team in various receiving categories with 52 receptions, 841 receiving yards, and nine touchdown receptions.
Averaged 84.10 receiving yards per game.
Showed versatility by contributing 57 rushing yards on seven attempts.
Served as the team's primary punt returner with 95 punt return yards and one punt return touchdown against Angelo State on October 17th.
Had a standout performance against Angelo State, recording one punt return touchdown, 177 receiving yards from five catches, and two receiving touchdowns.
Impressed with nine catches, 110 receiving yards, and one touchdown against Abilene Christian on October 24th.
Junior Year
Played in 11 games and played a key role in helping the Lumberjacks reach the postseason after a seven-year absence.
Dominated in every aspect of the receiving category, leading the team with 74 receptions, 1367 receiving yards, and 14 receiving touchdowns.
Recorded an impressive average of 124.27 receiving yards per game.
Showed versatility by contributing 170 punt return yards, including a 70-yard punt return touchdown against Mississippi Valley State on September 18th.
Had a standout performance against Abilene Christian on October 30th, with eight catches, 136 receiving yards, and two touchdown receptions.
Xavier Gipson NFL Career
May 5, 2023: Xavier Gipson signed a contract as a n unrestricted free agent with the New York Jets.
August 26, 2023: Xavier Gipson debuted with the New York Jets during the preseason against the New York Giants.
September 11, 2023: Gipson made his regular season debut against the Buffalo Bills.
September 11, 2023: He recorded his first NFL touchdown, defeating the Buffalo Bills 22-16 in overtime.
Xavier Gipson Contract and Salary
On May 5, 2023, Xavier Gipson signed a three-year, $2.71 million contract with the New York Jets. The deal included a $15,00 signing bonus; $165,000 guarantee and an annual salary of $903,333.
Xavier Gipson Girlfriend
From what it looks like, Xavier Gipson doesn't have a girlfriend, he isn't married either, and some sites reported he has a little daughter.
Xavier Gipson Father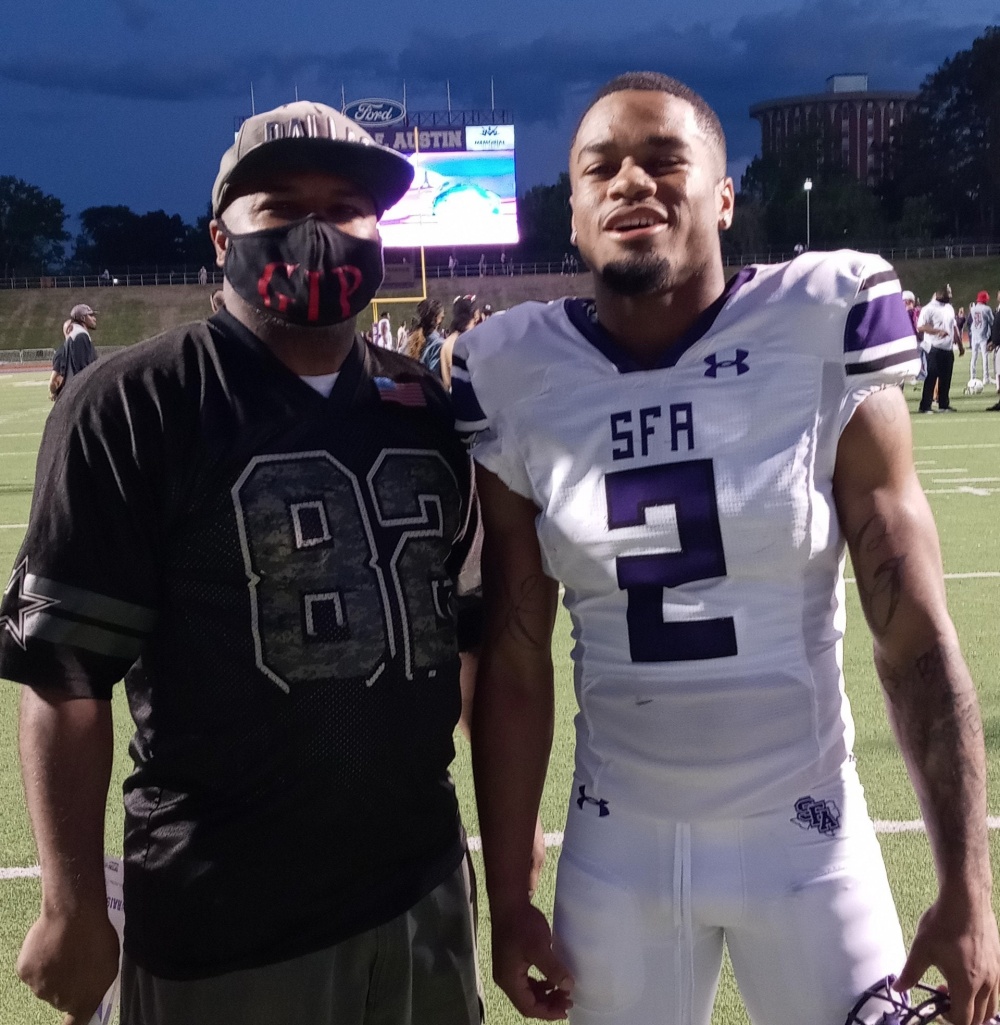 Stacey Gipson
Xavier Gipson's father is Stacey Wayne Gipson, who served in the United States Navy and a coach for the East Dallas Desperados. Thru his father Stacey, Xavier has at least three siblings, brothers , Stacey Gipson II, Montre "Tre"Gipson, Mileek Gipson and sister Yohaida Palencia-Gipson.
Stacey Gipson is married to Tracey Gipson.
Xavier Gipson Mother
Shametka Britt
Xavier Gipson's momma is Shametlea Britt, also known as Meka Britt and you should know some sites misspelled her name as Shametlea Britt.
Shametlea Britt was born Shametka Lashawn Britt on May 14, 1984; she lives in Dallas, Texas.