Alicia Rickter-Piazza
Alicia Rickter-Piazza is the beautiful wife of the famous Baseball hitting catcher of all time, Mike Piazza who finished his career with 247 home runs, 220 of which came with the Mets, Piazza now is a family guy who met and got married whit famous former Playmate Alicia Rickter. Let's talk a little about Mrs. Piazza- Rickter.
Alicia Rickter was born on September 21, 1972 in Long Beach, California she used to appear as "Laura" in the comedy "Buying the cow" and in TV series Baywatch Hawaii. She has posed nude for Playboy magazine as Miss October on 1995, she also appears in three Playboy videos.
Alicia Rickter the daughter of a famous architect architect  has one younger brother.  Alicia Richter-Piazza studied Psychology and painting; she  became fascinated by art in her youth.  Alicia started modeling for Playboy Magazine against her father's wish, who like most fathers  didn't want anybody to see his little girl au natural! Even so, Alicia didn't just pose for the famous magazine, she also appeared in three Playboy videos.
Besides Playboy, Alicia Piazza also modeled for Levi's, and a Famous Beer Brand in North America and for different brands in Europe and Japan.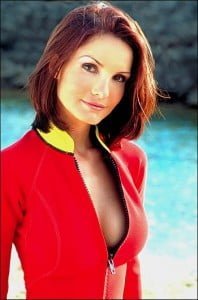 Now the big question, How Alicia Rickter and Mike Piazza met?
The sparks started when Alicia Rickter was in the recording of Baywatch Hawaii, the major league baseball player Mike Piazza, who was active at that time was one of the guest stars in the series. They started talking, went out  and the rest is history.
Mike Piazza married the sexy former Playboy Playmate Alicia Rickter on January 29, 2005 at St. Jude Catholic Church of Miami; Richter wore a  white satin gown by Vera Wang with a plunging v-neck and arrived in a vintage 1965 Rolls-Royce.
Two years later on February 3, 2007 Mrs. Piazza gave birth to the couple's first child, a daughter they named Nicoletta Veronica Piazza, born at 4:07 A.M.  in New York City, she weighed 5 lbs., 8 oz. and measured 19 inches long. The couple's second daughter, Paulina Sophia Piazza was born August 3, 2009 at Mount Sinai Hospital in Miami, Florida. Her husband was elected to the Baseball Hall of Fame on January 6, 2015.
Find Alicia Piazza on Facebook here