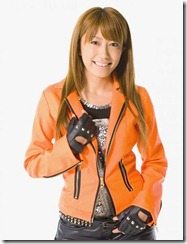 Masahiro Tanaka`s  wife, member of the Japanese Pop music group Country Musume, Mai Satoda is an idol in Japan!
But big league teams must write many zeros to the right numbers on their cheques because auction has begun for Jap pitcher Masahiro Tanaka. The 30 teams got a period of 30 days to hire him for 25 years. The clubs got deadline of Jan 24 to get into an agreement with the A star.
Mai's Bio
Mai Satoda or 里田 舞, born March 29, 1984 is a member of the Hello Project group Country Musume.
She was discovered whilst the Morning Musume 4th Generation Auditions in 2000. She is also a member of Hello! Project's futsal team, Gatas Brillantes. She has one photobook and also a single, "Oyaji no Kokoro ni Tomotta Сhīsana Hi" with the ccomedian duo, Fujioka Fujimaki.
In early 2007, Satoda was added to the unit Pabo with Suzanne and Yukina Kinoshita, created by Quiz Hexagon. The group released the single "Koi no Hexagon", used as the show's closing theme. She was then added to the group Ongaku Gatas.
Some facts over Mai:
Blood Type
A
Height
160 cm
Place of Birth
Hokkaido
Filmography:
2011 majutsu wa sasayaku (TV Movie)
2010 Gejiko ban kenka bancho: Zenkoku seiha
2011U gata tv (TV Series)
2010 Aoyama wansegu kaihatsu  (TV Series)
2009 FNS no jikan terebi 2009 cho paredo: bakusho odaiba gasshuku (TV Special)
2009 quiz parade (TV Series)
2008 odaiba tantei shuchishin (TV Movie)
2008 bashuko reddo kapetto (TV Series)
2008 terakoya (TV Series)
2007 futari no shokutaku
2003 inaka ni tomaro (TV Series)
1999 rondon hatsu (TV Series)
Can you believe she still uses Hi5!