Keep in shape and work out like your favorite Wag! These ladies have wasted no time while in confinement and are making sure to do everything they can to keep their splendid figures while at home! Here we give you the 5 best Ab workouts some of our favorite Wags are doing.
5 Wags and 5 Best Ab Workouts
Some, like Jilly Anais, Gisele Bündchen, and Kayla Nicole are pros when it comes to stretching their glutes and toning their tummies. The wags have been consistently putting in the work, during quarantine and have not been shy when it comes to sharing their fitness regime on social media.
Check out our top five ladies in action and make sure to let us know who is your favorite.
1. Kayla Nicole
Kayla Nicole is the girlfriend of Kansas City Chiefs tight end Travis Kelce.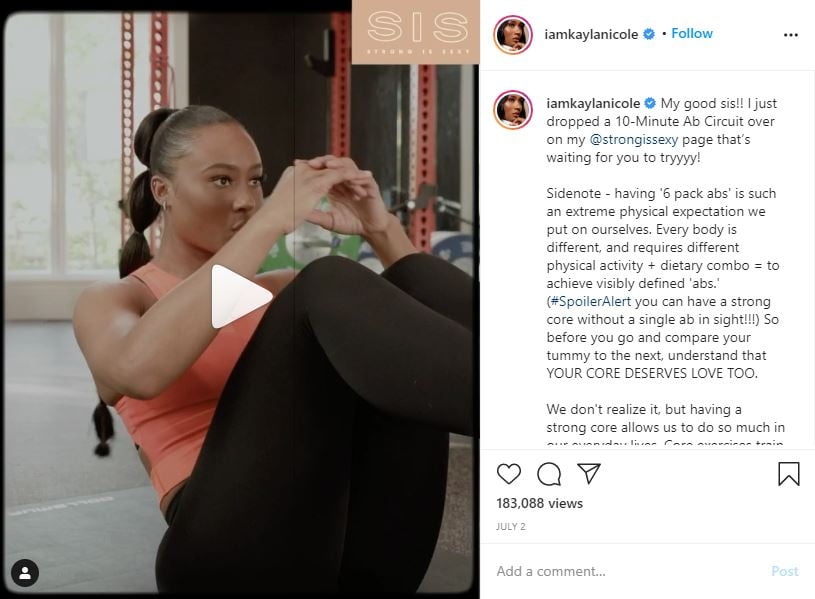 The stunner who has an incredible figure describes herself as an "on-camera host" and has worked for publications such as NBA, BET, Global Grind, HotNewHipHop, XONecole, All Def Digital and Ballislife.com. She's also a model who has competed in beauty pageants.
Michelle Shazier is the proud wife of Pittsburgh Steelers' Ryan Shazier.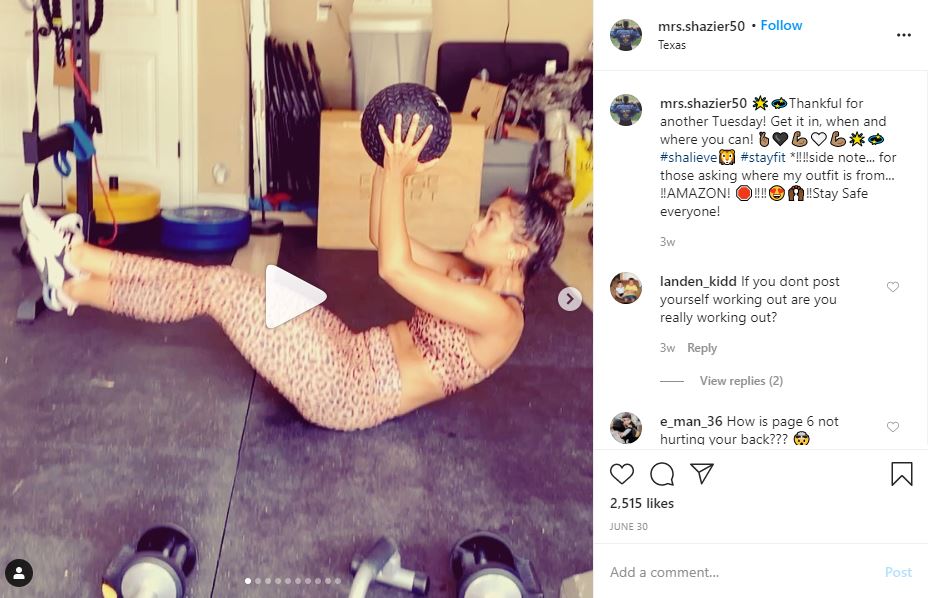 The Celebrity spouse is a Special Education Teacher and former basketball player and now most recently, social media personality. The couple has two adorable sons together.
3. Jilly Anais
Gorgeous Jilly Anais, the girlfriend of NFL superstar quarterback for the Houston Texans, Deshaun Watson.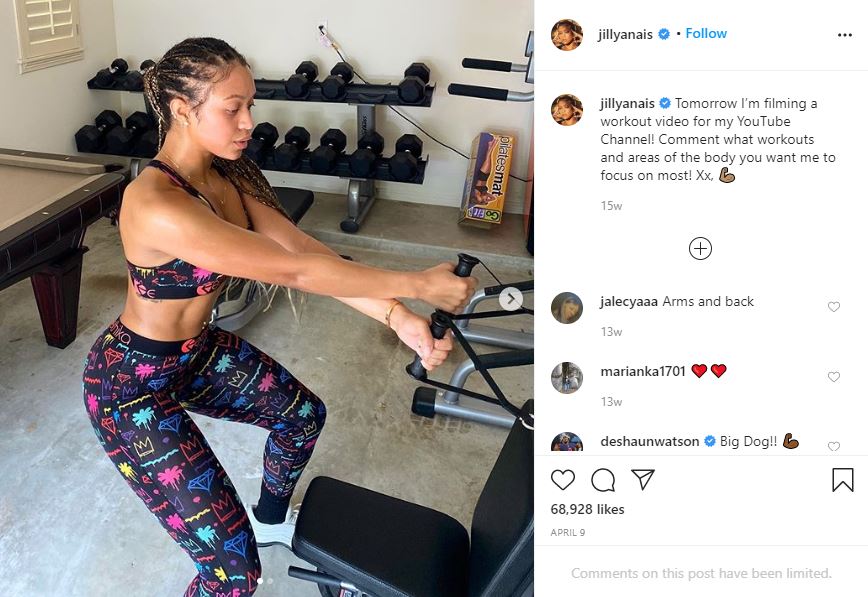 The 24-year-old is a Texas native who was named Miss Teen Houston in 2011. She was a competitive cheerleader for five years and a high school varsity cheerleader for four years. Her resume includes modeling, acting, commercials, print ads, competitive dance, and competitive cheer.
Prior to Watson, she dated NBA guard Dejounte Murray up until late 2018.
Brittany Matthews is the girlfriend of Kansas City Chiefs quarterback, Patrick Mahomes.
The blonde is holding a BS in Kinesiology and is a certified personal trainer.
Kristin Juszczyk is the gorgeous wife of San Francisco 49ers, Kyle Juszczyk.
The gyms may be closed but this couple has taken their home workouts to the next level with their fitness routine.
5 Best At-Home Ab Workouts
Want to improve your abs game? Check these five exercises to help you get there.
1. Side Plank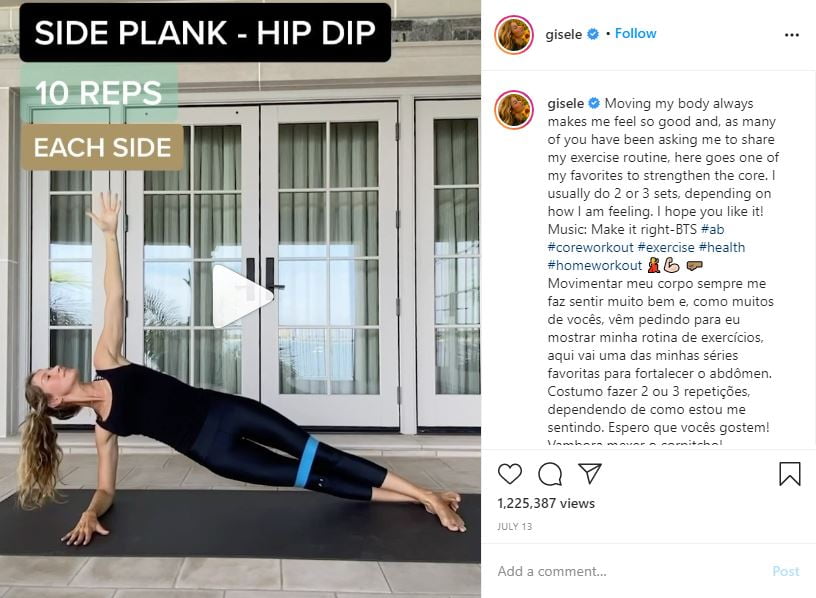 Unlike a traditional plank, you'll support your body weight on just two points of contact. This requires more work from your core to stay stable. Your back and abs work together to keep your spine elongated.
2. The Plank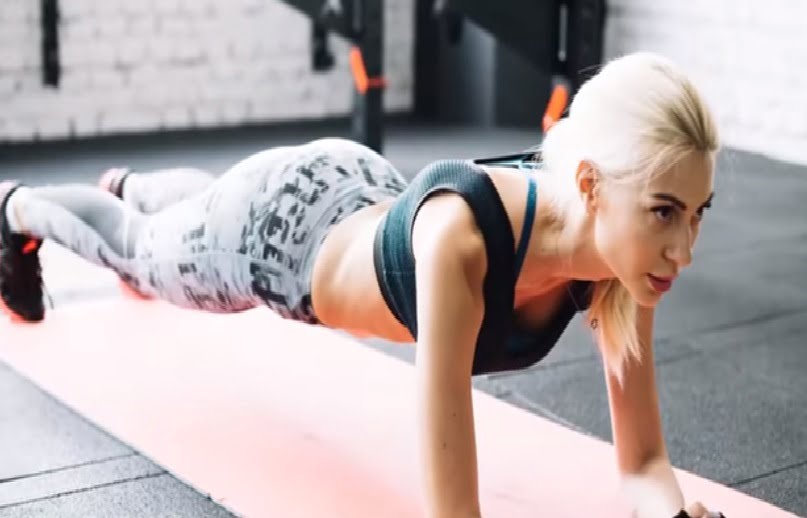 3. The bicycle crunch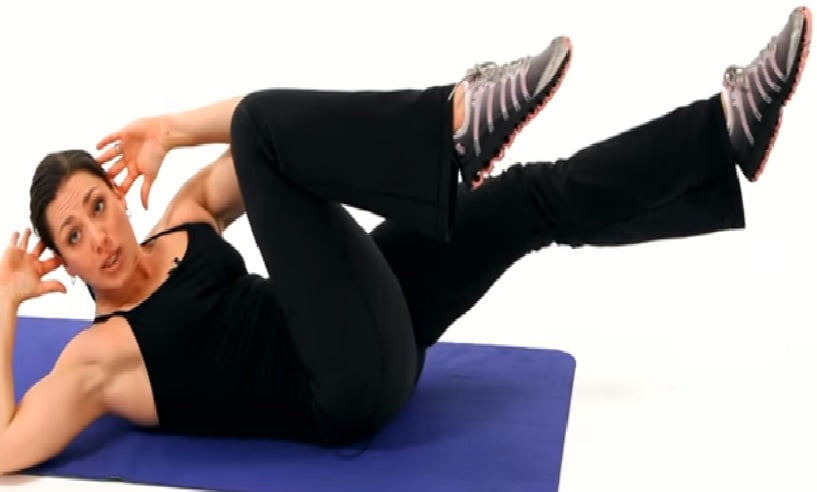 This exercise is the second highest in terms of strengthening the obliques. It also stimulates more abdominal activity than the traditional crunch including your lower stomach and obliques.
4. Vertical leg crunch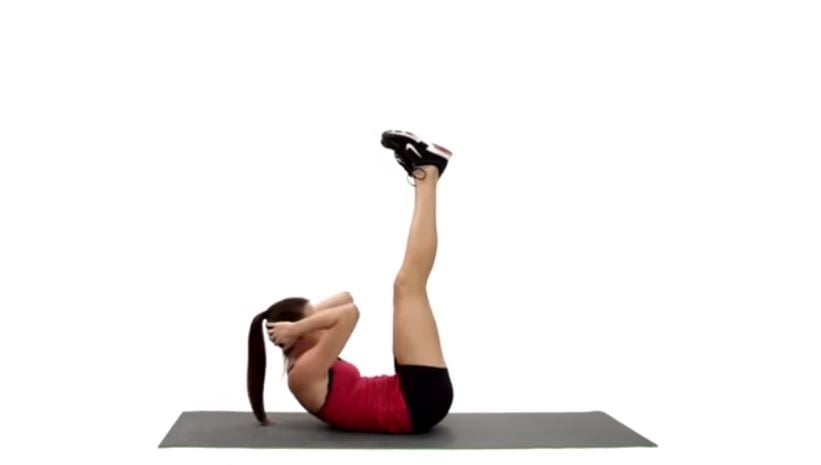 It stimulated 116 percent more abdominal activity in the study's participants than the traditional crunch.
Lie on your back with your legs up in the air, knees slightly bent. Try to touch your ankles with your hands by contracting just your abs, but keep your chin off your chest. Repeat for 12-16 reps.
5. Reverse crunch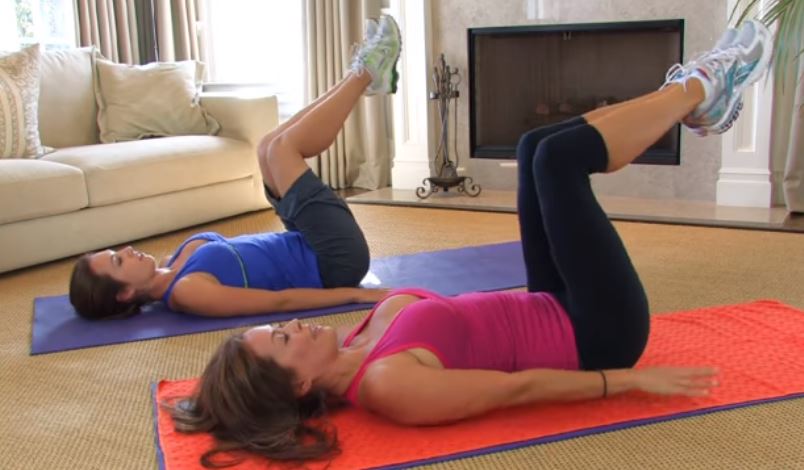 Engage your lower abdomen and obliques with this move.
Lie on your back with your hands tucked under your and your knees bent. Bring your legs up until they form a 90 degree angle from your torso. Do a pelvic tilt and pull your knees in towards your chest, squeeze and slowly lower to starting position. Aim for 15-20 reps.
5 Best Core Workout At Home
There's a number of exercises you can do at home in order to have a strong and stable midsection -which can give you better balance and better posture, and it can even help reduce back pain.
1. Dead Bug
This is great for connecting your mind and to your core. Lie faceup with your arms extended toward the ceiling and your legs in a tabletop position.
Slowly extend your right leg out straight, while simultaneously dropping your left arm overhead. Keep both a few inches from the ground.
Squeeze your and keep your core engaged the entire time, lower back pressed into the floor.
Bring your arm and leg back to the starting position.
2. Side Bend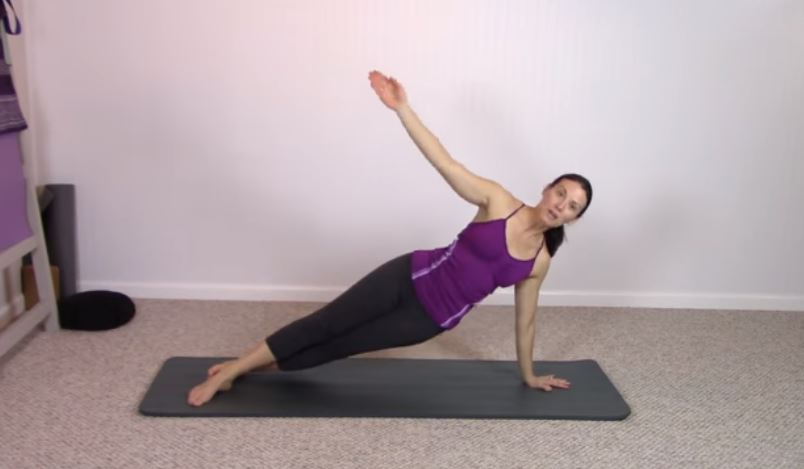 Start in a side plank with your right hand on the floor, directly underneath your right shoulder, and your feet staggered so the left is right in front of the right (as shown).
Engage your core and your . Let your left arm relax by your left side.
Dip your hips down toward the ground and then lift them back up. This is 1 rep.
3. Panther Shoulder Tap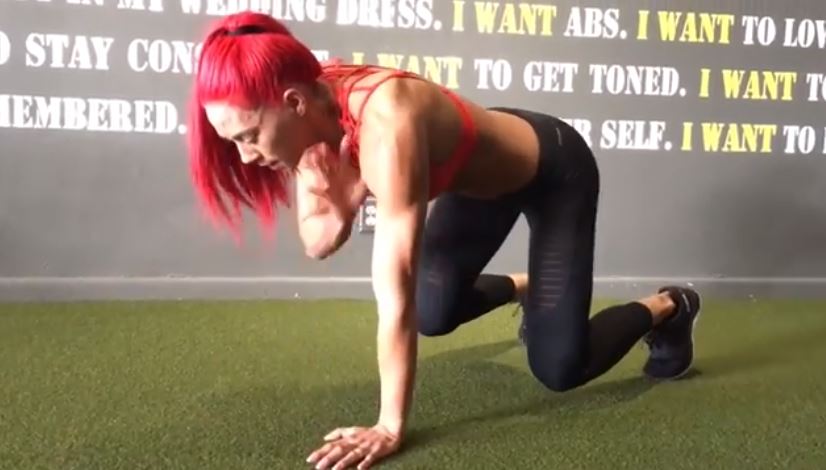 Start on all fours.
Engage your core and while keeping your back flat and your down (like you're in a plank), lift your knees off the floor about 1-3 inches.
Gaze at the floor a few inches in front of your hands to keep your neck in a comfortable position.
Tap your right hand to your left shoulder, and then your left hand to your right shoulder, while using your core strength to keep your hips as still as you can.
Continue alternating sides.
4. Butterfly Sit-up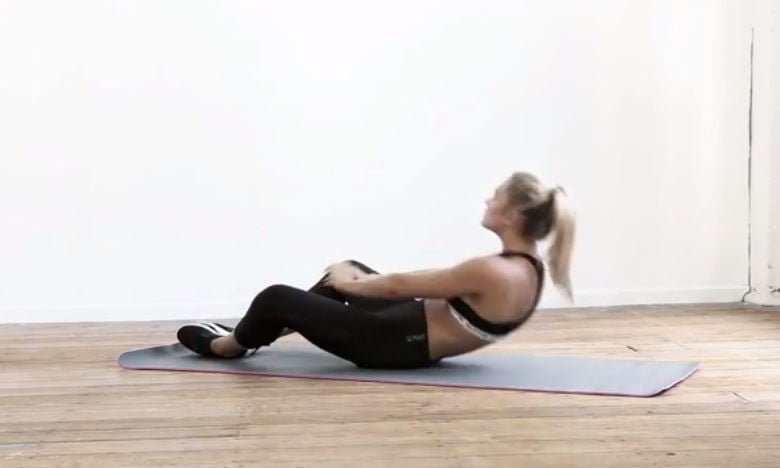 Lie face up with the soles of your feet together, knees bent out to sides.
Reach your arms overhead. This is starting position.
Using your core, roll your body up until you are sitting upright.
Reach forward to touch your toes. That's 1 rep.
Slowly lower back down to starting position and continue immediately into the next rep.
5. Wheelbarrow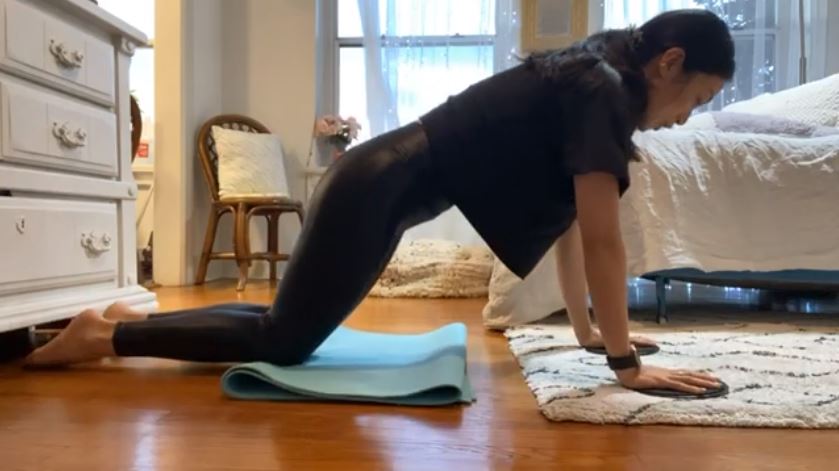 Start on all fours with a glider or towel under each hand.
Squeeze your core and tuck your tailbone so that your back is flat, like you're doing a plank from your knees. This is starting position.
Slowly push your hands in front of you, keeping your arms straight.
Glide as far as you can while still maintaining your torso in a plank position.
Press into the floor and pull your arms back to return to starting position.
5 Best Lower Ab Workout
We know just how lower abs are notoriously harder to target, so check out these fantastic exercises to get your lower abs going.
1. Plank Jack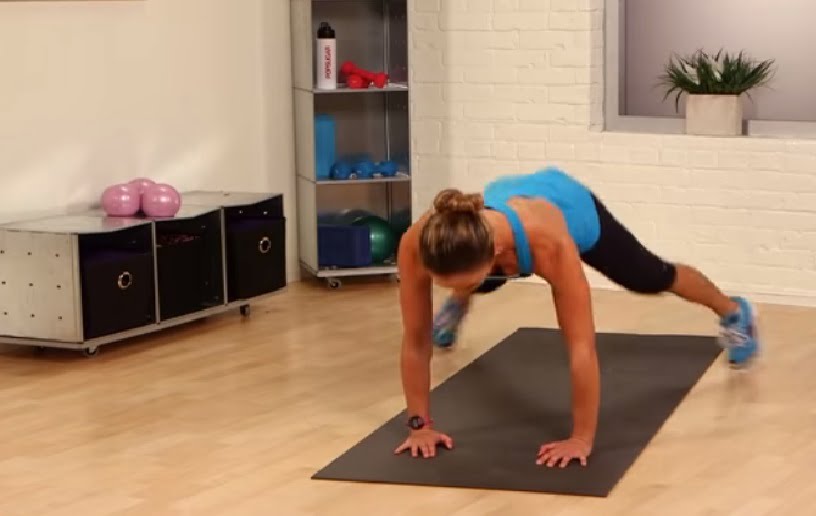 Start in a high plank with your palms flat on the floor, hands shoulder-width apart, shoulders stacked directly above your wrists, legs extended behind you, and your core and glutes engaged.
Jump your feet out and in (like jumping jacks). Try not to let your and hips bounce up and down as you jump your feet in and out. Continue for a set amount of time.
2. Flutter Kick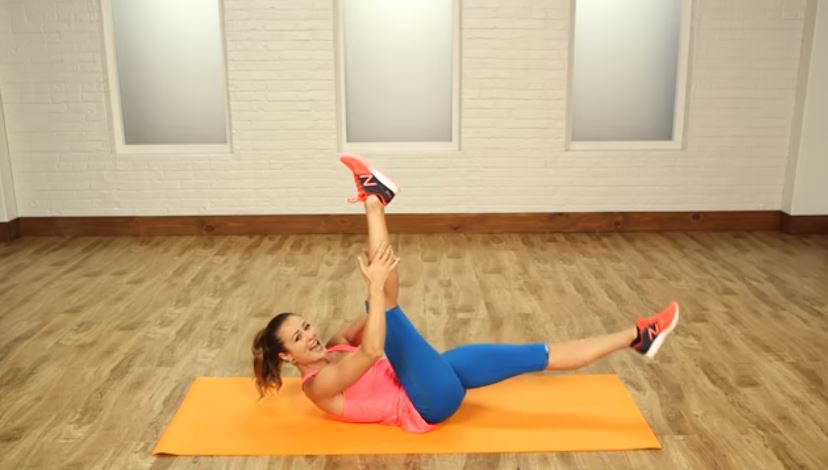 Lie faceup with your arms on the floor by your sides. If your lower back needs some extra support, you can place your hands right underneath your on each side.
Engage your abs and lift both legs about 6 inches off the floor.
Keep your lower back flat on the floor. If this is too challenging, bring your legs a little higher.
Kick your feet (like you're swimming freestyle) for a set amount of time.
3. Leg Lift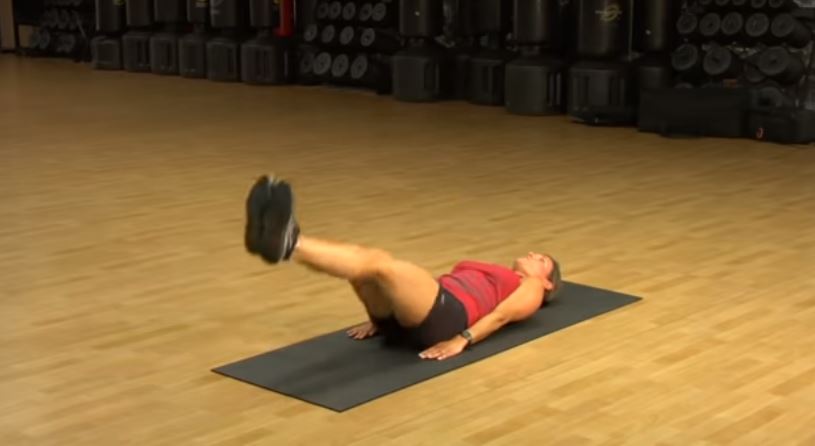 Lie faceup with your legs extended and your arms on the floor by your sides. If your lower back needs some extra support, you can place your hands right underneath your on each side. This is the starting position.
Slowly lift your legs up and toward your face, keeping them together and stopping when they are about vertical.
Then, slowly lower them back down to the ground. Be sure to keep your back flat on the floor. If you're having trouble with that or feel the tension in your lower back, don't lower your legs as far down.
4. High Knees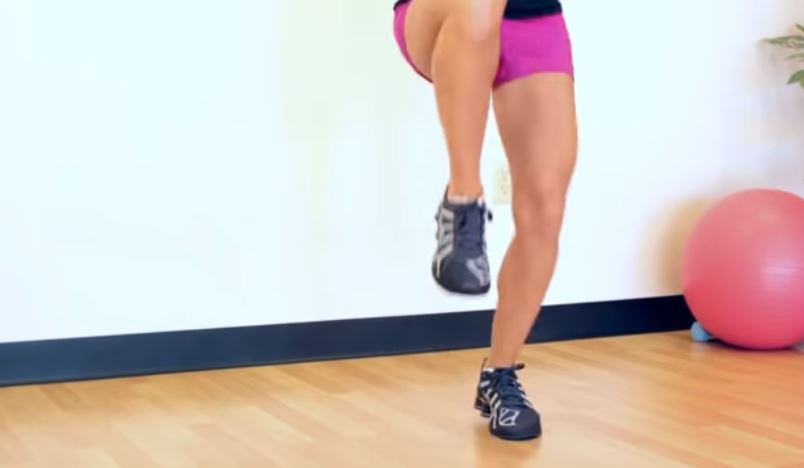 Stand tall with your feet hip-width apart.
Keep your chest lifted and your abs tight as you quickly drive your knees toward your chest, one at a time.
Swing your arms, focusing on taking your hands from hip height to chin height in rhythm with your knees.
Move as quickly as you can for a set amount of time.
5. Half Burpee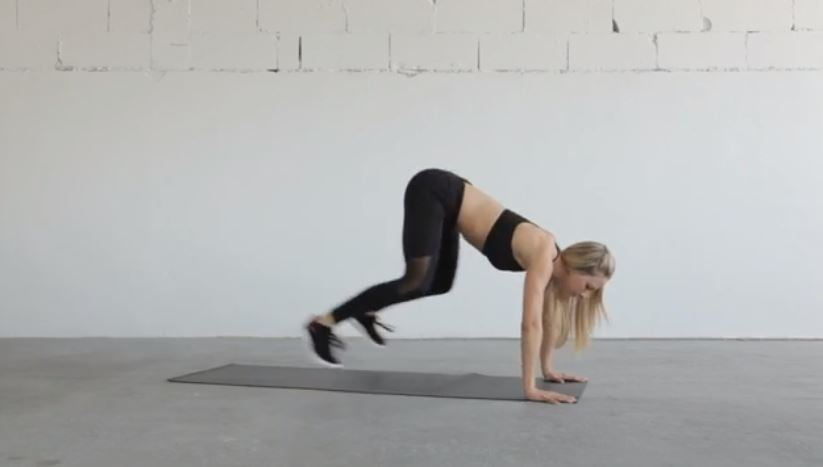 Start in a deep squat with your legs about shoulder-width apart, toes slightly turned out, chest lifted, and hands in front of your chest. This is the starting position.
Reach forward to place your hands on the floor underneath your shoulders.
Kick your legs straight out behind you, so that you're in high plank.
Quickly jump your legs back in and lift your chest to return to the starting position. That's 1 rep.
Ab Workout Machines You Need To Try
1. Incline Bench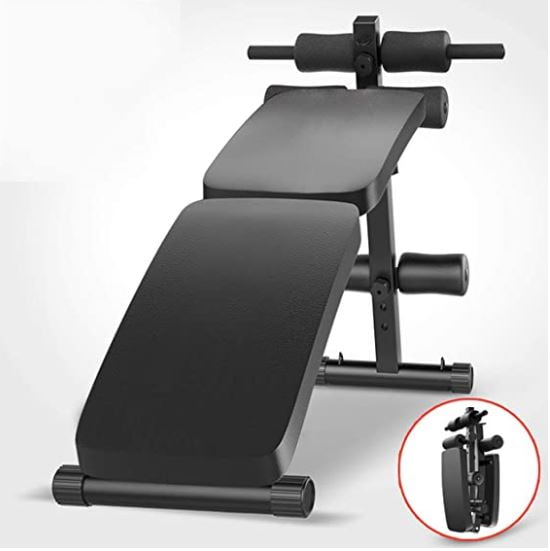 Targets: rectus abdominis
This ZQ&QY Durable Tilt Bench Press, Fitness Workout Bench, Household Foldable Sit Up Bench, Strength Abdominal Training Dumbbell Bench -is Available at Amazon for $141.99
2. Ab Wheel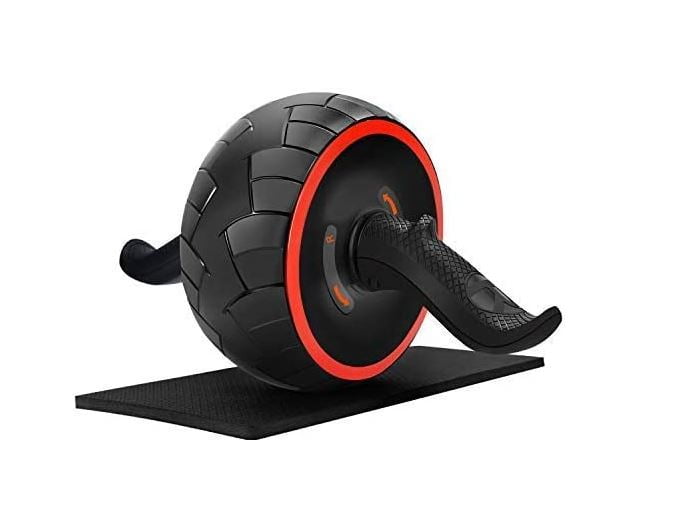 Check out the June Fox Ab Roller Wheel for Abs on Amazon, available for $19.99
3. Rowing Machine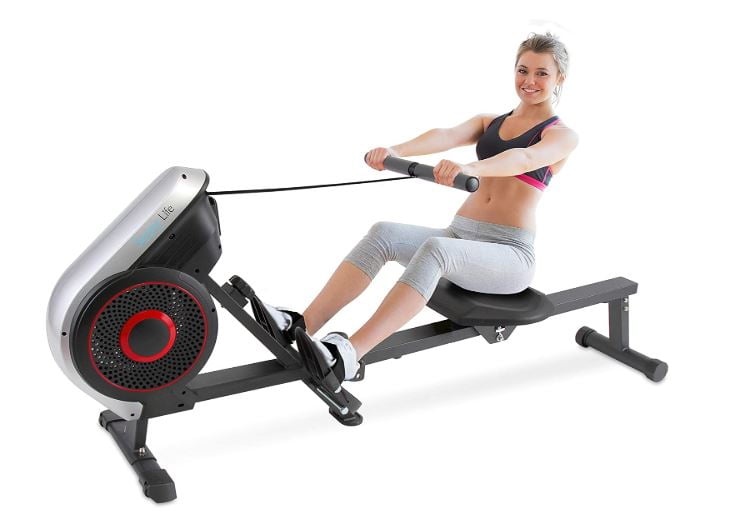 Targets: rectus abdominis, transverse abdominis, and obliques
Find this SereneLife Rowing Machine on Amazon for $319.99
4. Stability Ball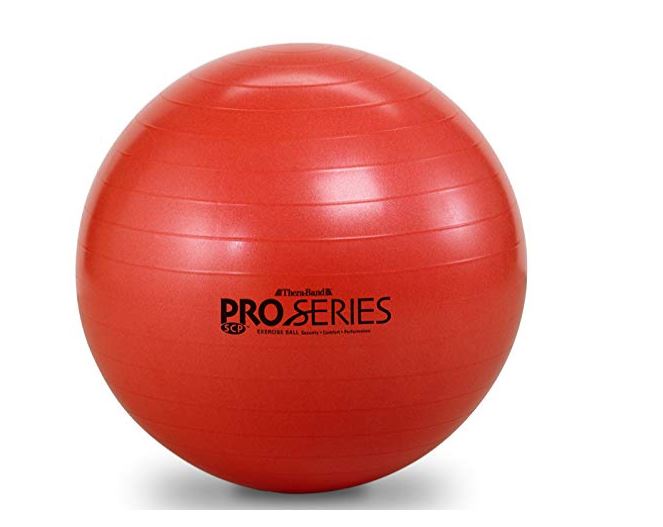 Check out the TheraBand Exercise Ball on Amazon, available for $26.50
5. Glute Hamstring Developer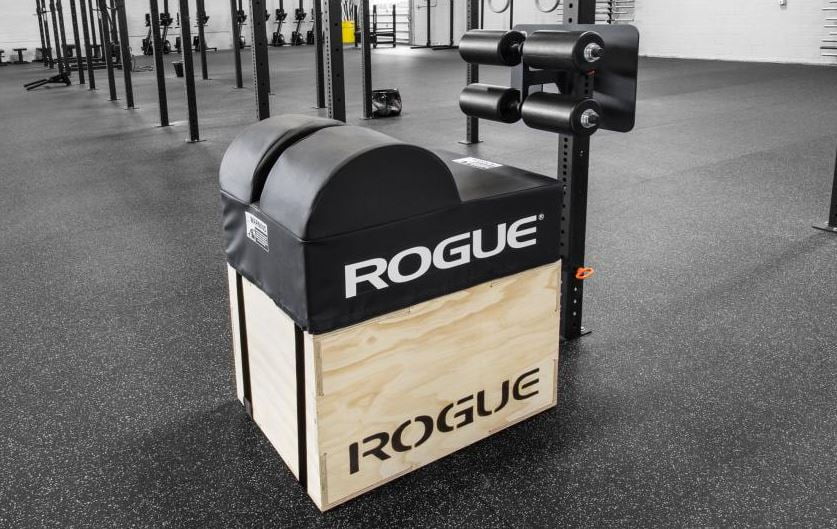 Targets: rectus abdominis
Find the Echo GHD 3X3 on Roguefitness.com -avalilable for $345
5 Best Oblique Exercises
Want amazing side abs? Check the exercises below and pick your favorite.
1. Side Plank with Hip Dips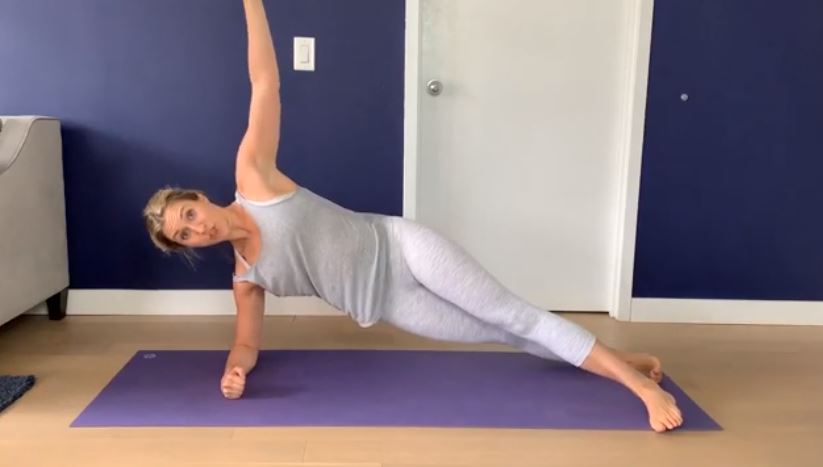 Start by lying on one side, propped up on one elbow, keeping the body in a straight line, feet stacked on top of one another, hips lifted.
Lower slowly down until hip barely touches the ground, then lift back up.
2. Elevated Mountain Climbers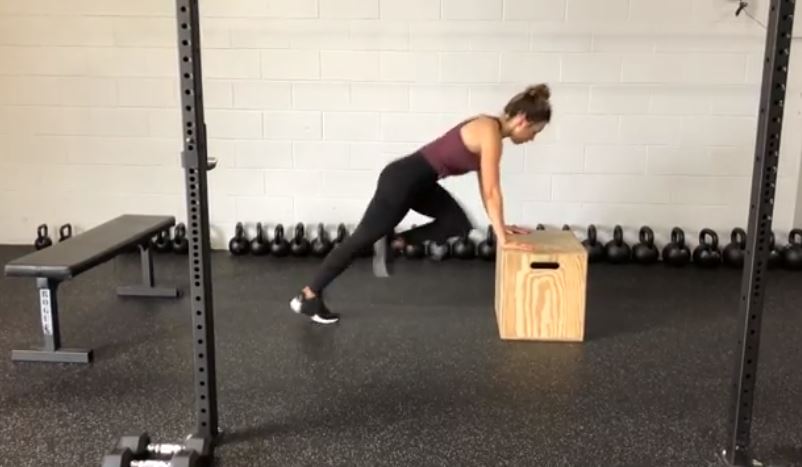 Find an incline, like a bench, stair, or Plyo box and position hands on the incline slightly wider than shoulder-width apart. Pull one leg in toward chest.
Alternate leg positions by pushing hips up while immediately extending forward leg back and pulling rear leg forward under the chest.
3. Oblique Side Sit-Up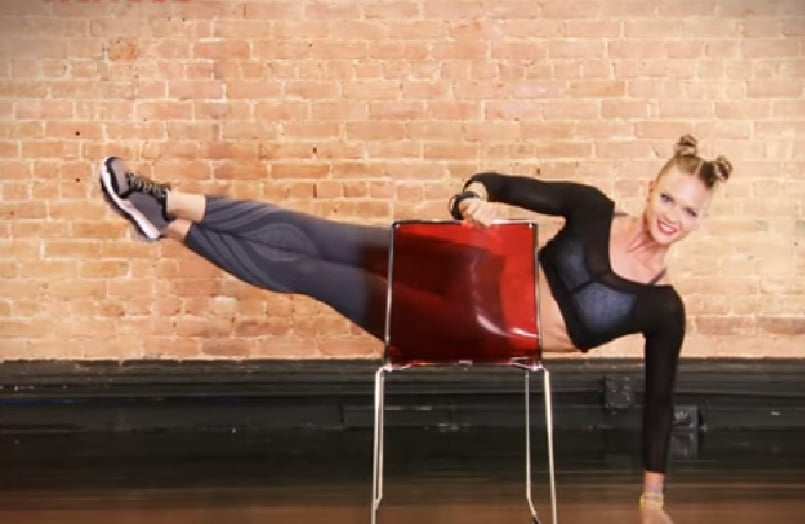 Start kneeling, sitting to the side of the knees. Hold a kettlebell or dumbbell tightly at chest.
Engage core and squeeze glutes to raise up to kneeling position, keeping weight at chest. Then sit back down. Repeat on opposite side. Perform as many reps as possible in 1 minute.
4. Curl with a Twist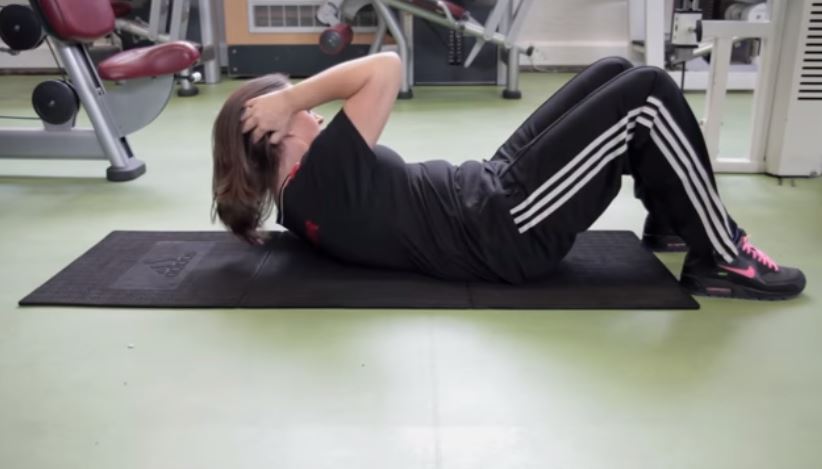 Lay down with knees bent and feet flat on the floor, hip-width apart. Holding either a small exercise ball or lightweight, point elbows out to the side and curl up, pressing lower back down into the mat. Hold for 10 seconds, engaging the abs.
Twist upper body to the left while keeping the back of the waist on the floor. Hold for 30 seconds, then repeat on the opposite side.
5. Single-Sided Mountain Climber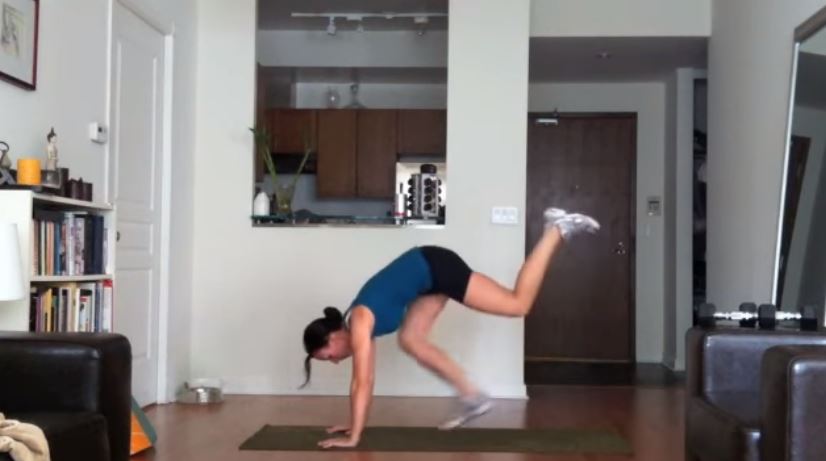 With hands slightly wider than shoulder-width apart, pull the right knee over towards left elbow.
Switch, pulling the left leg in towards left elbow. Your right hip should be slightly lower than the left. Do as many reps as possible for 45 seconds. Repeat, bringing knees toward the right elbow.
Diet for Hard Abs: Foods to Avoid and Must Have
If you want toned abs, you need to live a healthy lifestyle. This is a combination of a nutritious diet and a regular exercise routine. In other words, you not only need to put in the work but also, the right diet needs to go along.
To keep it short, an ab-building diet consist of fruits, veggies, whole grains, nuts, seeds, legumes, fatty fish, high-protein items and tea can all help accelerate fat burning and improve body composition.
Fruits and Veggies: studies show eating at least 4 servings of veggies per day was associated with a lower risk of weight gain.
Whole Grains: like oats, barley, buckwheat, and quinoa can be a great addition to your diet.
Nuts and seeds: such as pistachios, walnuts, almonds, pecans. Alongside seeds like chia, flax, pumpkin, and hemp.
Fatty Fish: includes salmon, mackerel, tuna, and sardines are packed with omega-3 fatty acids.
Legumes: Are a family of plants that include lentils, beans, peas, and peanuts.
Make sure to stay away from fried foods, sugary snacks, refined grains, sugar-sweetened beverages, and excessive alcohol intake.
Subscribe for our FabWags Newsletter and automatically receive our latest & greatest delivered right to your inbox! Follow FabWags on Facebook, Twitter and Instagram for all of the newest articles!