Aaron Hines
Aaron Hines is the lucky fella dating American Warrior hot host, Kristine Leahy. Personal trainer Hines, has been dating Kristine for the last six months.
Is possible that you recognize the stunning blonde from her other sports reporting gigs like Fox Sports 1 radio simulcast, The Herd with Colin Cowherd or from KCBS-TV in Los Angeles.
However she is most known, for NBC's heart-racing obstacle-course competition series, American Ninja Warrior.
Prior to ANW, she worked the college basketball sidelines for March Madness and was also a sideline reporter for CBS Sports Network's college football and basketball packages.
In addition, she filled in as a host on CBS Sports Network's show "Lead Off," contributed to KCAL's Dodgers pre-game show "Think Blue," anchored CBS-LA's "Sports Central" and covered the NBA playoffs, MLB playoffs and the Los Angeles Kings' run to the Stanley Cup.
Leahy grew up in Chicago, she grew up as a big Bull's fan and other sports. After high school, Leahy earned a Bachelor of Science in Journalism from Boston University. She worked as a reporter and host for New England sports radio station WEEI and spent two years as a host and in-house team reporter at TD Garden and for Celtics.com.
After the Celtics, Leahy spent one year as the lead sports anchor for Fox Boston.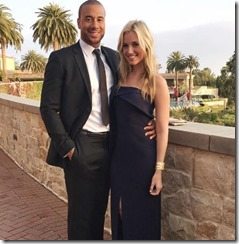 Pin
Her beau, is also known in some circles, according to his own website, Aaron Hines is a healthcare professional, director of training and instructor at cycle house, personal trainer. You might recognize him from his appearance on E!'s former reality series"hollywood cycle."
While attending high school in San Francisco, he was a three sport athlete (football, basketball and track). He attended UC Davis on a Football scholarship. Hines majored in communications with a double minor in African American studies and sociology. Following his passion for fitness and healthcare, he began his career as an indoor cycling instructor in September 2011 when cycle house first opened their doors in West Hollywood. His class has become one of the most sought after workout classes in all of Los Angeles.
In addition, Aaron Hines also has a career as a sales specialist in the pharmaceuticals business. He first began working for pfizer pharmaceuticals and later for Allergan, according to  his LinkedIn.
You can check him out on Twitter here.