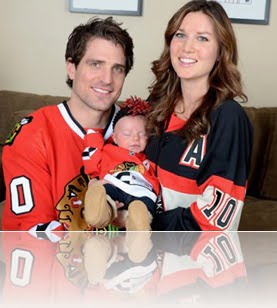 Meet Abby Sharp, she is the stunning wife of Patrick Sharp the Canadian forward NHL player with the Chicago Blackhawks currently playing at the 2013 Stanley cup playoffs!
31-year-old Patrick Sharp met his beloved wife 32-year-old Abby while they both attended at the University of Vermont, they dated for 9 years before they got married on July 24th, 2010 in Watch Hill, Rhode Island.
She gave birth to the couple's beautiful daughter Madelyn Grace Sharp on December 9th, 2011.
Sharpie's beautiful wife was born Abigail E. Banever on April 06, 1981 in Farmington, Connecticut to Jennifer Burke Banever and Dr. Thomas Banever. Abby Banever Sharp has two older brother Andrew, 39, Seth, 36, and sister Sarah, 36 and younger sister Emily, 23.