Alison Campbell
Alison Campbell is the gorgeous PGA wife of pro golfer, Darren Clarke. Her 48-year-old Irish hubby currently plays on the European Tour. Clarke, who is team Europe's captain is set to bring his a-game this Friday as the Ryder Cup begins.
The European captain told in his press conference, he is already "almost 100 per cent" certain of his pairings for the opening day. Europe will begin their bid for a fourth consecutive victory, meaning the stakes are high for Alison's man.
Darren Christopher Clarke was born August 14, 1968. Clarke who hails from Northern Ireland has previously played on the PGA Tour.
He has won 22 tournaments worldwide on a number of golf's main tours including the European Tour, the PGA Tour, the Sunshine Tour and the Japan Golf Tour. He had his first major win after more than 20 years in 2011 when he won the 2011 Open Championship at Royal St George's in England. It was his 54th attempt. 
Alison's hubby was appointed OBE in the 2012 New Year Honours for services to golf.
As we can see, Darren is a big name in the pro sport, but his lovely lady, is also a successful woman in her own right.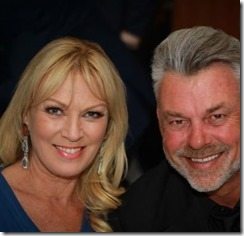 Alison Campbell, who also goes as Alison Clarke, is the founder of ACAModels.com. You see Alison Clarke is 'the' name in Northern Ireland associated within the fashion industry.
Accoridng to the website, Alison is a former beauty queen. She was corned Miss Northern Ireland 1982 as Alison Smyth. She also was runner up to Miss UK in the same year. She began modeling while working in a Bank.
In 1990 she single handedly opened the now longest running modeling and promotion agency in Northern Ireland after starting organizing Miss Northern Ireland in 1987.
Alison Campbell helped launch the careers of many young men and women who have all started their careers under the auspices of her agency. Among them TV Presenters Zoe Salmon and Joanne Salley , Models Gayle Williamson, Lucy Evangelista, Shauna Gunn all of whom became Miss UK.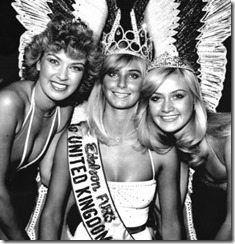 Alison is also big on charity. She is involved in the NI Hospice and the Children's Hospice in their fundraising efforts through many publicity campaigns.
Alison is the mother of two children, Stuart and Philip with first husband Arthur Campbell. Her son Stuart lives in San Francisco and works for Invest NI. While her other son, Philip works for Funding Circle in London.
She and Arthur divorced in the mid-90's.
She and Darren met in November 2009. Alison has been credited with transforming her golfer husband into the sleek, stylish dapper gent we get to watch on our TV screens. The couple wedded in 2012.
She also became the stepmother to Darren's two sons, Tyrone and Conor.
Her hubby was previously married to first wife, Heather Clarke who died from cancer in 2006, after ten-years of marriage.
You can check out Alison Campbell Clarke on Twitter here.