Robin Love
Robin Love is the long time wife of PGA golfer Davis Love III. Her 52-year-old hubby is the captain of the United States #RyderCup team.
Davis Milton Love III was born on April 13, 1964  in Charlotte, North Carolina. He is a graduate of the University of North Carolina before he became pro in 1985.
It was in 1987 when Love won his first PGA Tour event. Later on, he stayed on the top 10  list of the Official World Golf Rankings for more than 450 weeks. To date, he has already won 20 PGA Tour events, which include the major PGA Championship in 1997.
He also participated and won in the renowned Players Championship in 2003 and 1992. To date, he has already won a total of 36 professional wins which include 20 PGA Tours, 1 Japan Tour and 15 other tours. Davis Love III is a recipient of the 2008 Payne Stewart Award and 2013 Bob Jones Award.
Among other highlights we can mention, the 1990 The International, the 1991, 1992 and 2003 MCI Heritage Golf Classic, the 1992 Kmart Greater Greensboro Open, the 1993 Infiniti Tournament of Champions, the 1993 Las Vegas Invitational, 1995 Freeport-McMoRan Classic, the 1996 Buick Invitational, the 1997 Buick Challenge, 1998 MCI Classic, the 2001 and 2003 AT&T Pebble Beach National Pro-Am, the 2006 Chrysler Classic of Greensboro and 2008 Children's Miracle Network Classic.
No doubt it's an exciting moment for Davis, but also for his wife of 30-years, Robin.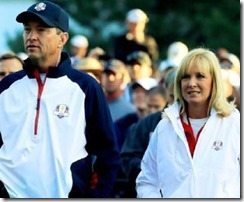 Robin and her husband Davis have known each other since they were in high school. The couple began dating during Davis' junior year at the University of North Carolina. After a long courtship, the two got married in 1986.
Robin and her hubby are the proud parent of two kids. Daughter Alexia, and son Davis Love IV.
In her role of a supportive pro golfer wife, Robin Love helps with the design of the Ryder Cup uniforms. As a matter of fact, is a tradition, the wife of the Ryder Cup captain is is involved in shaping the team's look.
She said about it
"In 2012, I did pretty much all the men's clothing myself, with a little bit of Davis looking at pictures at home and giving feedback"
The wife, mom and grandmother, also revealed her hubby was much more hands on in 2015.
Robin Love and her family are currently residing in Sea Island, Georgia.
Excited to watch Robin at the course this year?