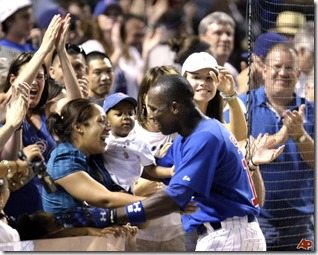 Dominican baseball player Alfonso Soriano is hot right now! The 37-year-old currently plays as an outfielder for the Cubs of Chicago but  according to NY Yankees trade rumors; cub's Soriano is a possible target and might be getting close to acquire him!
Soriano, began his major league career with the Yankees in 1999. He was traded to the Texas Rangers for Rodriguez on Feb. 2, 2004, playing two seasons with the Rangers and one with the Washington Nationals before signing with the Cubs in November 2006. Following the current season, he has one year remaining on an eight-year, $136 million contract. But let's get a little more personal shall we?!
Alfonso a Latino macho base baller is married to wife Angelica Soriano and have been for quite a while we assumed since the couple has six kids! Back in 2008 Angelica 36, had to go to the public shame of her hubbies cheating ways! Soriano was photographed in several different comforting positions with a young woman identified as Keri Wiesen.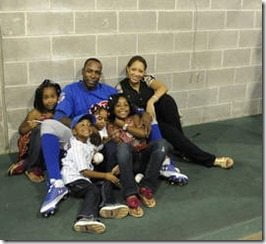 The pictures didn't show anything that revealing other than a few shots of Soriano and Wiesen cruising together, however when you are a married man it might translate into something else a little more serious.
Soriano and Mrs. Wiesen relationship however ended just as it started since as far as we know he is still happily married to his wife and mother of his children; three girls Alisis, Angeline and Alisha, and three boys named Allen, Angel and Alfonso Jr. It would seem Mrs. Soriano is a very private woman, she likes to keep things within the family since there is not much information about her, that doesn't mean she does not know how to keep the others at a safe distance from her man.
Soriano also has 10-5 veto control of any trade the Cubs might want to make. Any player with 10 years in the major leagues and five years with the same team retains this veto control. He said no to a trade that would have sent him to the San Francisco Giants last summer. What do you think he will say now??
You can find Soriano on his Facebook fan page here.