Anna Zair
Anna Zair is the pretty blonde dating British swimming sensation, Adam Peaty! Her 21-year-old boyfriend, became Britain's first gold medalist as he took the medal in the 100m breastroke at the 2016 Olympics.
Anna Zair is one proud girlfriend, Adam went on to break his own world record he had set just a day before, winning Britain's first male swimming gold in 28 years.
Peaty was born Dec. 28, 1994. He has lived his whole life in Uttoxeter, Staffordshire with his parents.
According to his profile, Peaty made his first traveling team as a junior swimmer, at the European Junior Championships in 2012. He competed in all three breaststroke events, and even finished fifth overall in the 200m breaststroke. A year later in 2012 Peaty competed at the FINA World Cup circuit, and won his first medals at the 2013 British Gas Swimming Championships in Sheffield.
He won silver in the 50m breaststroke and bronze in the 100m breaststroke in Sheffield, but at the 2013 British Gas ASA National Youth Championships, Peaty swam his first sub-1:00 100m breaststroke swim.
2013 was a big year for the breaststroke specialist who competed in his first senior international competition, this competing at the European Short Course Senior Championships. He went best times in all three breaststroke events.
At his first Commonwealth Games in 2014, Peaty represented England and won four gold medals including the 50m and 100m breaststrokes. At the 2014 European Championships in Berlin, Peaty broke the World Record in the 50m breaststroke.
In Apr. 2015 Peaty competed at the 2015 British Nationals, swimming his 100m breaststroke in under 58 seconds, breaking the World Record. In 2015 Peaty is on top of the world rankings in the 100m breaststroke.
While representing Great Britain at the 2015 World Championships in Kazan, Anna's beau was the first Brit to win three gold medals in a single World Championships.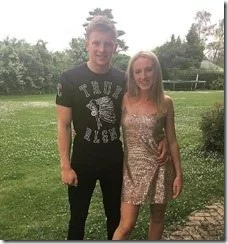 Is needless to say Anna Zair is Peaty's biggest fan. The lovely blonde is currently tagging along with Peaty's parents while in Rio.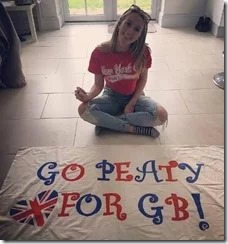 Anna Zair and Adam have been dating for a while now. The couple walked the 2015 carpet at the SPOTY awards in Belfast. Judging by the confidence level between Anna Zair and Peaty's parents, it's safe to say she has been more than accepted into the family.
Not much is known about Anna Zair but at a first glance, she seems like a lovely and fun girl. She keeps very active on social media. On her instagram she's often posting about her beau and always seems to be the light of the party while hanging out with friends.
You can check her out on Twitter here.