Meet Austin Riley's drop-dead gorgeous wife, Anna Riley! This lovely young lady has been an important part of Riley's life since high school. As most of you must know, Austin Riley is the third baseman currently signed by the Atlanta Braves.
Austin Riley Family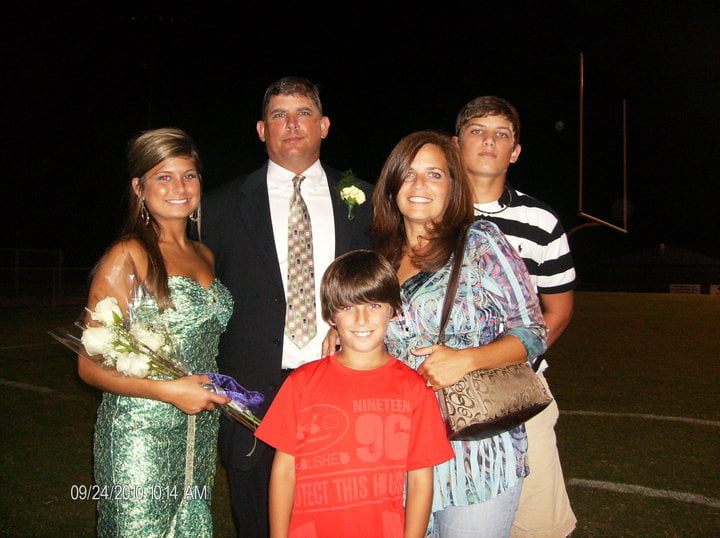 Austin Riley was born Michael Austin Riley on April 2, 1997, in Memphis, Tennessee. He is the son of Elisa and Mike Riley. Austin is the eldest son el Mike and Elisa Riley; their youngest children are Emily and Zach Riley.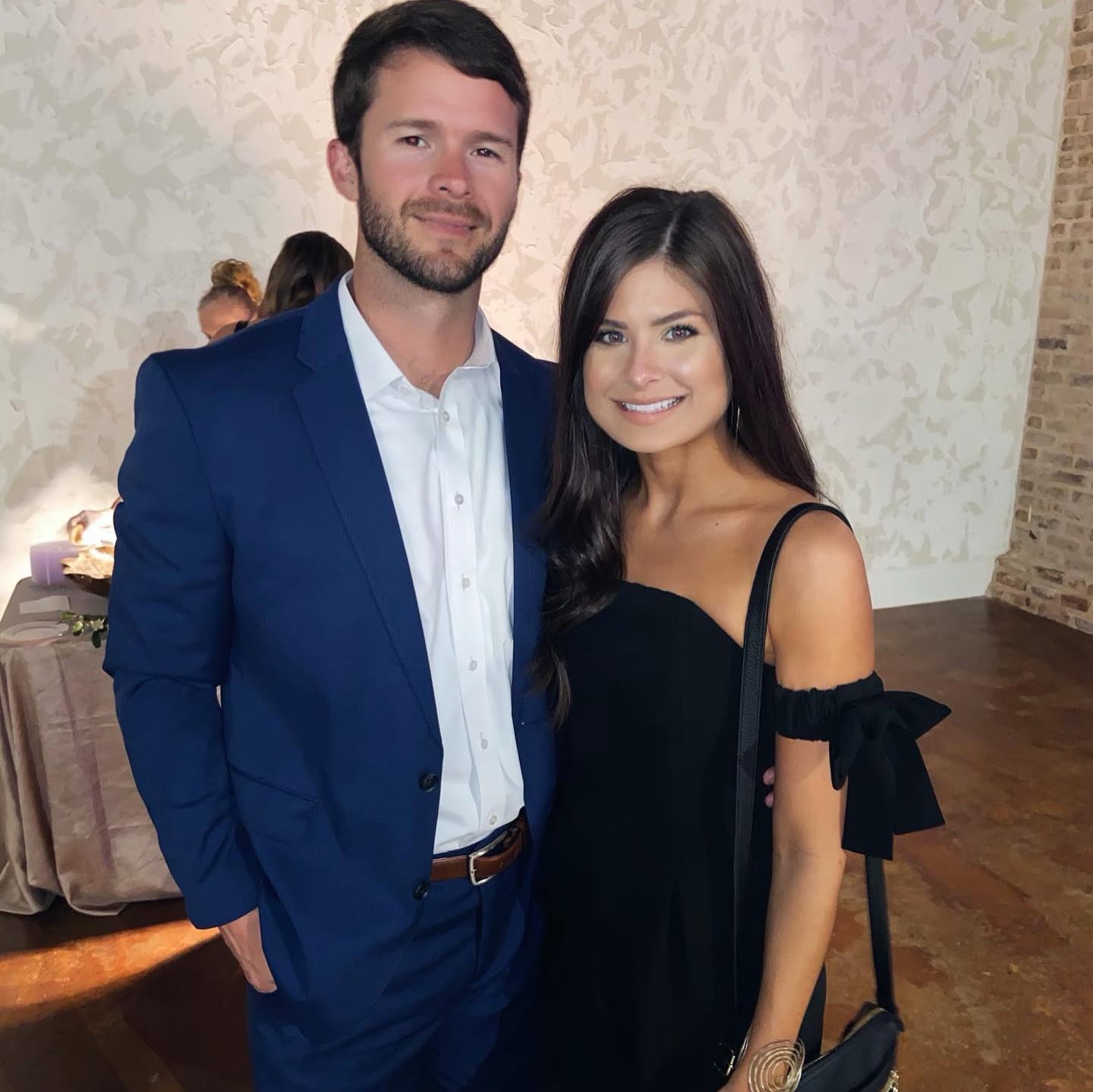 Emily Riley is now Emily Riley Herrington since she married Dex Herrington; in August 2015, Emily's hubby Dex Herrington played baseball and football and Delta State and NWCC from 2010 -2012; he currently works in sales at MMC Materials, Inc. Emily like her husband attended Delta State University.
Austin's youngest sibling, Zach Riley, a student at Desoto Central, is a member of the DC Boys golf team.
Austin Riley High School & College
Austin Riley played baseball while DeSoto Central High School, where he recorded 514 plate appearances, a .408 batting average, .505 on-base percentage, 139 RBI, 28 Home runs, 171 hits, and 93 runs scored; in addition, Austin pitched 204 innings, accumulating 26 wins and only six losses. He had a 1.54 ERA and 245 strikeouts.
He committed to play for the Bulldogs at Mississippi State, however. That changed after the Atlanta Braves drafted him in 2015 and decided to sign his first MLB contract in March 2016.
DeSoto Central High announced they would be retiring Austin Riley's jersey on January 27, 2021. His jersey was subsequently retired on February 6.
"This is an opportunity to recognize one of the most decorated players in our program's history," DeSoto Central head baseball coach Mark Monaghan said. "Austin's career at DC left an impact on the program, his teammates, and the state. His work ethic was always second to none, which led him to great success with the Braves and has helped him become an everyday starter at the major league level. We are excited for this occasion, and we're proud of Austin and all of his accomplishments."
Austin Riley MLB Career Timeline
The Atlanta Braves used the 41st overall pick to acquired Austin Riley from the San Diego Padres in a trade.
The Atlanta Braves selected Austin Riley with the 41st during the competitive balance round A (competitive lottery pick round) of the 2015 MLB draft.
He was assigned to the Braves affiliate team, the Gulf Coast Braves.
He was promoted to the Danville Braves after 30 games.
Riley played with the Florida Fire Frogs during the 2017 season.
Joined the Mississippi Braves in July 2017.
That same season he played with the Peoria Javelinas.
In 2018, Austin Riley was promoted to the Gwinnett Stripers.
Finally called up by the Atlanta Braves on May 15, 2019, he made his debut that same night against the St. Louis Cardinals.
Riley hit his first career Grand Slam on May 29, 2019, against the Washington Nationals.
He was named NL Rookie of the Month for May 2019.
Austin suffered a right knee sprain in August 2019, therefore placed on the 10-day injured list.
Austin Riley Net Worth
An actual knowing regarding Austin Riley's net worth is uncertain, but his contract with the Atlanta Braves puts Riley's Net Worth around $2,812,848.
Austin Riley Contract & Salary
Austin Riley signed his rookie contract worth $1.6 million on March 8, 2016. His annual salary is $590,500. Spotrac reported Austin Riley's one-year contract extension is worth $4 million.
Austin Riley Jersey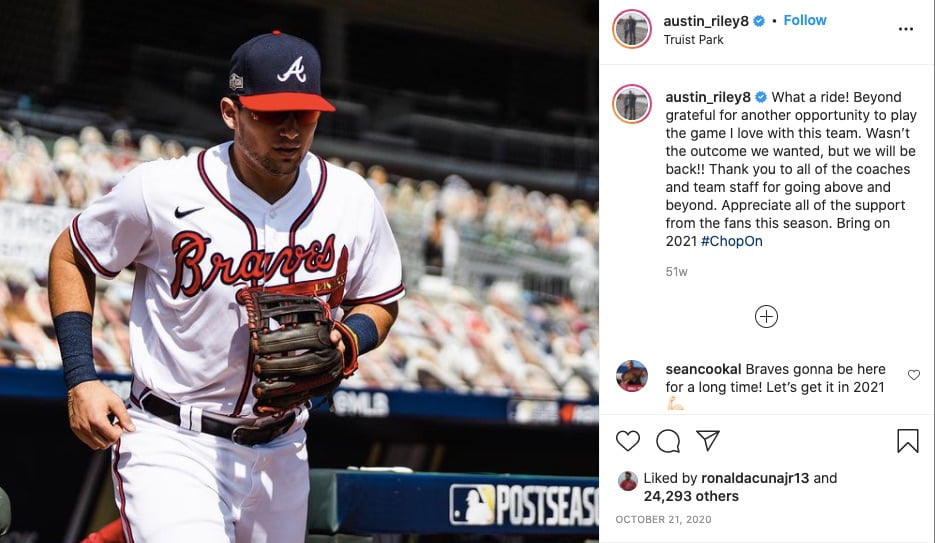 Atlanta Braves fans looking to get their hands on Austin Riley's sweet jersey and other Braves gear, you can all find the best items at the MLB Shop; Riley's jersey is also available at the Atlanta Store Online, and you also head out to Fanatics.
Austin Riley Wife
Austin Riley's wife is the lovely Anna Riley; Anna and Austin have known each other since high school, but they started dating until her freshman year of college.
Austin and I went to high school together; we knew who the other was, but we never really talked to each other. After my freshman year of college, I came home for the summer break and that is where our story began! Anna Riley said.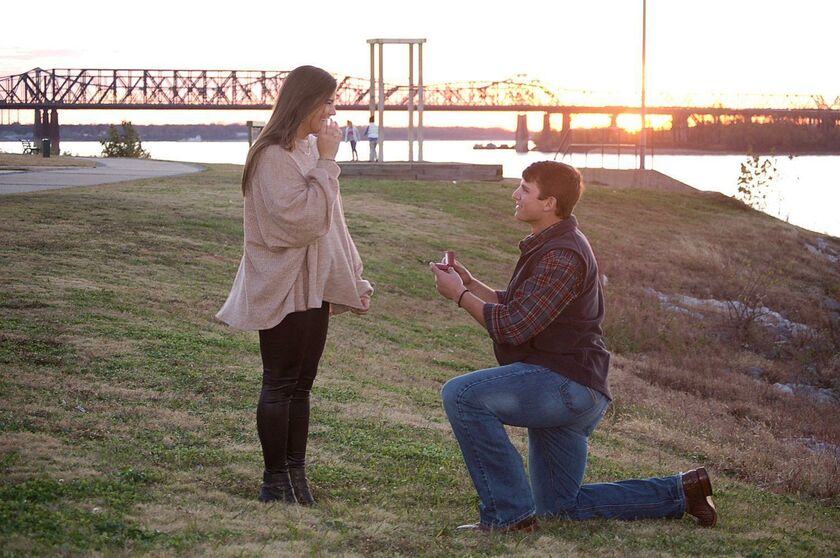 Austin Riley and Anna got engaged on November 27, 2017; here is what Mrs. Riley said about that special day.
We were supposed to just be having a date night after a long season apart… but on the way to eat, Austin got a call that he needed to meet up with someone on the way. So, we pulled into the parking lot by the river and Austin asked if I wanted to walk around while we waited. Most people would think that that would have been a "clear sign" but if you know Austin, you also know he can not sit still to save his life!
As we walked around, he kept inching towards the river. Suddenly, he came to a complete stop and turned towards me. I honestly was in complete shock when he knelt on one knee! My perfect guy asked me to be his wife and of course, I said yes!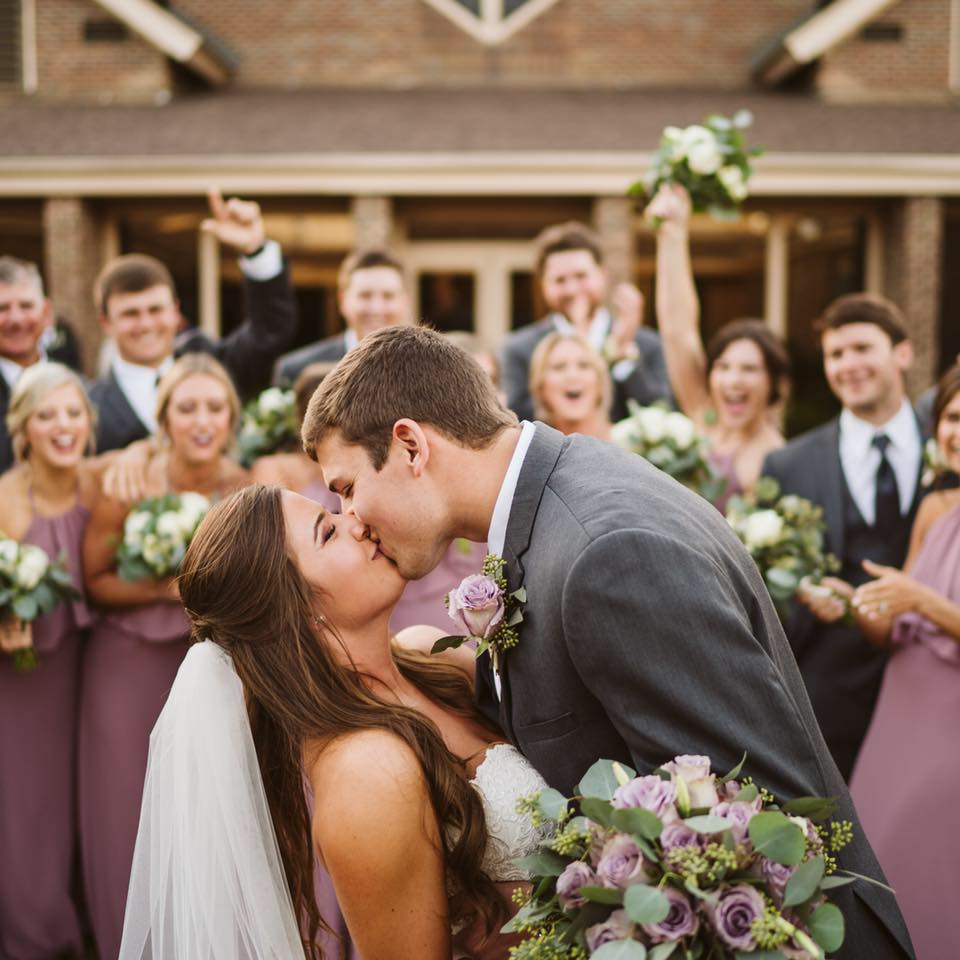 They got married on November 8, 2018, at Hernando United Methodist Church in Memphis
 Anna Riley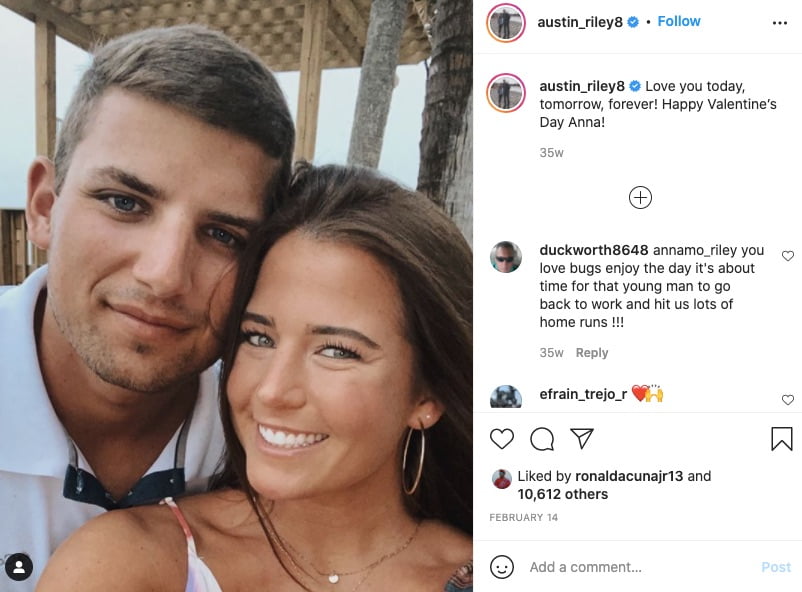 Anna Riley was born Anna  Morgan Harrington on March 6, 1996, in Southaven, Mississippi; she is one of the daughters of Mary Markow Harrington and Hap Harrington. She has two beautiful sisters, Lexie a registered nurse at St. Jude Children's Hospital, and Emily Harrington a student at DeSoto Central.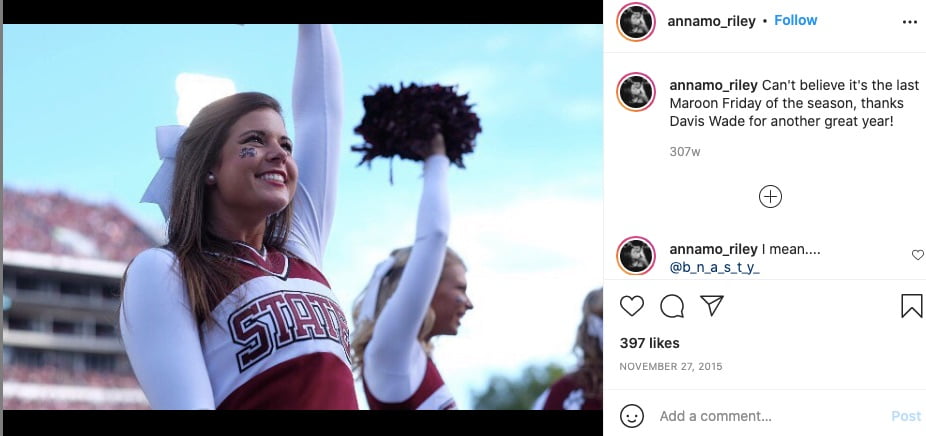 Anna Riley graduated from DeSoto Central in May 2014, she later attended Mississippi State University where she was a member of the  Dawgs cheerleading team, Chi Omega Sorority, marketing intern with Mississippi State Athletics, and graduated with a degree in public relations, advertising, and applied communications in 2018. Anna worked as a receptionist at EPG Insurance in Memphis, Tennessee; she is now involved with the Brave Kids Mystery Baseball Fundraiser
Austin Riley's pretty wife Anna Riley has over 10.9 k followers on
Instagram;
there she keeps us uodated about her life as a MLB wag!