Carolina Baldini
A few years ago, Atletico de Madrid was going thru a terrific time, their coach Diego Simeone aka Cholo not so much, after almost two decades of being married to former model Carolina Baldini, three children together, splits, reconciliations, affair rumors, they have decided to part their ways and divorce.
Argentine coach and former player Diego Simeone was 17 when he signed with Velez Sarsfield, in 1990 three years later he moved to Italian Serie A team Pisa and played with Sevilla in 1992 and in 1994 Simeone el Cholo arrived to the team that holds his heart Atletico Madrid.
He played for two season with Internazionale  and with Lazio in 1999, by 2003 he came back to Atletico where he stayed until 2005 when he returned to the country that saw him be born  one Tuesday evening, April 28, 1970. In Argentina  he signed with Racing.
With racing Diego Simeone played his last match on February 17, 2006, he didn't stay far from Racing, because that same year Cholo became their  manager; in May, 2006 he became joined Estudiantes de la Plata, his impressive leadership awarded him the title of Best Manager in the Argentine League.
In December, 2007, River Plate introduced Simeone as their new coach, he  left the team within a year and signed with Club Atletico San Lorenzo de Almagro aka San Lorenzo in April, 2009, but by April, 2010 he was flying to Sicily where he became Serie A team Catania's new coach. Diego helped Catania stave off relegation, but he left the Italian team to joined Racing Club once again in June, 2011. Six months later Atletico Madrid unveiled their new coach and former star Diego Simeone, together they won UEFA Europa League and UEFA Super Cup in 2012, Copa del Rey last year and who knows maybe the UEFA Champion League this year.
As we mentioned Diego is divorcing his wife of over 20 years, Carla Baldini aka Carla Simeone. It has been rumored that they have been living separate lives for a while and both have already move on, Diego is allegedly dating the Joaquin Cortez's ex/girlfriend Carla Pereyra who is now expecting his fourth child , but what has Carolina been doing???
Related Story:  Diego Simeone's New Girlfriend Carla Pereyra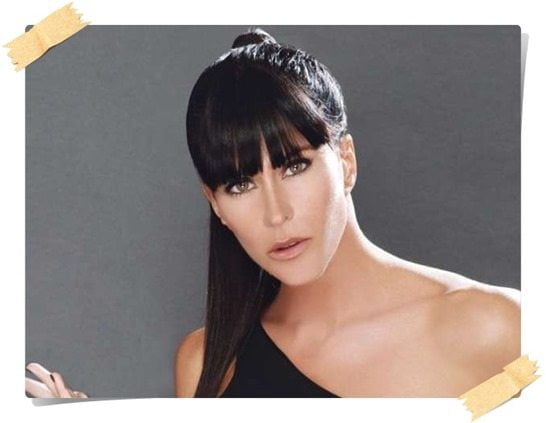 38-year-old- Carolina Baldini, who is also known in Argentina as La Chola, was born in Buenos Aires in December 1976. Before she tied the knot to Simeone, Carolina was a model.
She met Diego when she was 19 at a nightclub in Argentina,  they dated for two years before they got married on July 22, 1994. After their fab wedding, she quit modeling a became a soccer WAG and momma of three handsome boys.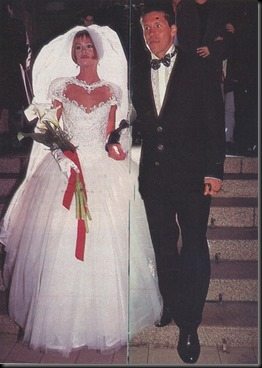 Carolina and Diego are the proud parents of their sons Giovanni, 18, Gianluca, 15, and Giuliano, 11. Their oldest Giovanni, known as Cholito, is a striker with Atletico Madrid, before Madrid Giovanni was playing with River Plate in Argentina, where his younger brother Gianluca is a player.
In 2008, Carolina Baldino competed in the Argentine version of Dancing with the Stars and Dancing on Ice; she made her comeback to modeling that year and is regularly hosting television shows.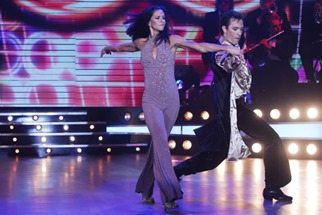 Between 2009 and 2010 Diego and Caro split up, media reported a series of articles about the possible cause of their breakup; they suggested that was due to an alleged affair between Diego and 21-year-old model Julieta Espina and to get back at her husband, Baldini was photographed getting cozy in the Brazilian and Mexican beaches with a blonde long/haired guy with a smoking body, who was later identified as Fabian Orlovsky who is known as He-Man in Argentina.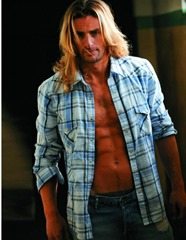 During an interview Carolina commented about the infamous photos of her and Fabian,  and said that she told Diego about it, she also commented that she and He-Man have been friends for years,Fabian is a  gym teacher and lifeguard and nothing happened between them.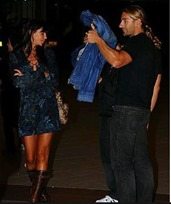 Luckily they reconciled in 2011, she remained in Argentina when he signed with Atletico Madrid.
According to recent reports Diego and Carolina tried to save their marriage but to no avail, eventually decided to split up and started the divorced proceedings in the most amicable way for the sake of their sons.
You can Follow Carolina Baldini on Twitter here