Carolina Castro
Carolina Castro is the Latina dating veteran long jumper Fabrice Lapierre. The 32-year-old has been consistently among the top three or four on the Diamond League and it could all come together with a giant leap in Rio.
Commonwealth Games gold was nice, but Olympic gold is always the main game. He's one of the better medal chances in track and field.
The Aussie Olympic Long Jumper and world Champion, jumped 8.27m at the 2016 Australian Championships to win the national title and to confirm his selection for Rio in style.
The mark was his furthest to date to start the season. His career best form continued in the northern hemisphere with nine consecutive eight metre jumps and five Diamond League finishes.
He has been jumping over eight metres since 2006 and has delivered at the big events to have an impressive trophy cabinet. The only medal missing is from the Olympics.
Lapierre made his Olympic debut at Beijing 2008, aged 24, when he finished 16th in the long jump. Unfortunately he missed the London 2012 Games due to a hamstring injury.
Mauritian-born Australian has been living in Arizona since 2014 to train under the guidance of Dan Pfaff at the Altis Athletics Club. The move has certainly paid off. His several world podiums are proof. He won silver at the 2015 World Championships in Beijing. He won gold in 2010 and silver in 2016 at the World Indoors, and he has a Commonwealth gold (2010) and bronze (2006).
Commonwealth Champion has outdoor personal best of 8.40m from 2010 ranks him as third best Australian behind 2012 Olympic silver medalist Mitchell Watt (8.54m) and Sydney 2000 silver medallist Jai Taurima (8.48m). He is the national indoor record holder with his 8.25m from Portland 2016.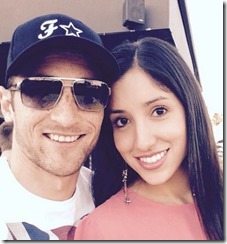 The 2x World Silver Medalist has several social media photos with a hot gal from Arizona named, Carolina Castro. We are not exactly sure of their current status. It's been a while since they last posted a photo of them together.
Last June Carolina Castro and her athlete star boyfriend attended a pool party at one of Las Vegas' hottest spots.
You can check out the lovely senorita on Instagram here.