For Fabwags it is a great pleasure to introduce to you Casey Guerrero, she is the amazing wife of boxer Robert Guerrero, her story is just heartbreaking, inspiring and we are sure it might ending up helping someone today, after all it is not by chance  that you are reading this.
30-year-old Robert Guerrero  born in Gilroy, California is the great boxer known as the Ghost who will face Floyd Mayweather on May 4th, he  was recently arrested last week when he tried  to board a flight to Las Vegas with an unloaded gun.
Guerrero who has been boxing beautifully since he was a child became a professional boxer in 1991 at the age of 18, won the Featherweight title against Eric Aiken on September 2, 2006.
He lost the title to Orlando Salido two months later in Las Vegas, but had the chance to win it back on February 23rd, 2007 against  Spend Abazi. from Albania; that same year he was set to defend his title to Rocky Suarez at first but when Suarez chose Juan Manuel Marquez instead Guerrero was schedule to fight Martin Honorio.
A bitter sweet victory against Honorio for The Ghost came on November 27th just a few days after his lovely wife Casey was diagnosed with Leukemia. Guerrero continue to box until February, 2010 after that he vacated his Featherweight title to take care of Casey.
Robert Guerrero and wife Casey Guerrero began to date when they were just 14,they didn't attend to the same school but live in the same neighborhood.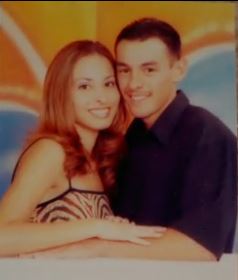 They got married 8 years later in 2005 in Las Vegas.
She became pregnant very soon after the wedding and gave  birth to her beautiful baby daughter Savannah now 8that same year, two years later came her gorgeous son Robert Jr.now 6; sadly not all was laughter for the Guerreros.
In 2008 29-year-old Casey Guerrero began to feel sick, her glands started swelling the fall of 2007, she was puking all the time and her face was insanely pale, in the beginning she thought it was some sort of stomach flue but when her condition worsen her husband took her to the Emergencies and it was there  where after her test results came she was given 50 percent chance to live, she had leukemia, and it already had spread from her blood up her spine and into her brain.
After taking chemo, Casey's  cancer went into remission twice, the chemo was injecting it straight to her brain to attack the disease better but it wasn't working, in 2009 she was told she needed a bone-marrow transplant ASAP!!
In January 2010 through the National Marrow Donor Program in the other side of the the world a German student 20-year-old  Katharina Zech was found to be the perfect match for Casey, the surgery was done but the nightmare was not over, Casey was in isolation for a month, Robert Jr. was just a seven-month-old baby who needed his mommy just as much as Casey needed him, savannah and Robert.
"My son was only seven months old," Casey said, her voice choking up. "He needed his mom. It was really hard for me. The kids were so little. i just wanted to fight for my kids to still have their mom."
Robert was not fighting anymore at least not on the ring but side by side with Casey and they won, a month after the surgery Casey's blood cells count was normal and she was  send home, little by little like a baby steps she began to feel better each day. She was finally cancer free six months after her surgery!!!!!!!!!!!!
"God has blessed me in so many ways. I'm thankful to him for what he's given me and for the fact that he's given Casey her health, I am a walking miracle"
As for the donor, Katherina is like a sister for Casey Guerrero they had a chance to meet face to face, they are grateful for her, and Katherina continues to feels overjoyed for being able to save Casey.
"It was really an amazing feeling," Zech said. "I wanted to give another person the ability to live. And when I met [Casey], it was like meeting my sister for the first time. We were not strangers."

"I don't know the feelings Casey has, but I have to believe they're way different than mine, but for me, seeing them together and enjoying each other brings me a tremendous amount of joy and peace,"
For Casey and Robert Guerrero Katherina is very a special person.
I love my wife more than I can ever say and I have her here with me because of this woman. It was an awesome privilege to be able to meet her and to say thank you for what she's done for us.

"There's a bond between us that is always going to be there. She is the person who saved my wife's life. I will be forever grateful to her for that."  Robert Guerrero said.
"We call each other sisters," Casey said. "We're family now. She is a part of us." said Casey.