This magnificent lady is Kelley Pulisic, the beautiful and proud mother of soccer player Christian Pulisic, the captain of the United States Men's National Soccer Team, and a winger for Premier League team Chelsea. Pulisic, dubbed Captain America, became the most expensive North American player of all time when he joined Chelsea on a transfer worth $73 million.
Christian Pulisic Family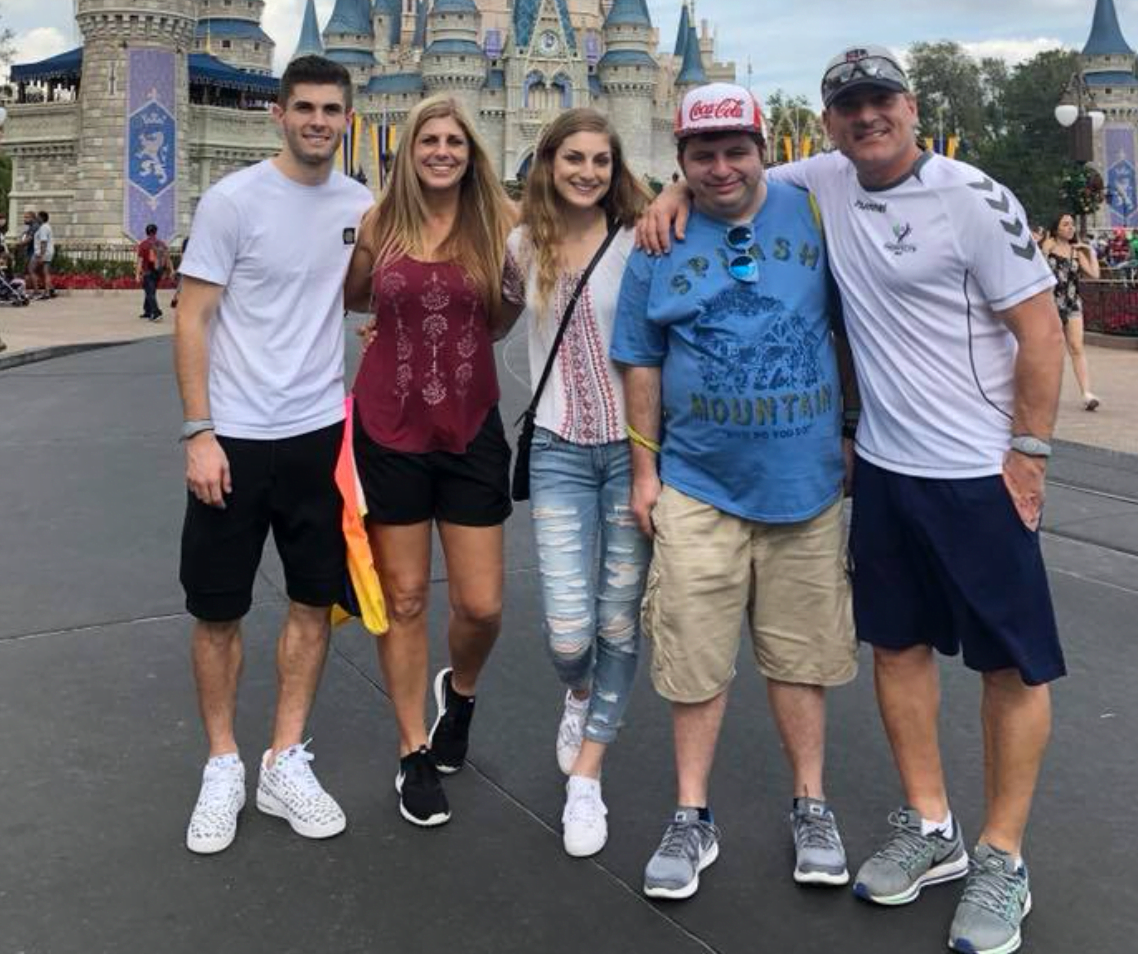 Christian Pulisic's amazing and supportive family consists of his parents, Mark and Kelley Pulisic, and his two older siblings, brother Chase and sister Devyn, aka Dee Dee Pulisic; they live in Lebanon, Pennsylvania.
Christian Pulisic Father
Christian Pulisic's father, Mark Pulisic, a former college soccer player, podcast host, and coach moved to Germany for two years when Christian joined Borussia Dortmund at age 15.
Mark Pulisic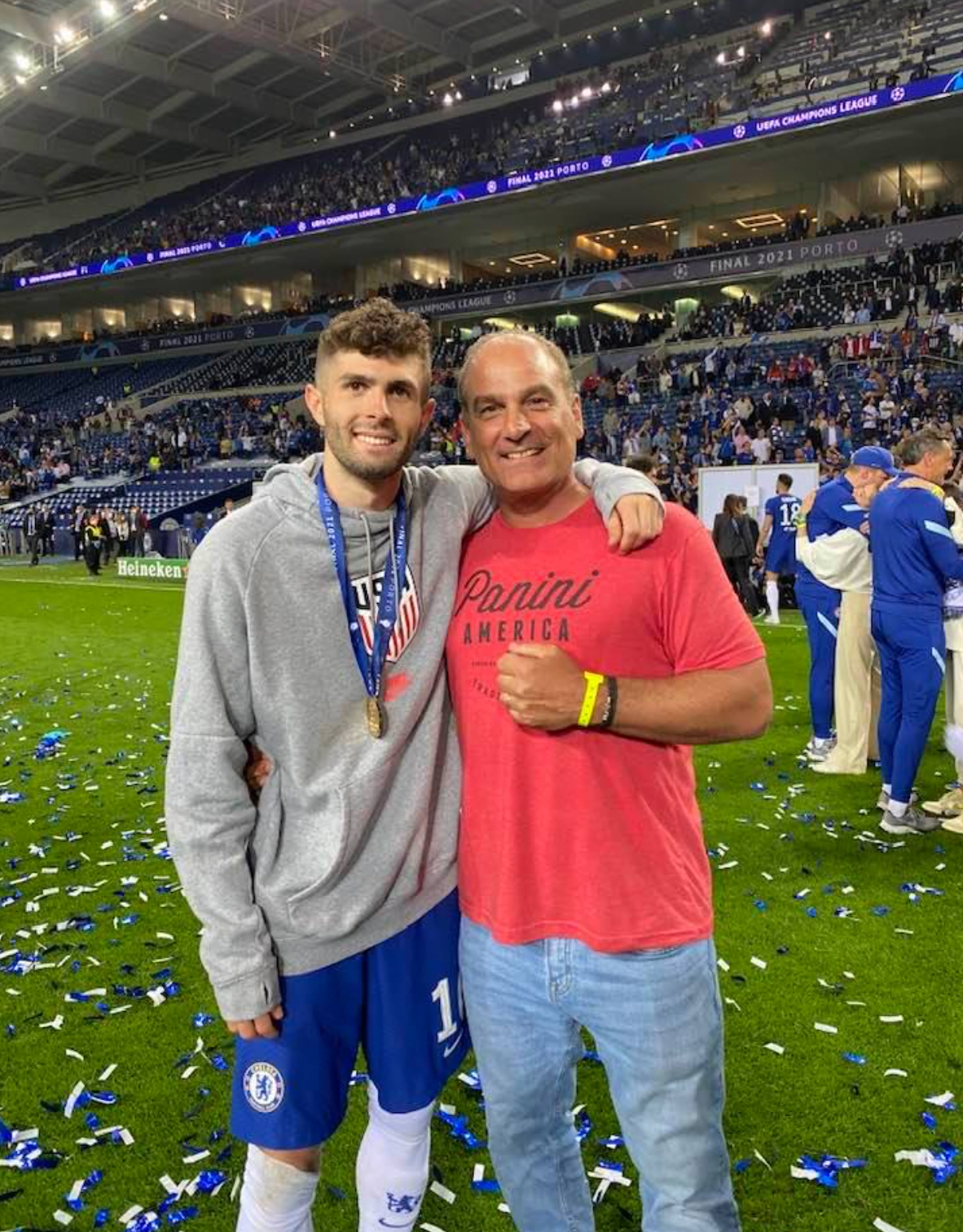 5'9 Mark Pulisic was born on September 20, 1968, in Long Island, New York; he is one of three children born to the late Mate Pulisic and his wife Johanna, also parents to Mark's brothers Steven and Matthew, father of MLS team Austin FC's goalkeeper Will Pulisic.
Mark Pulisic's dad, Mate, Christian Pulisic's grandfather after whom he was second named, was born in Olib, Croatia, to Marija and Jure Pulisic. Mate Pulisic graduated with an architectural design degree from NYU.
Mark played college soccer (forward)m at George Mason University from 1986 to 1989; he recorded 35 goals in 73 appearances with the George Mason Patriots. From 1991 to 1999; he played indoor soccer with the Harrisburg Heat, recording 296 goals.
After his retirement, Mark Pulisic started coaching both Lebanon Valley College's Women's and  Men's soccer teams; he later served as an assistant coach for the Harrisburg City Islanders and head coach for the Detroit Ignition during the 2006-07 season.
When Christian moved to Germany, Mark served as a coach for Dortmund's U10 academy team in 2017, was an assistant for the Rochester Rhinos, and has been an assistant coach for the Pittsburgh Riverhounds SC since 2018.
Christian Pulisic Mother
Christian Pulisic's mom Kelley Pullisic was a standout college soccer player at George Mason under head coach Hank Leung; at George Mason, Kelley and her husband Mark met and started dating. Kelley and Mark Pulisic met thanks to her brother Corey Harlow, who was not only a friend of Mark but also his roommate
"Obviously it is extra special because it is the place where I met my wife," Mark said. "We look back on those times as time is flying by here and we're getting older. The distance is greater but the memories are still close by."
"It is amazing because that is why my husband and I met – because of soccer," Kelley said. "To have one of our kids follow that same path is pretty cool. Obviously, he has gone way past where we ever went with it."
Kelley Pulisic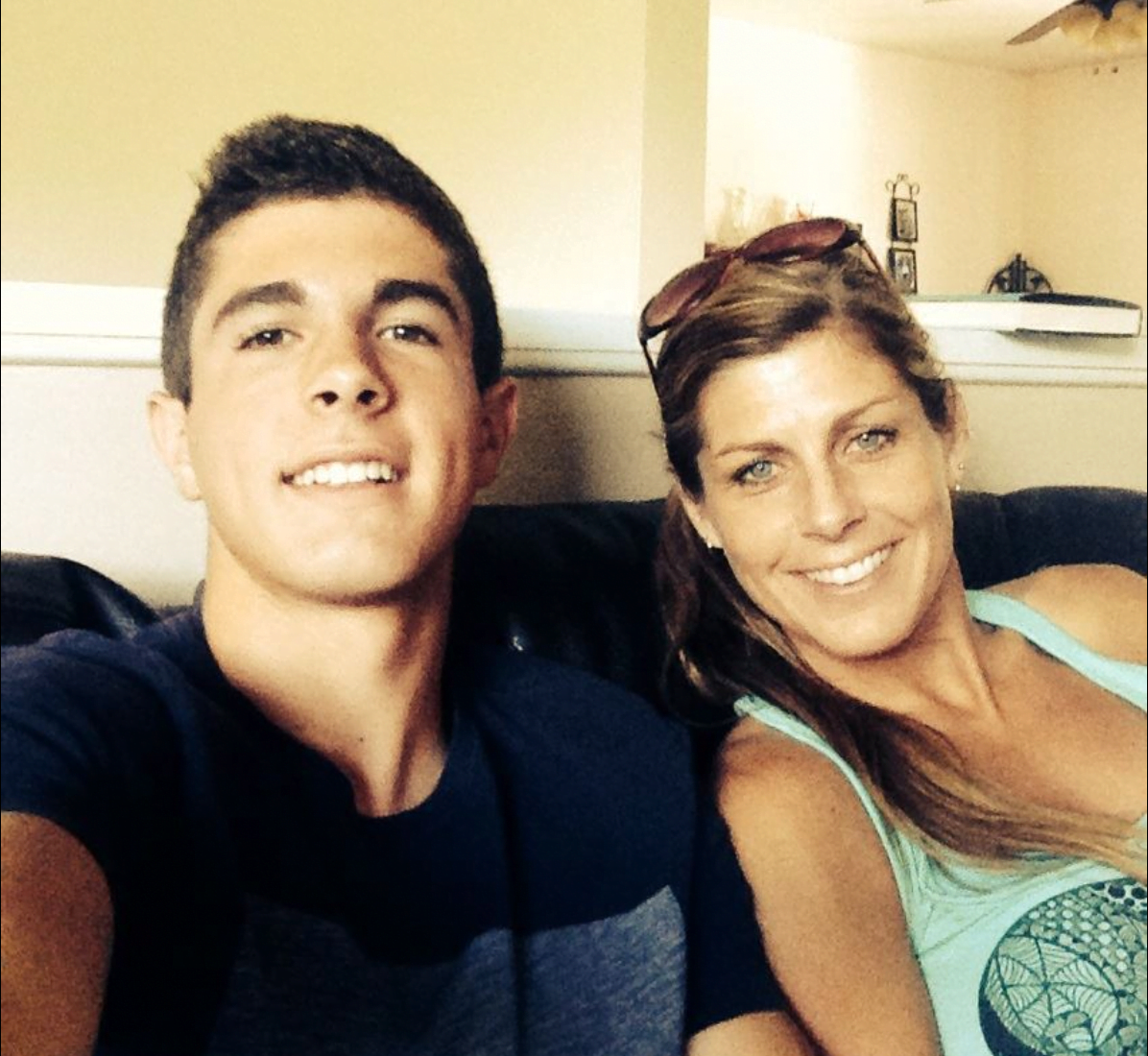 Kelley Pulisic was born Kelley Lynn Harlow on March 3, 1971, in Burke, Fairfax, Virginia. She played soccer for the George Mason Patriots from 1989 to 1992; she graduated from George Mason with a physical education degree.
As a Freshman, Kelley Pulisic helped her team reach the NCAA Tournament, earned NSCAA All-Region honors her sophomore year, and was second on the team with five goals and 12 points her senior year.
"Kelley was an outstanding player for us," Leung said. "I was really pleased we could get her. It was very rare we got an outstanding player who was a local player. That was a huge plus. She was one of my captains and someone you could always count on to get everything done. Anything that needed to be done on and off the field. She was terrific in that sense."
"Earning a starting spot my freshman year is probably one of the things I'll never forget," she said. "You come in as nobody and you have to try to earn your place. That is how I think I live my life. If you don't have something handed to you, you got to go out and get it. I think it is where it taught me a lot. Just good times. Great memories, great friends that I keep forever, which is kind of more important than anything outside the soccer world."
In addition to Christian, Kelley is blessed with two older children, Chase and Devyn.
Christian Pulisic Sister
Devyn Pulisic
two years older than Christian, his sister Devyn Pulisic is a momma and engaged to Austin Sawyer. Devyn, also known as Dee Dee welcomed. her daughter Avery Joy Sawyer on August 23, 2022.
Devyn Pulisic, a talented equestrian, started her business, Tranquility Stables, the new 13-acre farm; the property, a boarding and lesson facility in Lebanon, Pennsylvania, was gifted to Devyn by her brother Christian.
"It's been crazy the last couple months, so I'm taking a year off from coaching and just helping her right now," Christian and Devyn's father, Mark, told me on Thursday from the new family home. "Christian bought the property for his sister, so she's starting a business. It's exciting times."
Related Story: Weston McKennie Mother Tina McKennie
Christian Pulisic Brother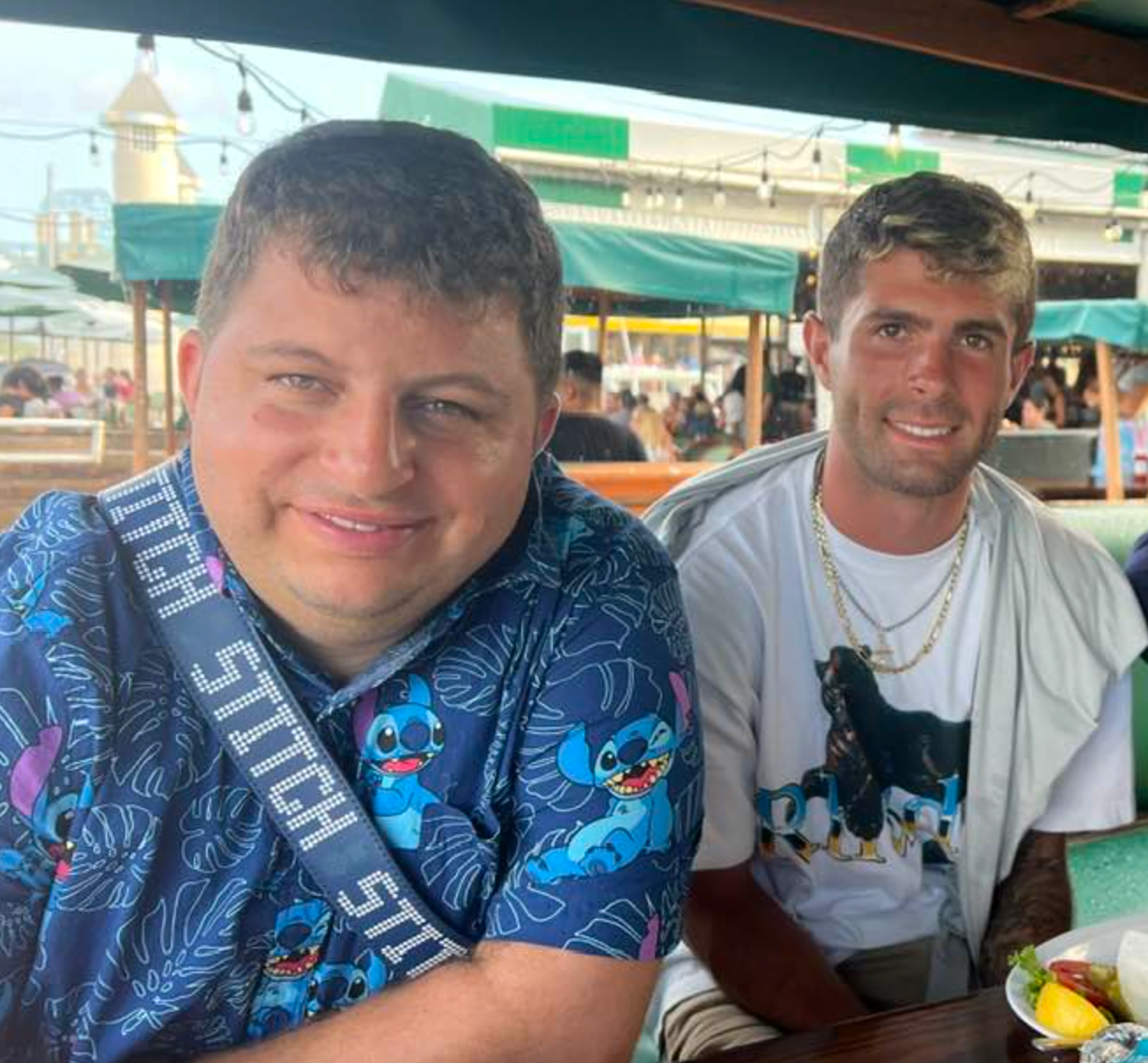 Chase Gallant
Christian Pulisic's older brother Chase Gallant was 13 when he was diagnosed with Asperger's Syndrome.
'Chase has taught me to just enjoy life. The way I see him, he enjoys just doing the simple things. He doesn't have a care in the world and doesn't let anyone's judgement affect him. He inspires me every day. I wish I could be like that at times; how confident he is in himself, it's amazing to me.'
Christian Pulisic Net Worth
According to Celebrity Net Worth, as of 2022, Christian Pulisic's net worth has been estimated at $10 million; Ventured, on the other hand, reported Pulisic's net worth estimated at $40 million. In addition to his salary, Pulisic earns from his endorsement deals.
Christian Pulisic Contract and Salary
Christian Pulisic's six-year contract with Chelsea is worth £42,900,000 ($45,842,940.00); The contract didn't include a signing bonus. His annual salary is £7,150,000 ($8,166,155.71).
Christian Pulisic Endorsements
Christian Pulisic's endorsements include Puma, Chipotle, Panini, Gatorade, Hershey's, EA Sports, and Perfect Play. His endorsement with Puma kicked off in 2021 after his deal with Nike ended; Hershey and the rest came soon after.
Christian Pulisic Soccer Cleats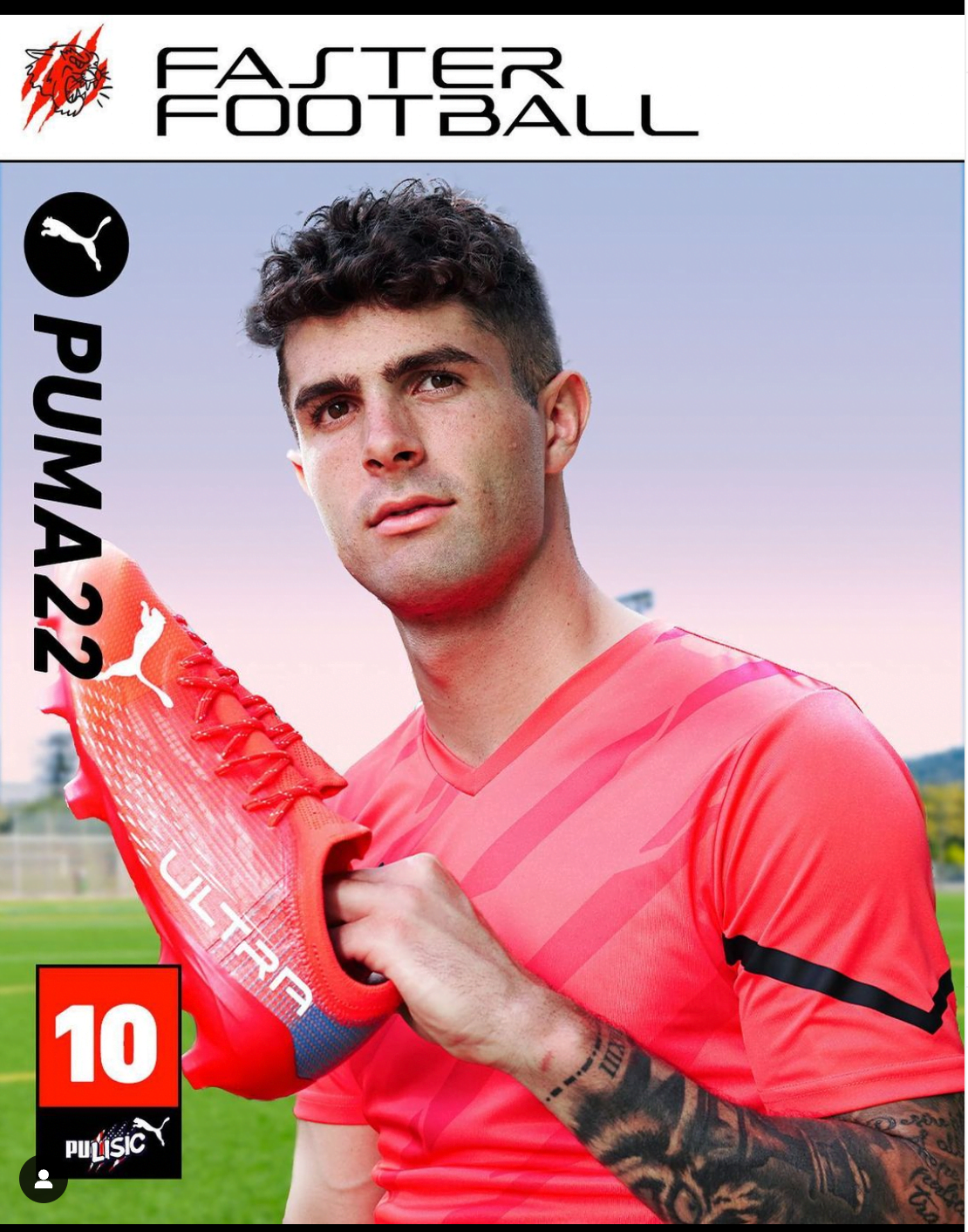 Christian Pulisic's soccer cleats are the Puma Ultra 1.3 cleats. You can find them for $220 at the Puma Store.
Christian Pulisic Career Timeline
2005: seven-year-old Christian Pulisic started playing for Brackley Town in England, while his mom worked as an exchange teacher.
2006: He played for Michigan Rush.
2008: Pulisic joined PA Classics and Penn FC.
Summer of 2010: Briefly played at The Cobham Training Center
2012: Rrepresented the United States at U-15 level.
October 2015: He was named captain of the U-17 team at the 2015 FIFA U-17 World Cup.
January 2015: 16-year-old Christian Pulisic signed with Borussia Dortmund.
May 2016: Pulisivc along with Felix Passlack joined Borussia's senior team.
February 21, 2016: Christian Pulisic made his starting debut with Borussia Dortmund against Bayer Leverkusen.
 March 27, 2016: Called to the USA senior team,  ahead of a World Cup qualifying game.
April 17, 2016: Scored his first goal with Borussia against Hamburg.
January 23, 2017: He agreed to a contract extension with Borussia Dortmund.
March 8, 2017: He scored his first UEFA Champions League goal against Benfica.
November 20, 2018: Was named captain of the National Team.
January 2, 2019: Pulisic signed a deal with Chelsea.
August 11, 2019: He made his debut with Chelsea.
 August 11, 2019: Made his Premier League debut against Manchester United
October 26, 2019: Pulisic scored his first goal with Chelsea against Burnley.
Christian Pulisic Girlfriend
Christian Pulisic is not married, nor he has a girlfriend either. Many wonder if he has a pregnant girlfriend, but the pregnant beauty with him on Instagram is his sister Devyn.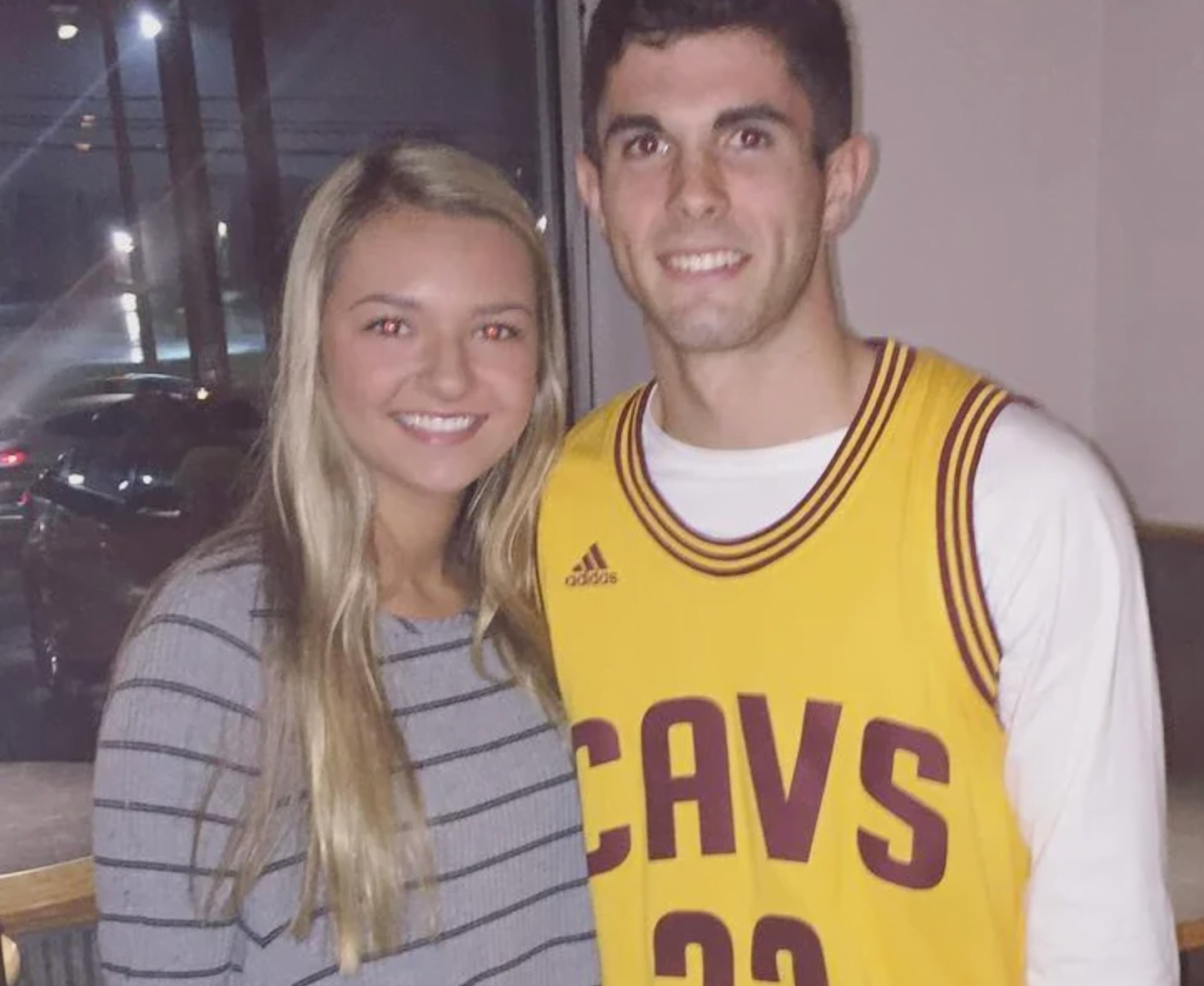 It is possible that a couple of years ago, Pulisic dated this beautiful blonde (photo above) and the gorgeous brunette identified as Hailey Schue (seen below).