Dan Lanning Wife
Have you met Dan Lanning Wife? Her name is Sauphia Lanning and she is gorgeous! Dan Lanning as you all know is the head coach for the Oregon Ducks Football team at the University of Oregon. He previously served as defensive coordinator and offensive line coach for the Georgia Bulldogs under head coach Kirby Smart.
Dan Lanning Family
Born in North Kansas City, Missouri on April 10, 1986, Dan Lanning is the son of Janis, a writer and elementary school teacher, and Don Lanning, a retired science teacher.
Dan Lanning College
In 2010, Dan Lanning received his Master's Degree in Secondary Administration from William Woods University in Missouri after earning a Bachelor of Science degree in both Physical Education and Secondary Education from William Jewell College in Missouri in 2008.
Dan's own journey into football began at William Jewell College in Missouri, where he played as a linebacker from 2004 to 2007. During his college years, he shared a house on Elizabeth Street with Trent Figg, who now works as an offensive analyst with Lanning at Oregon.
Dan Lanning Coaching Career
Park Hill South High School
Before his collegiate coaching career, Lanning served as an assistant football coach at Park Hill South High School in Riverside, Mo. His responsibilities there included coaching the defensive backs and wide receivers, as well as managing the special teams.
University of Pittsburgh
In 2011, Lanning transitioned to collegiate coaching as a graduate assistant at the University of Pittsburgh, where he worked with defensive backs and led recruiting efforts in several Northeast states. During his tenure, the Panthers participated in the 2011 BBVA Compass Bowl.
Arizona State
Lanning then followed Todd Graham to Arizona State, continuing his work as a graduate assistant before being promoted to on-campus recruiting coordinator in 2013. In 2014, he moved to Sam Houston State as the defensive backs coach and co-recruiting coordinator. A year later, he joined Alabama as a graduate assistant, contributing to the Crimson Tide's victory in the CFP National Championship game.
Memphis
In December 2015, Lanning was hired by Memphis as the inside linebackers coach and recruiting coordinator, reuniting with Mike Norvell, who had been the offensive coordinator at Arizona State during Lanning's tenure.
Georgia
In 2018, Dan Lanning joined the Georgia football team as the outside linebackers coach. Following the departure of defensive coordinator Mel Tucker for a head coaching role at Colorado after the 2018 season, Lanning took over as the defensive coordinator while also continuing his duties as the outside linebackers coach.
After leading Georgia to a Sugar Bowl victory, Lanning's salary was increased to $1.25 million. In 2021, he was among the candidates considered for the head coach position at Kansas, which was eventually filled by Lance Leipold.
During Lanning's last year with Georgia, the team had an exceptional run, ending the regular season undefeated. They triumphed in the 2021-2022 College Football Playoff, defeating the Michigan Wolverines in the Orange Bowl Semi-Final and subsequently the Alabama Crimson Tide in the National Championship Game.
Oregon
On December 11, 2021, Dan Lanning was appointed as the new head coach for the University of Oregon, stepping into the role vacated by Mario Cristobal who left to become the head coach at the University of Miami.
"Dan is an outstanding, high-energy football coach who will provide a world-class experience for our football student-athletes," Mullens said. "He is a tremendous recruiter and developer of talent, and we will continue to compete for championships while providing an environment where our football student-athletes can develop to their fullest potential in the classroom, on the football field, and as people. We are grateful for the opportunity to have Dan as the leader of our football program, and we look forward to the positive impact he will have on our student-athletes. We are excited to welcome Dan, Sauphia, Caden, Kniles, and Titan to the Oregon family!"

University of Oregon athletic director Rob Mullens.
Dan Lanning Contract and Salary
In July 2023, it was reported Dan Lanning agreed to a six-year, $45 million contract extension with the Oregon Ducks, earning an annual salary of $7 million.
According to CBS, the deal included a $20 million buyout if he left before his contract was finished, would receive up to three automatic one-year extensions for winning 10 or more games in the regular season, and a $500,000 bonus for winning the College Football Playoff.
On December 14, 2021, it was reported Dan Lanning agreed to a six-year, $29.1 million contract with the Oregon Ducks. Earning an annual sry of $4 million.
Dan Lanning Wife
Dan Lanning and his wife Sauphia Lanning met in 2005, while they were working at an Outback Restaurant in Liberty, Missouri and she was attending Northwest Missouri State University.
"It's crazy to think that our journey together started about 16 years ago at Outback Steakhouse. I was a server and she was a to-go girl. And next thing you know, we're sitting here in Oregon. But I love you, I admire your strength and I thank you."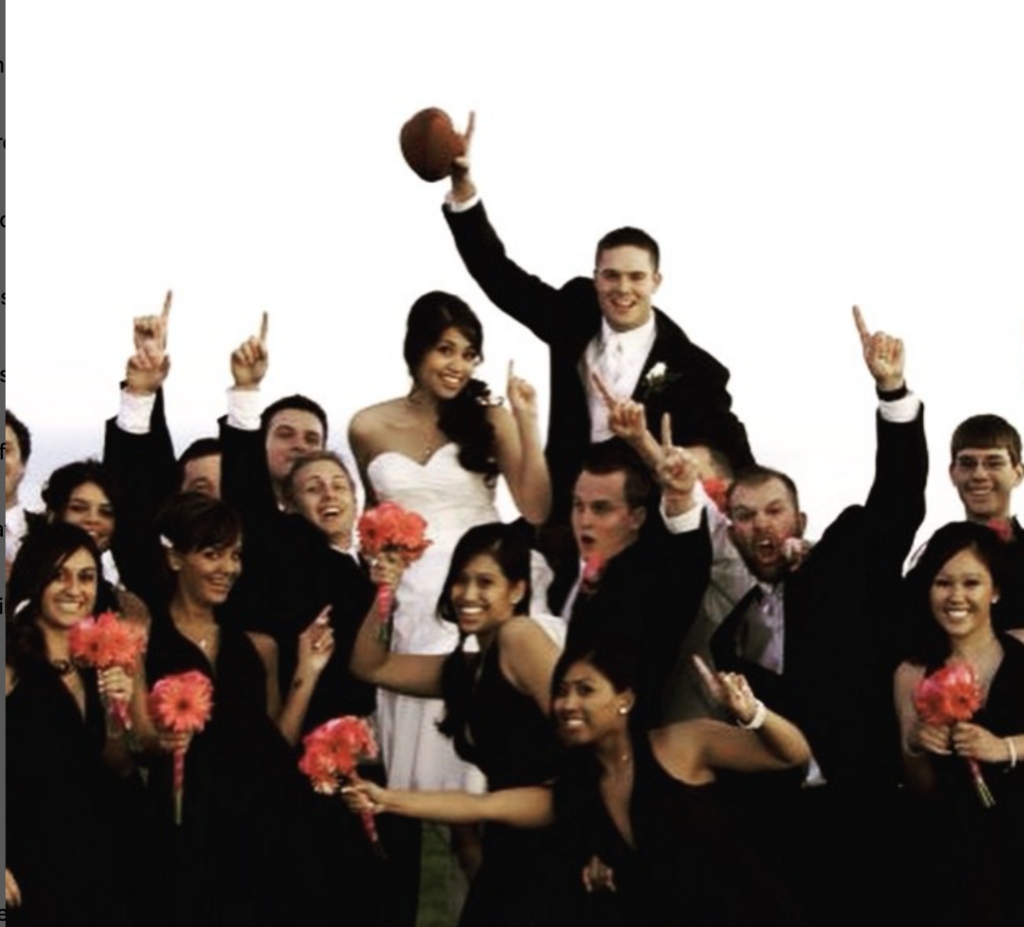 They got married in October 2009 and have since welcomed three sons: Caden, Kniles, and Titan.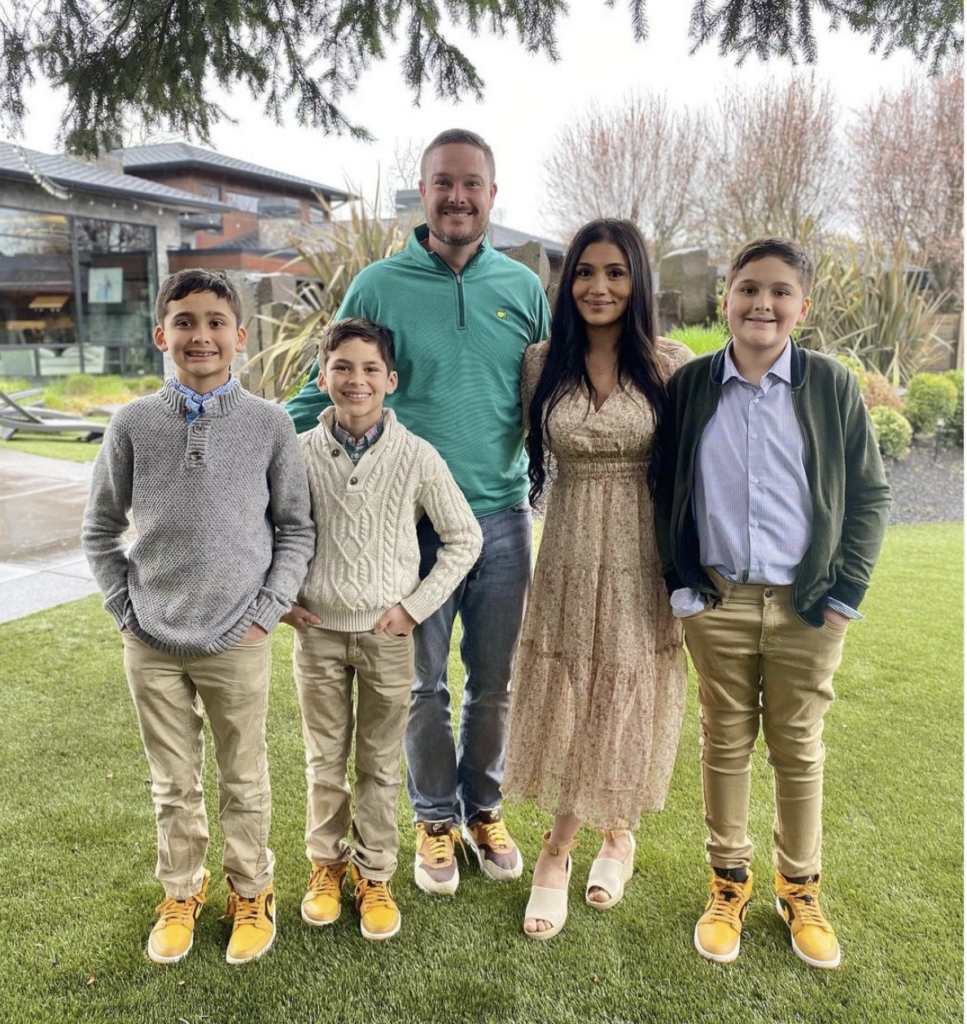 In January 2023, Coach Lanning got a tattoo of his wife and their names on his ribcage.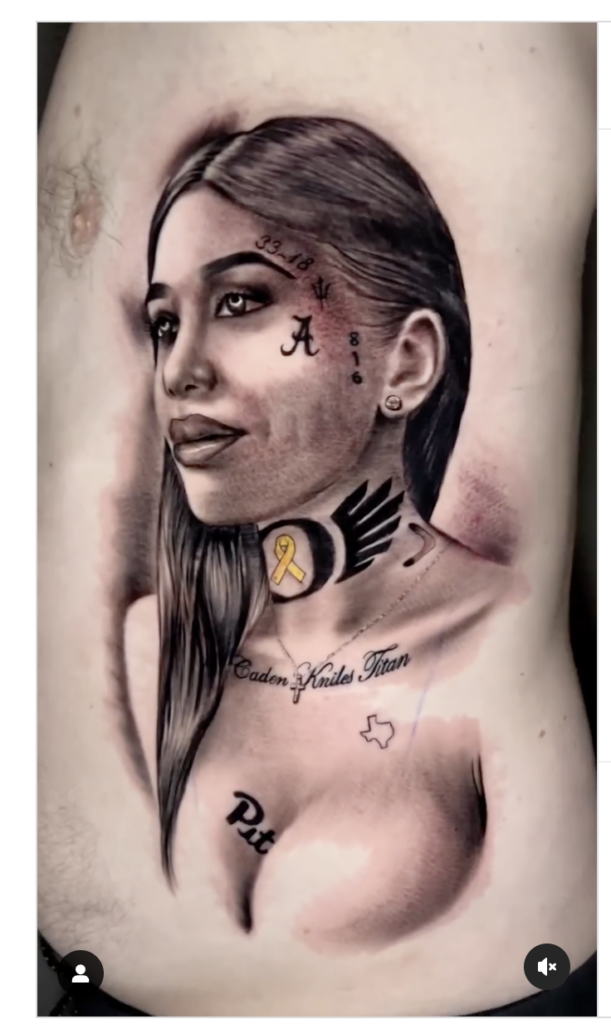 Sauphia Lanning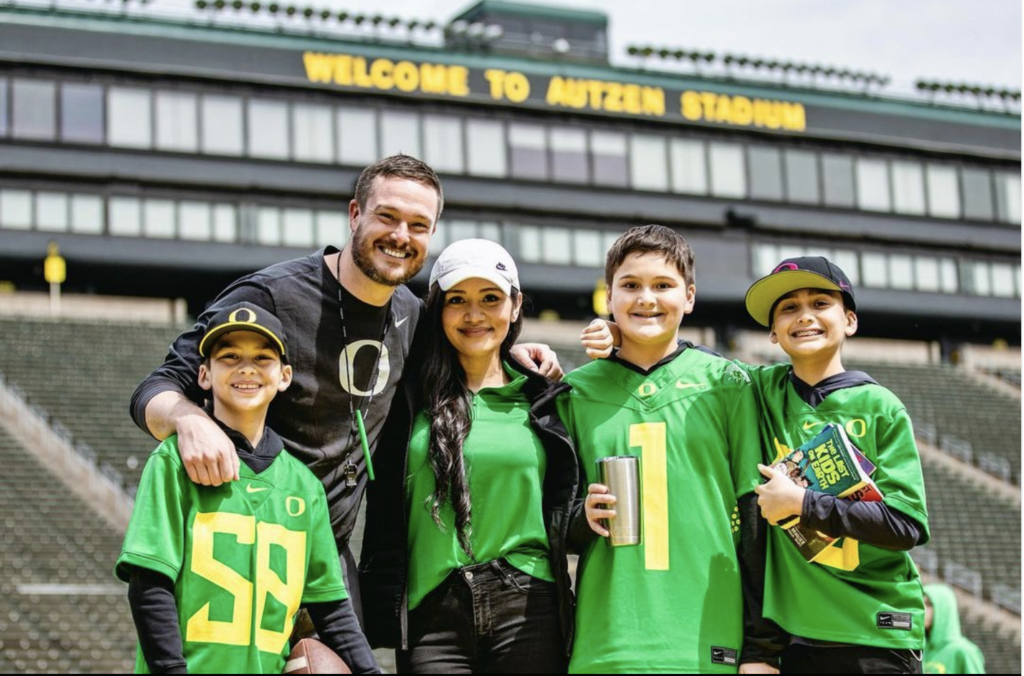 Sauphia Lanning was born Sauphia Vorngsam on June, 20 1987, in Kansas City, Missouri. In 2009, Sauphia graduated from Northwest Missouri State University with a Bachelor of Science in Applied Advertising and a Public Relations minor.
At the young age of 28, Sauphia Lanning found herself facing an immense challenge when doctors discovered a tumor, roughly the size of a golf ball, in her leg. The diagnosis was osteosarcoma, a rare and aggressive bone cancer that affects less than 20,000 individuals in the U.S. annually. Throughout the following months, Sauphia underwent consistent chemotherapy treatments, with her husband, Dan Lanning, setting aside his football commitments to be by her side when needed.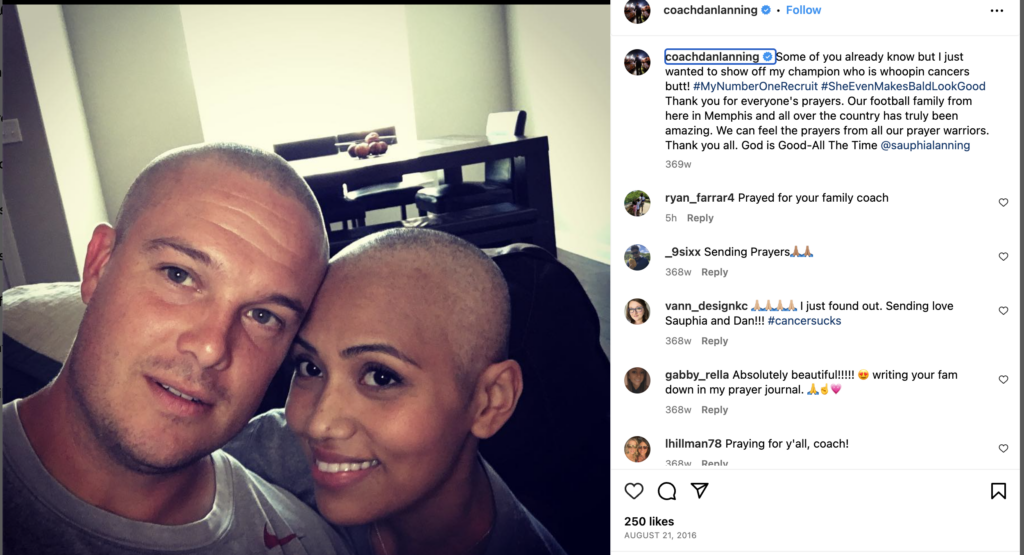 Dan, who had just started his role as a full-time assistant in the Football Bowl Subdivision, found it difficult to articulate the depth of gratitude he felt for the support provided by Mike and Maria Norvell during this challenging year.
In 2017, after enduring months of treatment, Sauphia was declared cancer-free. After ringing the celebratory bell on the building's third-story patio, she embraced and expressed her gratitude to the medical team that guided her through this journey. Forever grateful, Sauphia also extended her appreciation to the coaches and their spouses, who make up her supportive "football family."
"They're like a second family, because everywhere we go, we don't have family where we're at," Sauphia Lanning said. "They've done nothing but make me feel loved throughout this whole process. I don't even have words to express how thankful I am for them."