Valerie Scheide
Valerie Scheide is the stunner dating longtime sportswriter and radio show host and TV personality, Dan Le Batard -best known for his work with ESPN.
Valerie's boyfriend is making headlines after violating ESPN's no politics policy after he recently express his feelings about Trump on air.
The New Jersey native born December 16, 1968 -graduated from the University of Miami in 1990 and began working as a sports columnist for the Miami Herald the same year. The Miami-based sportswriter began hosting his popular radio show, The Dan Le Batard Show with Stugotz, in 2004.
He is also known for his work with the Miami Herald and for his ESPN talk show, Highly Questionable.
Batard who is the son of Cuban immigrants, has a brother, artist David Le Batard, who works under the pseudonym LEBO.
Last year it was revealed he and his gorgeous girlfriend, Valerie are engaged and planning to get hitched later this year.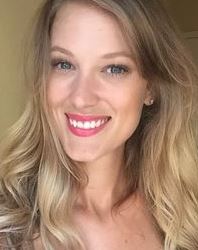 Valerie Scheide is a 30-year-old South Miami resident, she met Dan by chance while she was walking through a restaurant where Le Batard's parents were celebrating their 49th anniversary.
According to her LinkedIn profile, Scheide works at Peter Lik Fine Art Gallery, and has experience in the restaurant business, having been a hostess for 27 Restaurant & Bar and did social media for now defunct Brickell dive Tobacco Road.
The blonde stunner also did some modeling in her early career. A profile for Valerie Scheide states she studied journalism at Miami Dade College. She describes herslef as visual artist" on TalentPlus and also reveals she enjoys blues music.
Le Batard popped the question during a vacation in Kenya and Tanzania, a safari organized by Zoo Miami's Ron Magill, a weekly regular on Dan's radio show. The two have been dating for nearly three years.
Miss Scheide is also pretty mysterious, is safe to say the blonde enjoys her privacy and is not even featured on her man's social media.