Mairin Freese
Meet Mrs. Mairin Freese; this stunning brunette is the beautiful wife of MLB player David Freese the hot third baseman with the Los Angeles Dodgers. Freese previously played for the St. Louis Cardinals, Los Angeles Angels of Anaheim and the Pittsburgh Pirates prior to inking a contract in L.A on August 31, 2018, when they Pirated traded him in exchanged for Jesus Manuel Valdez a minor league infielder.
Mairin's hubby David Freese from Corpus Christi, Texas, is the beloved son of Lynn Freese a retired teacher and Guy a civil engineer who are also the proud parents of Freese's sister Pam.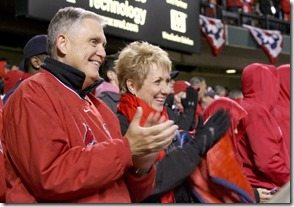 He graduated in 2001 from Lafayatte High School, he studied computer science at the University of Missouri.
Drafted by the San Diego Padres in the ninth round (273rd overall) of the 2008 MLB Draft; The Padres subsequently traded to St. Louis at the end of the 2008 season and made his MLB debut with the Cardinals on April 6, 2009.
He joined the Los Angeles Angels in 2014 and the Pirates after the 2015 season.
Freese and his gorgeous wife Mairin tied the knot in September 2016, in Pittsburgh; they welcomed their beautiful son Kai Patrick on November 16, 2017.
Mrs. Freese was formerly known as Mairin C. O'Leary, born in 1990 in Missouri, and one of three children born to Mary Kathleen O'Leary (nee. Edwards) and Patrick Ranney O'Leary, a technology manager at Procter & Gamble for over three decades and who was 72, when he died in January 2013.
Mairin's siblings are Ian and Shannon Strotheide. David's wife is an artist, with a Bachelors in Biological Sciences from the University of Missouri from where she graduated in 2013.