Christina Smith Sylve
Meet Mrs. Christina Smith-Sylve, the beautiful mother of NFL football player DeVonta Smith, 2021 Heisman Trophy winner and wide receiver for the Philadelphia Eagles, who previously played college football for the Alabama Crimson Tide at the University of Alabama under the legendary head coach Nick Saban.
GOLF PARTNER
THE LARGEST GOLF CHAIN STORE IN THE WORLD
MAKING GOLF A SPORT FOR EVERYONE.
Devonta Smith Awards
The list of awards Smith has received so far include the
2020 Heisman Trophy winner
2021 Rose Bowl Offensive Player of the Year
2020 Paul Hornung Award.
Named 2020 SEC Offensive Player of the Year
2020 Unanimous All-American
Two-time National Champion (2017, 2020).
Two-time First-team All-Sec (2019, 2020)
2020 Maxwell Award
2020 Paul Hornung Award
2020 Biletnikoff Award.
2020 Sporting News College Football Player of the Year
2020 AP College Football of the Year.
DeVonta Smith Amite High Magnet School
Smith played at Amite High Magnet School in his hometown under head coach Zephaniah Powell; he recorded 67 catches for 1,040 yards and 22 touchdowns.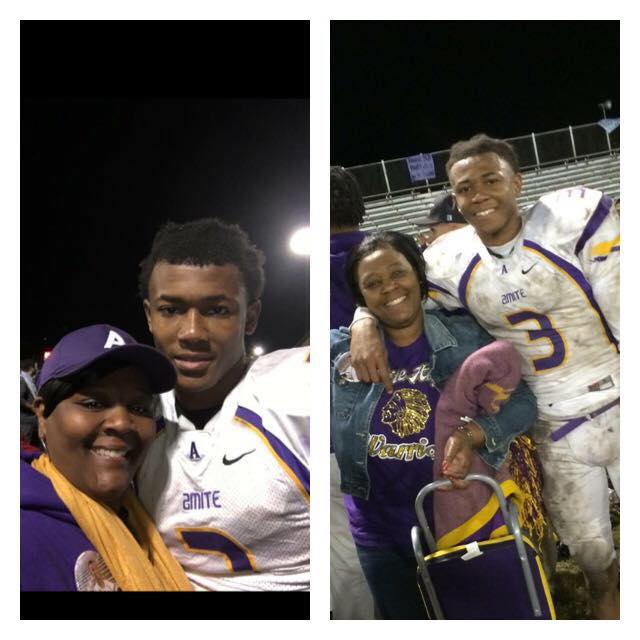 Pin
DeVonta was named MVP of the Nike New Orleans Regional, Most Outstanding Player in the 2016 LHSAA Class 3A state football championship game, and earned 3A All-State honors from the Louisiana Sports Writers Association.
In addition to football, Devonta played basketball averaged 8.0 per game.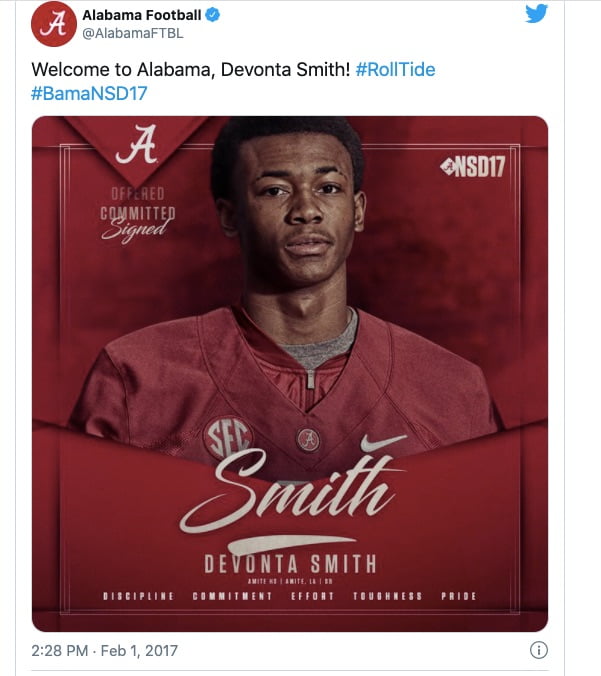 Pin
He committed to Alabama in February 2017, choosing the Crimson Tide over Texas Christian University, Louisiana State University, Oklahoma, and Miami.
"For the next three of four years, I'll take my talents to the University of Alabama," Smith said, then donning a red Alabama baseball had and posing for photographs with his family.
DeVonta Smith University of Alabama
6'1, 175 lbs DeVonta Smith recorded three touchdowns, eight catches for 160 yards in every game with the Alabama Crimson Tide.
In his sophomore year, DeVonta recorded 42 catches for 693 yards, six touchdowns, 6.5 yards per catch average in 14 games.
Smith recorded 68 catches for 1256 yards, 14 touchdowns in 13 games for an 18.5 yards per catch average.
In his senior year, DeVonta Smith recorded  105 catches for  1641 yards, 20 touchdowns in 12 games.
On January 5th, 2020, DeVonta won the Heisman Trophy, defeating Florida quarterback Kyle Trask, Clemson QB Trevor Lawrence, and his quarterback Mac Jones. (click on their names to meet their girlfriends).
He received his Bachelor's degree in December 2020.
DeVonta Smith NFL
DeVonta was selected in the first round (10th overall) during the 2021 NFL draft by the Philadelphia Eagles.
On June 3, 2021, Smith signed his rookie contract with the Eagles.
He made his NFL debut on November 7, 2021, during Week 9 against the Los Angeles Chargers. DeVonta recorded 116 yards, five receptions, and his first touchdown.
During the 2021 season, Smith has recorded 100 passes, 61 receptions, 875 passes, and five touchdowns.
DeVonta Smith Injury
On October 13, 2018, DeVonta Smith missed two games after sustaining a right hamstring injury while playing in college.
On August 21, 2019, during a training practice, DeVonta suffered a right knee injury.
On October 20, 2019, he bruised his shoulder against Arkansas.
On October 26, 2019, he dislocated his finger during the College Football Playoff National Championship game against Ohio State.
DeVonta suffered a knee sprain during training camp with the Eagles on July 31, 2021.
On December 21, 2021, Smith suffered a leg injury in Week 15
DeVonta Smith Contract & Salary
DeVonta Smith agreed to a four-year, $20,141,390 contract with the Philadelphia Eagles on June 3, 2021. The contract included a $12,008,284 signing bonus and an annual salary of $5,035,348.
DeVonta Smith Net Worth
According to media Devonta Smith's has a net worth estimated at $1 million as of November 2021.
DeVonta Smith House
Back in June 2021, DeVonta Smith gifted his beautiful mother with a brand new house. He posted the emotional video along with the caption.
To the world you are a mother, but to me you are the absolute world.
View this post on Instagram
DeVonta Smith Endorsements
DeVonta Smith has endorsements del with 'S Sporting Goods, VRST, LifeBrand, Therabody.
DeVonta Smith Dune Movie
DeVonta Smith and Dallas Cowboys wide receiver CeeDee Lamb appeared in the promo for Warner Bros' 2021 film Dune on Monday Night Football. Dune Part One, the remake of Frank Herbert's science fiction novel directed by Denis Villeneuve stars Zendaya, Rebecca Ferguson, and Timothee Chalamet.
DeVonta Smith Parents
DeVonta Smith' parents are Christina Smith-Sylve and Kelvin Dickerson, they welcomed him on November 14, 1998, in Amite City, Louisiana.
He became the first wide receiver to win a Heisman Trophy; when he won it he thanks his parents.
I want to thank my family, my mom, my dad, just everything that y'all taught me to mold me into the young man I am today. I want to thank my mentor, Vincent Sanders. Without you I wouldn't be where I am today, just from the rise to taking me places that I want to visit, just to doing things and just helping me get to where I am.
DeVonta Smith Mother
Christina Smith Sylve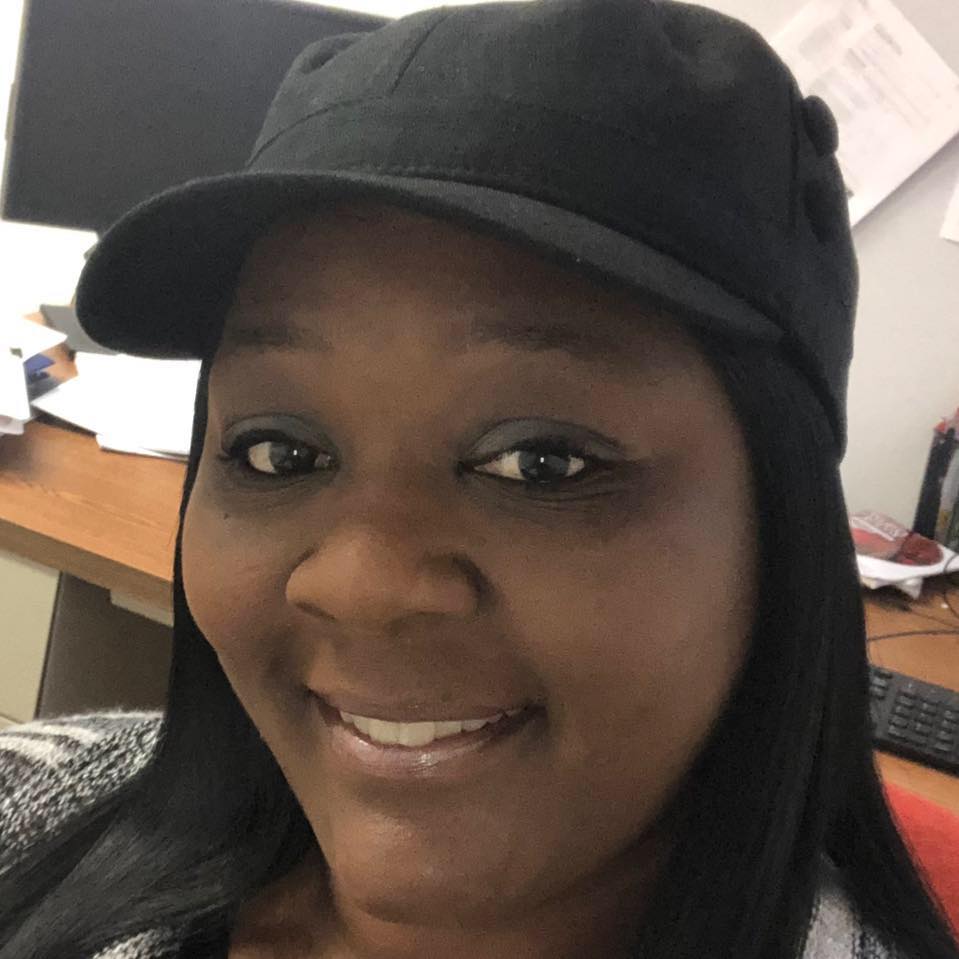 Pin
Devonta Smith's mom, Christina Smith-Sylve is also the proud mother of DeVonta's 14-year-old brother Christian. She graduated in 1998, with a Bachelor of Science in Social Work from Southern University and Agricultural and Mechanical College at Baton Rouge.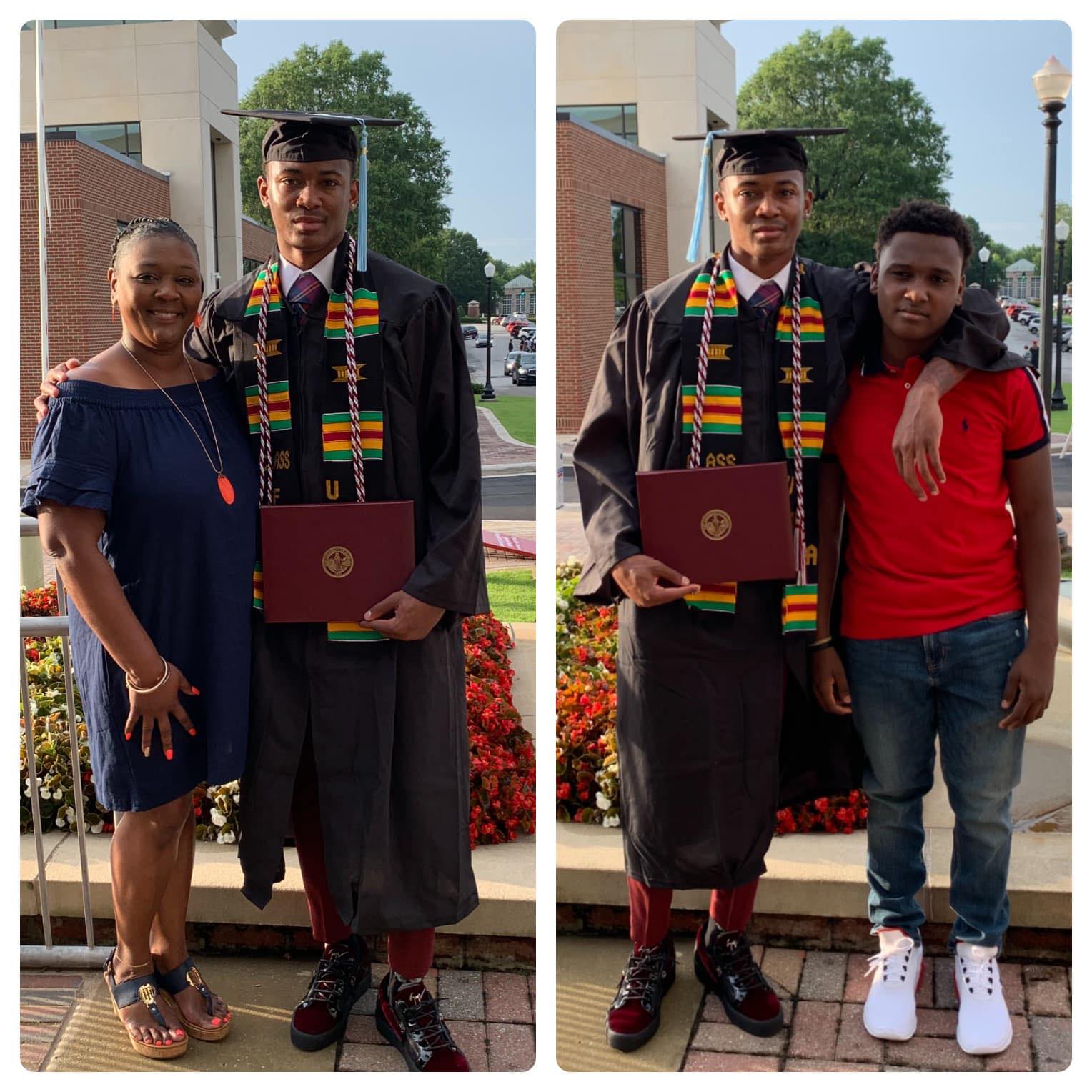 Pin
You worked hard, you deserve it and it was for you." said Christina after her son won the Heisman.

"We love him. Everybody here is supporting him, we're so proud of him. Continue being humble. Let God lead him. And we are here to support him every step of the way," Smith's mother, Christina Smith-Sylve, said to ESPN
Christina Smith-Sylve is a child welfare specialist for the Department of Children and Family Services in Amite, Louisiana. She is one of the children born to Sidney Smith and Ethel M. Smith, 64.
Her dad Sidney said he didn't like Nick Saban that much after he left LSU, but he had a change of heart after DeVonte played for Saban.
 "I love Alabama," Sidney says with a smile.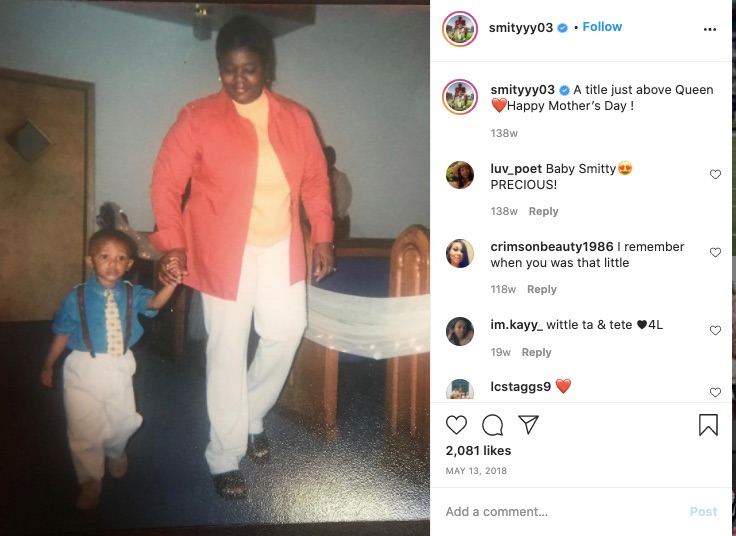 Pin
DeVonta Smith Father Kelvin Dickerson
DeVonta Smith is Kelvin Dickerson, born Kelvin Romond Dickerson on October 17, 1974. Mr. Dickerson who is the manager at a car detail shop recalled DeVonta was always playing in the park with a ball in his hands.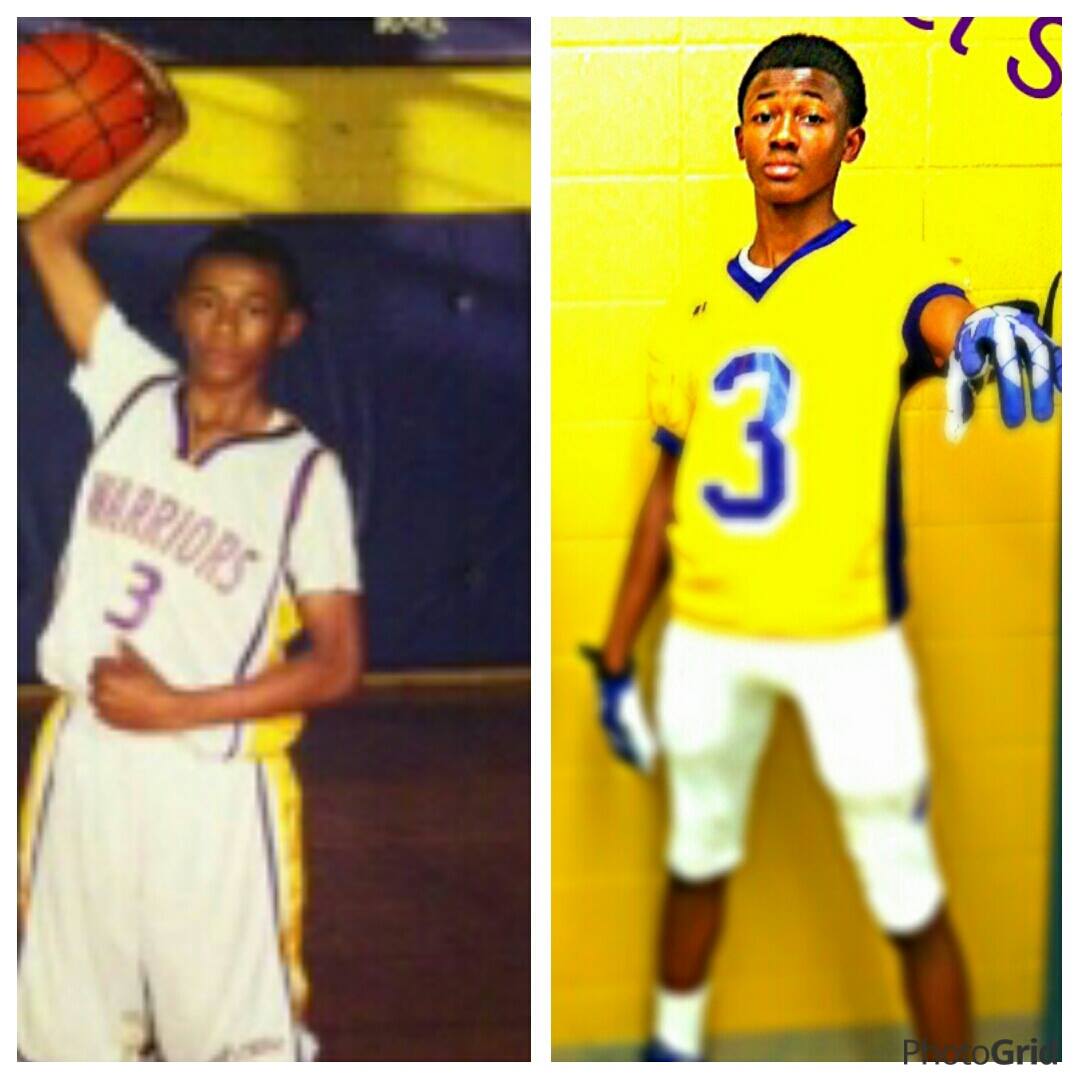 Pin
"Growing up, when he was a little kid, that's all he did. The park was in his back yard. He stayed t the park. From morning to night, you had to force him to come in, but that's all he did. He always kept a ball in his hand, whether it was a basketball or football, but he always stuck with it," Smith's father Kelvin Dickerson said.
Kelvin Dickerson went viral at his son's SEC Championship game for wearing a hoodie with Michael Jordan's Crying meme on it.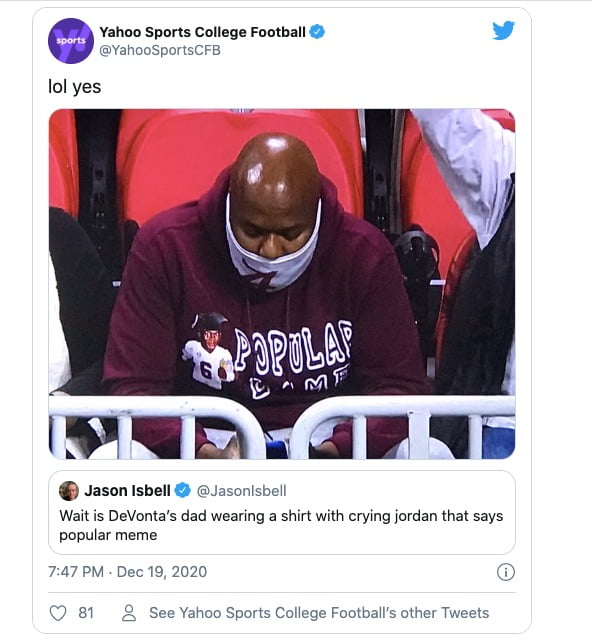 Pin
DeVonta Smith Girlfriend
DeVonta Smith known as Smitty and Slim Reaper does not have a girlfriend at this moment; this young man is committed to playing football, winning championships, and graduating from college, but who knows maybe he can find a space in his life for dating.
And now that he is playing with the Philadelphia Eagles, Devonta seems to be still single.