Emily LaJudice
Meet Emily LaJudice, she is according to some sources the MLB WAG and girlfriend of Ryan Goins, the shortstop and handsome second baseman for the Toronto Blue Jays.
Goins born and raised in Texas. He attended at Stony Point High School and Texas Baptist University. Ryan was selected by the Toronto Blue Jays in the fourth round of the 2009 MLB draft.
Minor League before MLB Debut
He didn't play with the Blue Jays right away, instead he spend a couple of years playing in the minors. Finally, on August 23, 2013 that he made his MLB debut against the Houston Astros.
Goins finished the season with a .252 average, 2 home runs, and 8 RBIs, he hit his first home run against the Yankees on September 18.
Goins didn't t make the 2015 Opening Day roster out of spring training, but he earned a call-up a couple weeks into April to be the backup middle infielder. He filled in at shortstop for a month when Jose Reyes went down with an injury. Second baseman Devon Travis was hurt two weeks after Reyes returned, so Goins stepped in as the starter at second for over a month.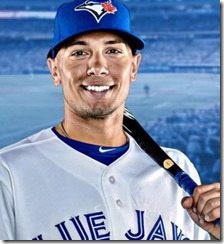 It wasn't long before Travis was sidelined again that Goins became Toronto's full-time second baseman for the final two months of the season. He hit .282 with a .371 OBP in 57 games between the end of July and the season's last series at the beginning of October.
The Texan said after the game 3 performance his grandma was the source of his inspiration. We were thinking more like a hot girlfriend but that the grandma story actually makes him, a more attractive catch for the ladies!
Ryan Goins is probably not single though, there are a couple of photos out there with a stunning blonde, her name is Emily LaJudice, as previously noted his rumored girlfriend.
Emily was the pretty blond with Goins at the Jays Care Foundation gala early this year.