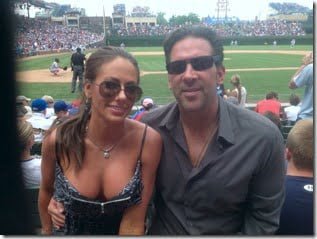 Holly Sonders will be cover girl for next month's Golf Digest in a new fit issue that will feature 35 pages of how to get in your best golfing shape. The golfer co-hosted with Erik Kuselias the Morning Drive shown on Golf Channel, but they didn't just co-host but are dating as well.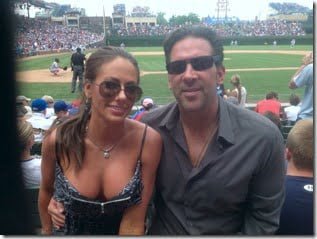 Besides TV host, Kuselias is also a radio host. He hosted Morning Drive since January 3, 2011 for NBC Sports Network and then was shifted to Sports Talk. He is also current co-host of Pro Football Talk on the NBC Sports Network with Mike Florio and a host on NBC Sports Radio.
He is the former host of NASCAR Now on ESPN2, The SportsBash on ESPN Radio, and "NFL on ESPN Radio" on Sundays during NFL season. Also served as a guest host for College Football Live and "Mike and Mike in the Morning" as well as other ESPN Television and radio programs.
Kuselias grew up in Hamden, Connecticut, where he was an all-state baseball player in the same class as Major League Baseball all stars Jeff Bagwell, Brad Ausmus, and Mo Vaughn.
He is an undergraduate from Brown University, and also attended the University of Michigan Law School and Columbia University where in 1998 he was admitted into a Ph.D. program. He worked in the legal firm Goldblatt, Kuselias & Rashba, P.C., where he handled many arbitration cases. Kuselias is a member of a society for people with high IQs named Mensa International.
Holly Sonders and Erik Kuselias met on the beginnings of Morning Drive back in 2011. He was married at the time, but made public on-air comments about Holly's good looks and reportedly they had an affair. His then-wife hired a private investigator and found him carrying on an on-going relationship with another co-worker- not Holly. They divorced and currently the 43-year-old Kuselias is engaged to the 26-year-old golfer.
Follow Erik Kuselias on Twitter here, and on Facebook here. Visit Kuselias' official website here.
Follow Holly Sonders on Twitter here, and on Facebook here.