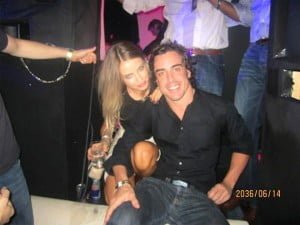 Ferrari F1 racer Fernando Alonso new girlfriend is Xenia Tchoumitchevam the Swiss model and actress with Russian origins , according to reports and photographs in the Italian, Spanish, German and Swiss media. Just before Christmas, the Ferrari driver announced his split with wife and Spanish rock singer Raquel del Rosario.
Spanish Fernando Alonso, who to avoid rumors immediately introduced as his girlfriend to the Russian Dashka Kapustina.
Something we should know about the beautiful Swiss model Xenia Tchoumitcheva.
Xenia Tchoumitcheva was born on August 5, 1987.  Tchoumitcheva would be raised in one of the major Swiss cities, Lugano, located southeast of the country and bordering the neighboring country of Italy.
At age of 12 she began working as an occasionally model, In the Miss Switzerland, 2006 reached second place, behind Christa Rigozzi. Tchoumitcheva continued during the years following her modeling career to become the vice-Miss most successful in the history.
She has been the advertising image of companies like Visilab,  Burger King or Casino Lugano, and works under contract agency Elite Model Management.
Tchoumitcheva, completed her studies of economics and even did an internship in 2011 at the legendary financial firm JP Morgan.
She also has experience in the media, as it serves as a columnist for the magazine Schweizer Monat.
You can follow her on Facebook and Twitter.