Viviana Ortiz
Meet the incredible Viviana Ortiz; she is the utterly gorgeous wife of NBA player J.J Barea. The Puerto Rican point guard player for. The Dallas Mavericks, born Juan Jose Barea, also played with the Minnesota Timberwolves, and college basketball with the Northeastern Huskies at Northeastern University prior to entering the NBA Draft in 2006.
Viviana Ortiz aka Mrs. Barea is no stranger to the celebrity status; like her man, she was born in Corozal, Puerto Rico on September 12, 1986, her full name is Viviana Ortiz Pastrana, one of three children born to Mrs. Mercedes and Hector Ortiz.
She graduated from the Sacred Heart University of Puerto Rico,  with a bachelor's degree in telecommunications. Viviana, an actress, and model put her name on the map when she became Miss Universe Puerto Rico in 2011; subsequently, represented Puerto Rico at the Miss Universe pageant in Brazil that year, finishing in the top 16.
Viviana and Barea started dating in the summer of 2013. She gave birth to their first child; daughter Paulina Barca Ortiz on March 31, 2016.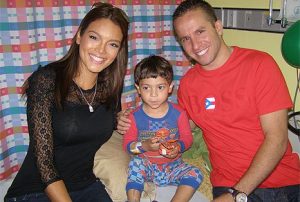 In addition to little Paulina, J.J has an older son;  Sebastian Jose Barca born on February 17, 2012, from his relationship with Zuleyka Rivera, strangely enough, another beauty queen, crowned Miss Universe 2006, (dated from March 2011 to April 2013).
Furthermore, the new parents tied the knot at the church of Universidad del Sagrado Corazon in San Juan, Puerto Rico on August 20, 2010.