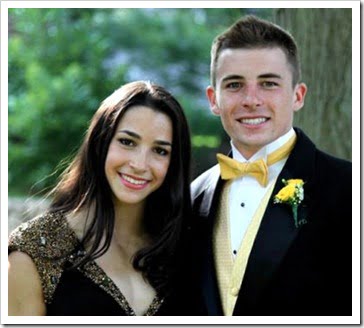 Needham's and Jamie McGill have Aly Raisman is between the cast members of this season's "Dancing With The Stars."
The Olympic golden girl was introduced alongside with the new cast members. She's been paired with expert performer Mark Ballas.
Raisman said:
"I am excited. This cast is really amazing. It's going to be a really good season, and I am excited to have Mark as a partner."
Other dancers for this term consist of Baltimore Ravens wide receiver Jacoby Jones, boxer Victor Ortiz, teen acting star Zendaya Coleman, "American Idol" alum Kellie Pickler, country star Wynonna Judd, "Real Housewives of Beverly Hills" star Lisa Vanderpump, comedians Andy and D.L. Hughley, soap star Ingo Rademacher, and Olympic skater Dorothy Hamill.
Raisman, who won two gold medals in the 2012 Summer Olympics, performed on star-studded boogie contest right after her triumph at the London games. She and the rest of her Fierce Five teammates performed in support of fellow gymnast Shawn Johnson.
Olympians have dominated the dance competition. Speed skater Apolo Ohno won the Mirror Ball in Season 5, figure skater Kristi Yamaguchi won in Season 6, and Johnson won Season 8 and was the runner-up last season.
Aly Raisman is the senior stateswoman and captain of the US Olympic Gymanstics team, Aly is clearly a big deal around Boston but nowhere more so than her place of birth, Needham. As Aly, due to training requirements, left Needham High School previous to her junior year to be home-schooled, she kept her friends at Needham High. Jamie McGill, a senior Lacrosse player for Needham High who has known Aly since they were kids, wanted to ask Aly to the high school prom. Given Aly's near famous person rank, Jamie knew that he'd have to make a show out of it.
With Christmas lights, and some assistance from Aly's parents in ensuring that Aly would show up at the correct time, Jamie McGill spelled the word "Prom?" on the football field. Pretty impressive. And it worked, as Aly said yes. The prom was held at the Fairmont Copley Plaza in Boston and Aly wore a gold corsage to match Jamie's gold vest and tie – oh and also to match Aly's eventual gold medals too. Aly had to leave the prom early and miss out on the after-prom gathering in Cape Cod, on orders from her trainer. As it was like to mean the ultimate gold medal, that's kind of low of her trainer …
You can see more pics of Jamie here.