Meet Jennifer Ruiz Cueto
Jennifer Ruiz de Cueto is the wife of 29-year-old MLB player Johnny Brent Cueto Ortiz, better known at Johnny Cueto. Her hubby is said to have had a great start pitching for the Kansas City Royals.
Cueto was born February 15, 1986 in San Pedro de Macoris, Dominican Republic. The Dominican was signed by the Cincinnati Reds as an amateur free agent in 2004, making his MLB debut in 2008, and by 2011 had emerged as one of the top pitchers in the National League.
He has a history of health problems, having dealt with injuries throughout the 2013 campaign when he started only 11 games. He was a durable rock for the Reds in 2014 and finished the season with 243.2 innings pitched, a 20-9 record and a 2.25 ERA. Throw in a 0.96 WHIP, a 6.4 WAR and 242 strikeouts, per ESPN.com, and it is clear why Cueto was one of the leading Cy Young Award candidates in the National League.
Last July Cueto was traded to the Kansas City Royals and reports say he killed it in his home debut with the Royals.
In his Kauffman Stadium debut Monday night, Cueto tossed a four-hit shutout as the Royals beat the Detroit Tigers by the score of 4-0. He struck out eight and didn't walk a batter.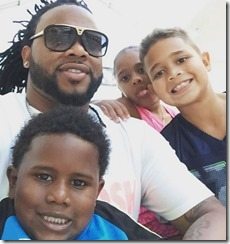 According to ESPN, he's the fifth pitcher in the last 20 years to throw a shutout in his home debut after changing teams midseason.
Besides being good at what he does, Cueto is also a dedicated father of three, two boys and a girl. Not much is known about his wife Jennifer, but last year, according to Spanish outlet Diario Libre, Mrs. Cueto followed closely the committees which organized her man a hero type welcoming to his native town in Dominican Republic.
Cueto is also very close to another woman, his mother María Cristina Ortiz, you can see pictures of the mother-son duo below and find Cueto on Instagram here.