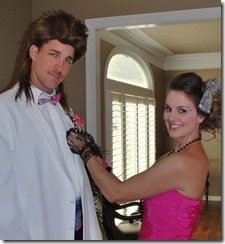 Meet Jenny Curry, she is the wife of almost 10 years of Cardinals pitcher Adam Wainwright. And what a fine time it is to be married to Adam; the 32-year-old former Atlanta Braves player just threw a complete game for the Cardinals winning game 5 against the Pirates! In the 6-1, winner take all game, the Cardinals right-hander held the Pirates to one run on eight hits! He walked one and struck out six during his sixth time in 2013 pitching a complete game.
Wainwright of course attributes part of his positivity to his faith, and his beautiful wife, Jenny. The couple go way back, they are high school sweethearts and just when the 23-year-old proposed back in December of 2003 an important call saying he'd been traded from the Braves to the Cardinals interrupted him. The couple tied the knot the following year in 2004 about a year after Jenny graduated from college. A couple of years later and they became parents to three beautiful daughters; Baylie Grace born in 2006 and who is now 8-years-old; 5-year-old Morgan Addison born in 2008 and 2-year-old Macy born in 2011.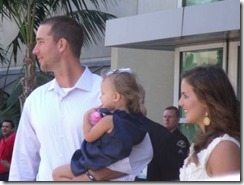 Jenny's hubby is active in the Fellowship of Christian Athletes but his interior designer wife has got a lot to do with his beliefs. While both grew up attending church and after they were married they got deeper on their religion.
Jenny graduated from Georgia Southern with a degree in interior design in 2003. Like Adam, Jenny grew up attending church with her parents and two younger siblings. She says on the Christian blog Athletes in Action:
It was not just believing but more of a relationship. It was about the same time Adam committed his life to Christ; and it was a time we grew together in our faith which was awesome. It has been cool how Adam has grown into the spiritual leader of our family.
In return Adam says about the mother of his three little girls:
"Jenny was a strong believer, but she never made it uncomfortable for me. She encouraged me without coming down on me when I wasn't doing things she wanted me to do. She is the perfect example of being Christ-like to me so I can see another instance of someone I wanted to be like."
A close friend of the couple says, you cannot spend much time with them without recognizing that the Lord is an important part of their life.
Since her marriage the mom of three, has been a contributor and very involved in the FCA (Fellowship of Christian Athletes), she along with hubby are encouragers and they try to help any way they can.
Jenny's deep religious roots helped her husband go through his 2011 elbow surgery.
The couple likes to have fun doing hunting trips.