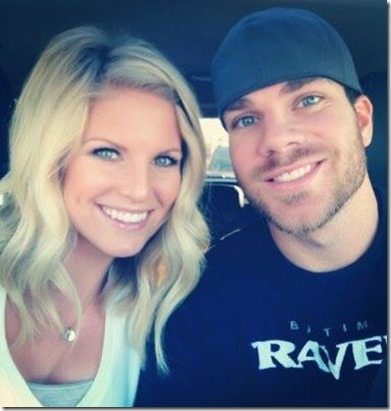 Gorgeous Jill Davis is the wife of three years of MLB star Chris Davis. Jill's hubby tested positive for amphetamines, the league announced this morning along with several reports.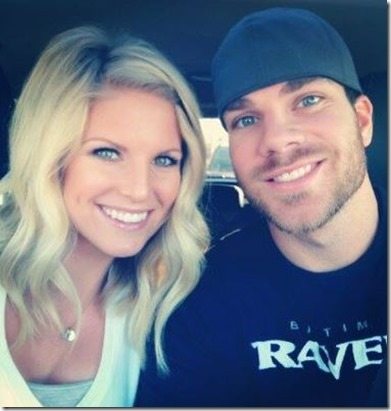 Jill's 28-year-old hubby ends the 2014 regular season hitting .196/.300/.404 (97 OPS+) with 26 homers and 72 RBI. Last season was his career year, as he hit .286/.370/.634 (168 OPS+) with 42 doubles, 53 homers and 138 RBI — the latter two categories were the best in the majors, too. He finished third in AL MVP voting.
The Orioles slugger has been suspended for 25 games and the suspension includes the postseason. He released the following statement:
"I apologize to my teammates, coaches, the Orioles organization and especially the fans. I made a mistake by taking Adderall. I had permission to use it in the past, but do not have a therapeutic use exemption (TUE) this year. I accept my punishment and will begin serving my suspension immediately."
We cant imagine how upset Jill –dubbed one of the hottest wives in MLB –must be but "in good and in bad" must resonate right about now; in fact, is not the first time she defends her man, lets get to know her better.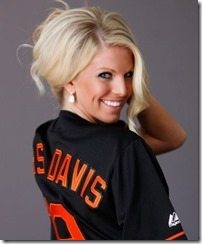 Born Jillian Meyer, she became Mrs. Davis in November, 2011, at Royal Lane Baptist Church and Arlington Hall. The couple chose vivid shades of fuchsias and tangerines to celebrate the big day.
Jill who is a former Oklahoma Sooners cheerleader stands by her man.  Earlier this year she went on the Twittersphere to defend her man against all of those Yankee fans that were accusing Crush of using PED's.
The couple who own two dogs, took their time to have children but just had their first! Baby Ella, was born back in May.. Jill Davis' Twitter bio reads,
Lover of God. Wife (and #1 fan) of @ChrisDavis_19. Registered Nurse. Sports enthusiast. Mama to two fur babies :).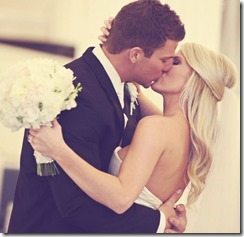 After a year of wooing, Davis proposed to Jill on the beach in Maui while the two enjoyed a candlelit dinner together. She and her former Texas Ranger were all smiles during their amazing reception, Chris had mentioned that he didn't want everything to be "baseball themed." (Being a bright guy, he knows that the wedding day is all about the bride!) However, his one concession was his Groom's Cake.  Frosted Art Bakery "hit one out of the park" with this design.
The former Oklahoma cheerleader was a support system for Chris is that final year in Texas.
Davis picked up his little Ella for the first time and knew that she had instantly become the most important thing in his world, but he said during an interview that it doesn't change anything about the way he goes about his business in a baseball uniform.
The blonde new mom, has come to a game with Ella, but it appears they will have to wait till Davis suspension is over.
We tried to look for a Twitter account but it appears she has deleted her account, for now.