Kelly Drew
Kelly Drew is the lovely and supportive wife of Baylor Basketball Head Coach, Scott Drew. Her 46-year-old hubby holds by far the most remarkable run of success in Baylor history.
Kelly's husband took over as head coach for Baylor University in 2003. Since then he has become the program's all-time wins leader.
Drew has led the team to eight 20-win seasons, eight postseason appearances, the Big 12's first NIT championship, Baylor's first postseason tournament title in its 109-year history, and a school-record 17 postseason wins. Additionally, Baylor is one of 13 programs to be nationally ranked in each of the last nine seasons, and BU is one of only nine teams to earn No. 6 seeds or better in each of the last three NCAA Tournaments.
Aside form his coaching duties, Drew is a former first vice president for the NABC Assistant Coaches Committee and previously served on the National Invitation Tournament advisory committee.
Needless to say, Scott is doing something good at Baylor. Born Scott Homer Drew on October 23, 1970; the Missouri native is a 1993 Butler University graduate –though he never played high school or college basketball, he was a student assistant for the Bulldogs' basketball team for three seasons.
He later earned a master's degree from Valparaiso –where he became an assistant coach under his father, Homer Drew and where he spent nine years on the Crusaders' staff.
While Drew is busy doing the coaching thing he does so well, at home his pretty wife Kelly does pretty much the rest. Meet her below.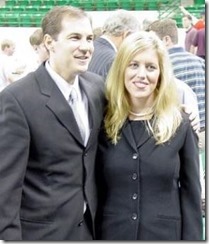 Kelly Drew is the former Kelly Schwab, she was born in Cape Girardeau, Missouri –where her parents still reside. She and Scott Drew have been married for the last 17-years.
Kelly and her husband have welcomed three kids, they are the proud parents of a daughter, Mackenzie, and two sons, Peyton and Brody.
Faith is really important for the Drew family. Kelly's husband is known for being a Christian and is always trying to teach his players on the importance of Christian values.
In a demanding profession such as college coaching, is known wives, are key to their success.
Aside form being a coach's wife and dedicated mother, Kelly Drew and her husband created their own scholarship fund to help student athletes attending Baylor.
Not many more details are known about the blonde who apparently enjoys more of a low profile role and prefers to leave all the attention to her hubby.
You can follow Kelly's hubby on Twitter here.