Kelly Drew
Kelly Drew is the lovely and supportive wife of Baylor Basketball Head Coach Scott Drew. Her 46-year-old hubby holds by far the most remarkable run of success in Baylor history. Baylor advanced to the Final Four after defeating Arkansas in the Elite Eight. Kelly's husband took over the head coaching position at Baylor University in 2003.
Scott Drew Net Worth
Baylor's head coach, Scott Drew's net worth is estimated at $1.5 million; he joined the Baylor Bears men's basketball team in 2003. He coached the Valparaiso Crusaders men's basketball team before starting his coaching career with Butler.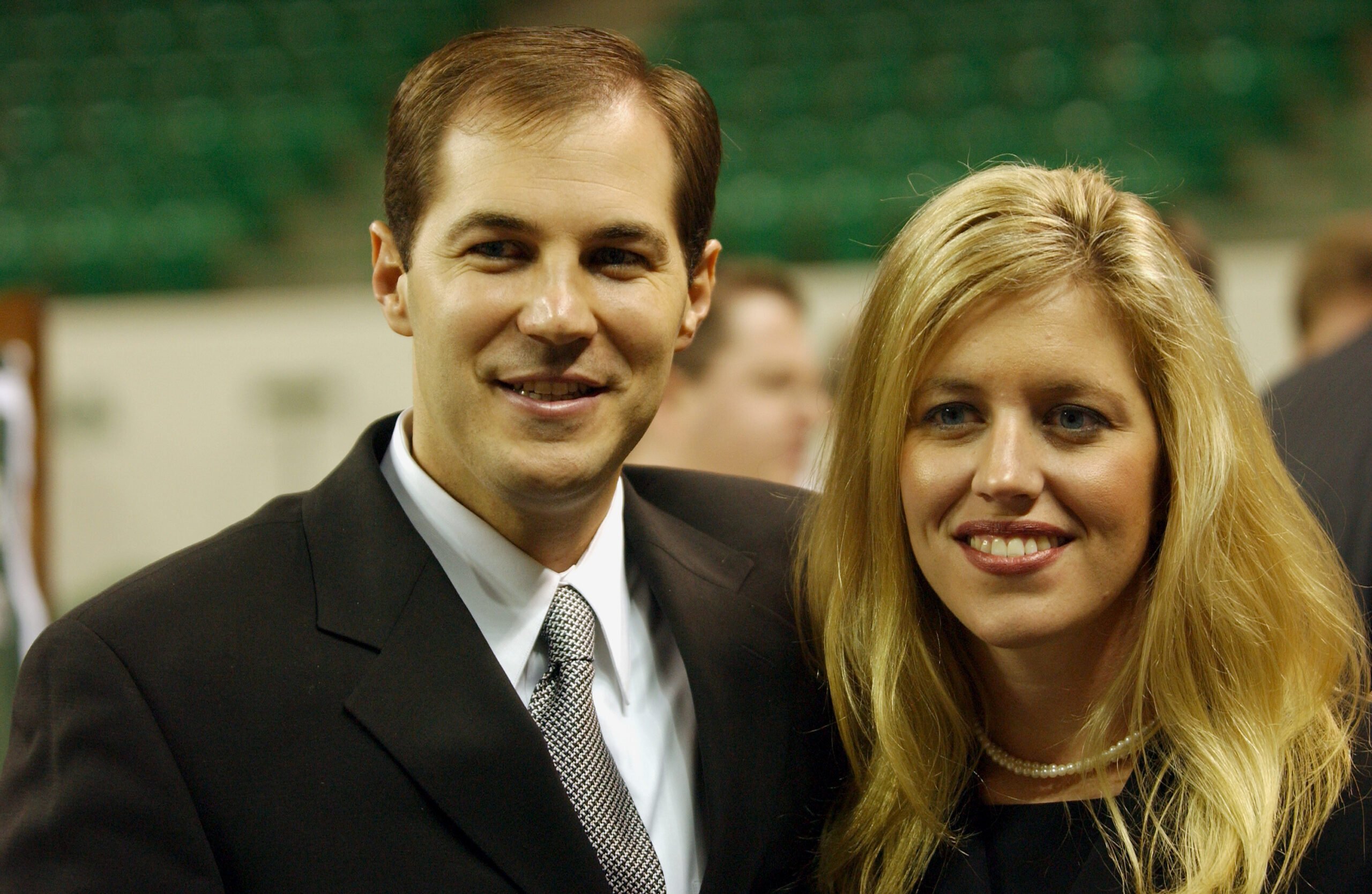 Scott Drew Salary
Scott Drew's salary is approximately $3,350,634 million; his salary cap back in 2016 was around $2,818,811; in 2017 he was earning $2,872,975, $3,062,445 in 2018, and roughly $3,308,435 in 2019. Last year he earned $3.3 million, and he is taking home a similar figure;  however, advancing to the Final Four and a possible chance at the NCAA finals could increase his paycheck.
Coach Drew signed a 10-year contract extension after the 2008 season
Scott Drew Coaching Career  and Coaching Record
Coach Scott Drew started his coaching career as a graduate assistant at Butler University from 1991 to 1993. In 1993 worked under his father as an assistant coach at Valparaiso, assumed the head coaching role after his father retired in 2002.
He joined the Baylor Bears coaching staff, on August 22, 2003, after Dave Bliss's firing. He has a coaching record of 370-215 ).632). Besides his coaching duties, Drew is a former first vice president for the NABC Assistant Coaches Committee and previously served on the National Invitation Tournament advisory committee.
What happened to Coach Bliss?
Coach Dave Bliss had to resign from Baylor after the 20002-2003 season, leaving a 61-57 (.517) record behind him, but also a shameful story that will hunt him probably for the rest of his life and that was documented in Showtime's documentary Disgraced, which tells Bliss' booster payments to players at Baylor and Southern Methodist University.
He and the coaching staff at Baylor ignored the use of drugs and alcohol among players, Bliss denied paying tuition of Corey Herring and Patrick Dennehy, he told investigators Patrick paid his tuition by dealing drugs.  He flew to Herring's hometown to convince Mrs. Herring about lying about paying's her son's tuition, pretended to be Herring's dad when he called the university's financial aid offices to check on Corey's paychecks and determine what evidence the NCAA had against him. The NCAA gave him a ten-year show-cause penalty.
After the Baylor scandal, Coach Bliss worked as a volunteer assistant coach at a school in the Denver area; he later was a head coach for the Dakota Wizards; in May 2010, joined Bryan, Texas-based college preparatory Allen Academy as their dean of students, athletic director, and head men's basketball coach.
From 2015 to 2017, he was the head coach of Southwestern Christian University; from 2017 to 2018 was the head coach and Athletic Director for the Lions at Calvary Chapel in Las Vegas. He lives in Oklahoma with his wife
Claudia Bliss.
When was the last time Baylor was in the Final Four?
As previously noted, Baylor advanced to the Final Four; the last time was in the Final Four was back on March 24, 1950; at that time, the Baylor Bears coached by Bill Henderson, lost the game against Bradley University 66-68.
Scott Drew Early Life
Scott Homer Drew on October 23, 1970, in Kansas City, Missouri; one of three children born to Homer and Janet Drew. His siblings are Dana and Bryce Drew.
His sister Dana Shaw was a talented player at Toledo; she is currently married to former NBA player Casey Shaw, who was drafted by the Philadelphia 76ers during the 1998 NBA draft and is nowadays an assistant coach at Grand Canyon University, under his brother-in-law Bryce Drew.
His brother, Bryce Drew, played college basketball (point guard) at Valparaiso before the Houston Rockets selected him in the first round (16th overall) in the 1998 NBA draft. He played with the Chicago Bulls (2000-01), Charlotte Hornets (2001-02), Pelicans (2002-04), and spent the last two years playing in Italy and Spain.
He became an assistant coach at Valparaiso in 2005, assigned head coach the following year before signing with Vanderbilt in April 2016. After three years in Vanderbilt, the Commodores fired him, and he joined ESPN as an analyst for the college basketball coverage. In March 2020, Grand Canyon University announced their hired Bryce as their new head coach. He is married to dancer and choreographer Tara Thibodeaux.
In 2012, Coach Drew's father, Homer, a former William Jewell basketball player who coached college basketball at Washington State, LSU, Bethel, Valparaiso, and Indiana, was diagnosed with prostate cancer, his wife Janet was diagnosed with Stage 3 bladder cancer three days later.
Homer Drew underwent surgery and was cancer-free, but Janet's journey against cancer requires her to undergo radiation treatments and chemotherapy, thank God she is now cancer-free.
"The news has been very encouraging," Scott Drew said. "A lot of people have been praying for them, and the power of prayer has paid off. We've been blessed because my brother and sister have been there to take care of them."
Before Scott Drew started coaching, he attended Butler University, where he earned his Bachelor of Liberal Arts degree in 1993 and a master's degree from Valparaiso in 1994. He lives in Edmonton, Oklahoma, with his wife Claudia Bliss, his three children's mother.
Scott Drew Wife
While Drew is busy doing the coaching thing, he does so well; his pretty wife Kelly does pretty much the rest at home. Meet her below.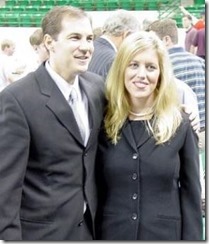 Kelly Drew is the former Kelly Jean Schwab; she was born on March 20, 1874,  in Cape Girardeau, Missouri –where her parents Jerry and Phyllis Schwab, still reside. She and Scott Drew got married on  Sept. 23, 2000, at St. Andrew Lutheran Church.
Kelly and her husband have welcomed three kids; they are the proud parents of a daughter, Mackenzie, and two sons, Peyton and Brody.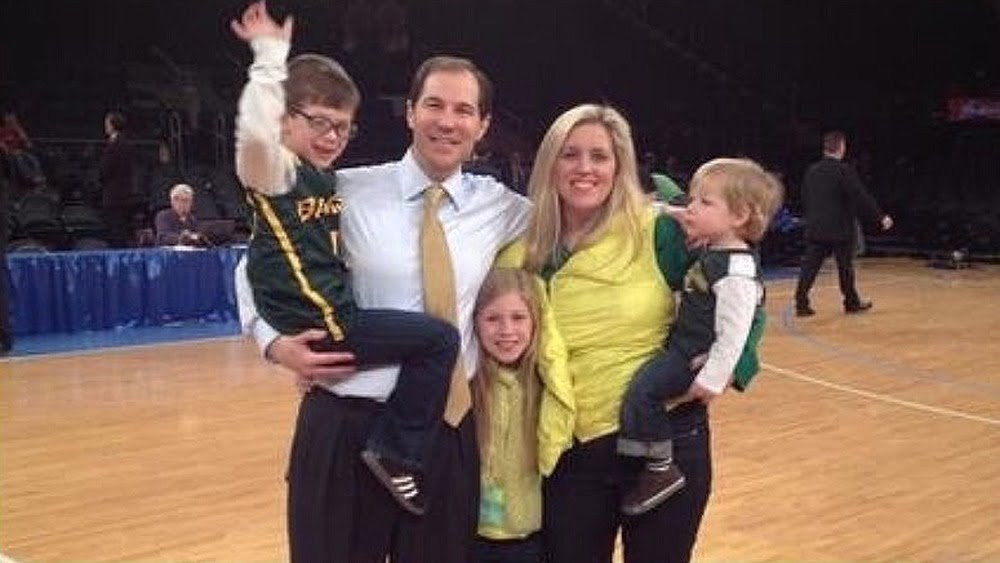 Faith is crucial for the Drew family; Kelly's husband is known for being a Christian and is always trying to teach his players the importance of Christian values. In a demanding profession such as college coaching, it is known wives are key to their success.
Mrs. Drew is first and foremost a wife and a dedicated mother, but Kelly Drew and her husband created their own scholarship fund to help student-athletes attending Baylor. Not many more details are known about the blonde, who apparently enjoys a low profile role and prefers to leave all the attention to her hubby.
You can follow Kelly's hubby on Twitter here.