Emma Cain
Emma Cain is the stunning and incredible girlfriend of Kyle Hendricks. The major league pitcher for the Chicago Cubs. Hendricks known as The Professor played college baseball at Dartmouth College prior to being drafted in 2011.
Emma's MLB stud was born on December 7, 1989, in San Juan Capistrano, California, where he attended at Capistrano Valley High.
He was at first drafted by the Los Angeles Angels in the 2008 MLB Draft, but he did not sign. Instead, he went to Dartmouth College from where he graduated in 2013 with a degree in economics. Kyle was selected for the second time in the 8th round, 264th overall by the Texas Rangers in 2011.
Hendricks didn't make any MLB debut that time either, he joined the Class A-Short Season Northwest League team the Spokane Indians. Eventually, the time for his major league came on July 10, 2014, this time with the Chicago Cubs, the team that acquired him two years earlier.
As noted, Kyle Hendricks's girlfriend is the lovely Emma Cain, but an important thing you need to know is that Ms. Cain is not just his girlfriend but the soon-to-be Mrs. Hendricks.
That's right Kyle and Emma are engaged. These cute lovebirds got engaged in February 2016. Our dear Emma announced the great news on Twitter along with a beautiful photo on Instagram to immortalize the moment.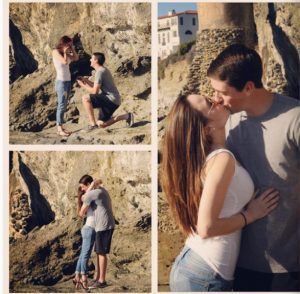 They will be exchanging vows on November 11, 2017.
Emma Anne Cain a certified nurse from Spokane, Washington. She has an older sister named Kiki.
You can follow her on Twitter here