Lisa McCaffrey
Lisa McCaffrey is the very proud momma of soon-to-be NFL player, Christian McCaffrey. Her popular son is a top prospect in this year's draft.
Lisa's handsome 20-year-old son began his football journey like most players do, while attending his Colorado-based high school. Born Christian Jackson McCaffrey on June 7, 1996, he played running back, wide receiver, cornerback and punter on his way to setting Colorado high school records for total touchdowns, career all-purpose yards, career touchdown receptions and single season all-purpose yards, at Highlands Ranch (CO) Valor Christian.
He earned 2012 and 2013 honors of Gatorade Football Player of the Year for Colorado.
Chrisitan followed into his father footsteps in attending Stanford  University where he finished his 2015 season with a Rose Bowl victory and a runner-up spot in the Heisman Trophy race.
Christian is one of those sons who are specially close to his parents, specially his mom –whom he calls his 'best friend.'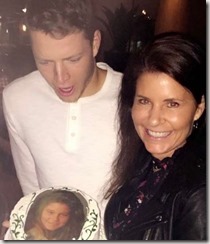 Pin
Lisa McCaffrey was born Lisa Sime in Key Biscayne, Florida. She attended the Ransom Everglades Upper School.
She became married to former NFL player, Ed McCaffrey in 1992. Her husband went on to win three Super Bowls and a Pro Bowl during a 13-year NFL career.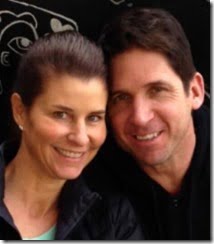 Pin
Together they welcomed four children including Christian. She is also the mother of Christian's siblings Dylan, Luke and Max. Lisa is the only girl in the family but she is a tough cookie.
Christian isn't only blessed with sport genes on his father's side. The former Lisa Sime is a former college soccer player. She attended Stanford University where she was a standout soccer player. It was while attending Stanford that she met her future husband. Both shared a lot in common including, coming from long line of athletes.
Lisa also set records in track, lettered four times in tennis, and scored 56 goals during her high school soccer career. She received Vanderbilt's first-ever women's soccer scholarship , but elected to attend Stanford. She had two strong years for the Cardinal, before ruptured discs in her back ended her playing career.
Lisa herself had big shoes to fill in. Her father, Dave Sime was an Olympic track star. David Sime was multi-sport athlete at Duke University, and a pioneering ophthalmologist –who won a silver medal in the 100-meter dash at the 1960 Olympic Game.
After becoming Lisa McCaffrey, Lisa dedicated much of her time to being a full time mother and supportive NFL wag. After having four children –whom they all play football, Lisa McCaffrey rightfully earned the title 'the #1 football mom in America."
The couple welcomed first son Max in 1994. He played football at Duke University. Christian is the couple's second child followed by Dylan –who was a Valor Christian high school sensation and received offers to play at LSU. The youngest, Luke McCaffrey, has also received football offers.
Lisa and her hubby spent must of their time traveling to watch their sons play.
You can find Lisa McCaffrey on Facebook here.