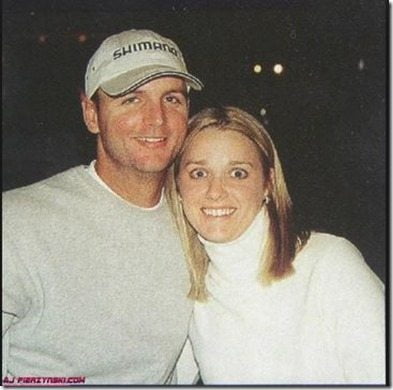 Meet Lisa Pierzynski, she is the wife of 37-year-old MLB vet A.J Pierzynski. Her hubby, a catcher for the St. Louis Cardinals debuted  in 1998 with the the Minnesota Twins, since then he has also played for the SF Giants, Chicago White Sox, Texas Rangers, Boston Red Sox.
Game 3, of the NLCS will be hosted by the Giants vs. the Cardinals and some memories might be coming back to A.J and his one-season with them. According to a SF Gate report, A.J. said "I'm expecting a real big ovation." We know, he's just trying to be a little funny, specially his wife, who after his mom must the only one who can shake off his rants pretty well.
Pretty blonde, Lisa attended Florida State, and met her hubby through mutual friends while attending school. She was a roommate of Ken "Hawk" Harrelson's daughter. A.J grew up in Florida alongside Harrelson's kids so it was one of those meant-to-be type things. Her then future hubby had always considered Harrelson, and still does, a very important figure in his life. That's why when the Red Sox re-signed Mike Napoli, A.J. Pierzynski was out of luck. The No. 12, which Pierzynski had worn his last nine seasons in the league, was taken. And so, he took "his father's number." That being the No. 40, donned by Harrelson during his brief but memorable tenure with the Red Sox in the late 1960s.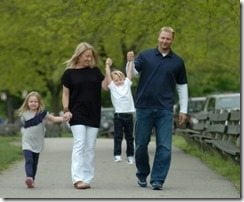 Lisa and A.J are the proud parents of two children, they welcomed their first child, a daughter named Ava in October 2005. Lisa also gave birth to their boy a years later, his name, Austin.
The blonde mom of two likes to keep things private, when little Ava was first born she would attend her hubby's practice and games but it seems the major-league catcher would start on every postseason controversy and found himself at No. 9 on GQ's list of the 10 most hated athletes in all of sports. So, we understand why she would stay out of the public eye. During an interview he said about being under the microscope:
"I'm used to it. It doesn't bother me. But it's tough on Lisa and my mother."
Lisa, who has known A.J. since college, believes it's her husband's two strongest qualities that get him in the most trouble — his intensity and competitiveness.
There is no doubt she is committed to her family, she has been through thick and thin supporting A.J; is not easy job reading something bad about someone you love, so she definitely deserves a medal in our eyes!