Zach Wilson Girlfriend
Nicolette Dellanno is the current pretty girlfriend of Zach Wilson the New York Jets quarterback from Draper, Utah, who previously played college football at BYU and was selected Most Valuable player at the 2018 Famos Idaho Potato Bowl, 2019 Hawaii Bowl, and the 2020 Boca Raton Bowl.
Today, we will tell all about this talented guy, his career stats, parents, siblings, and certainly all we know about Zach Wilson Girlfriend Nicolette Dellanno and ex-girlfriend Abbey Gile.
Nicolette Dellanno
Rumors about Zach Wilson dating pretty Nicolette Dellanno started in July 2022, when they were seen together at a Yankees game, and later in September 2022, when he appeared on her Instagram.
Nicolette Dellanno born in New Jersey, on December 15, 2001, is an influencer who has become popular primarily on TikTok; she was born on December 15, 2001, in Colts Neck Township in New Jersey. Nicolette attended Red Bank Catholic High School.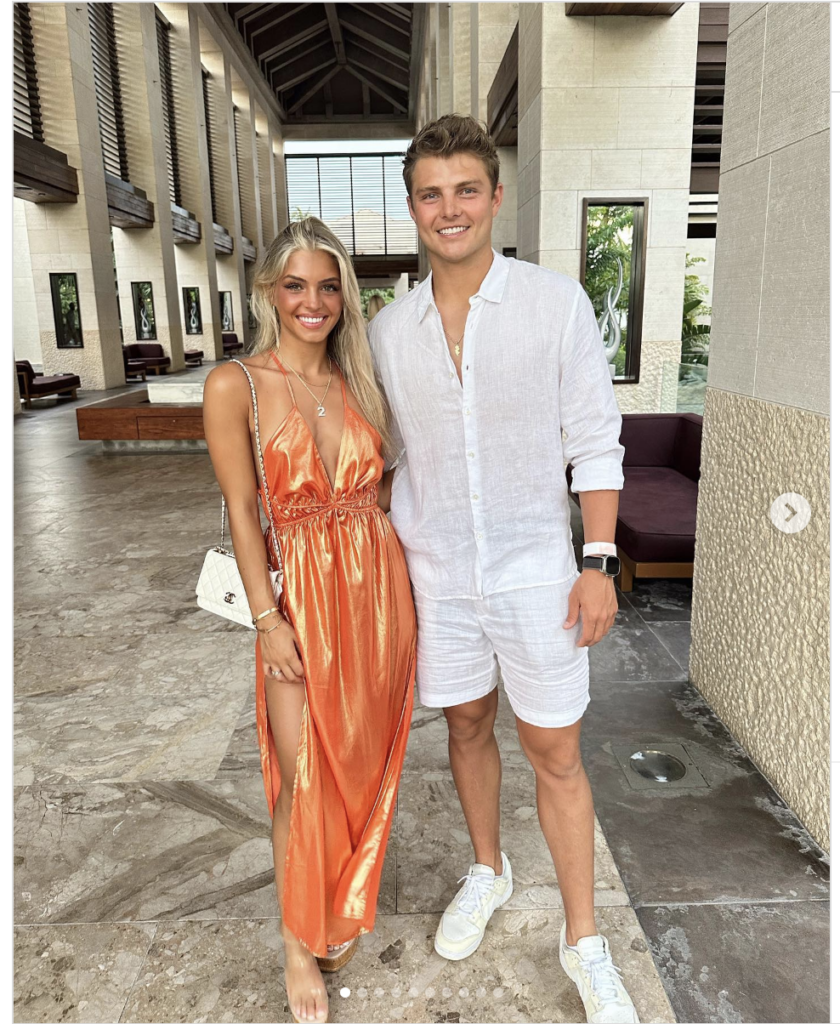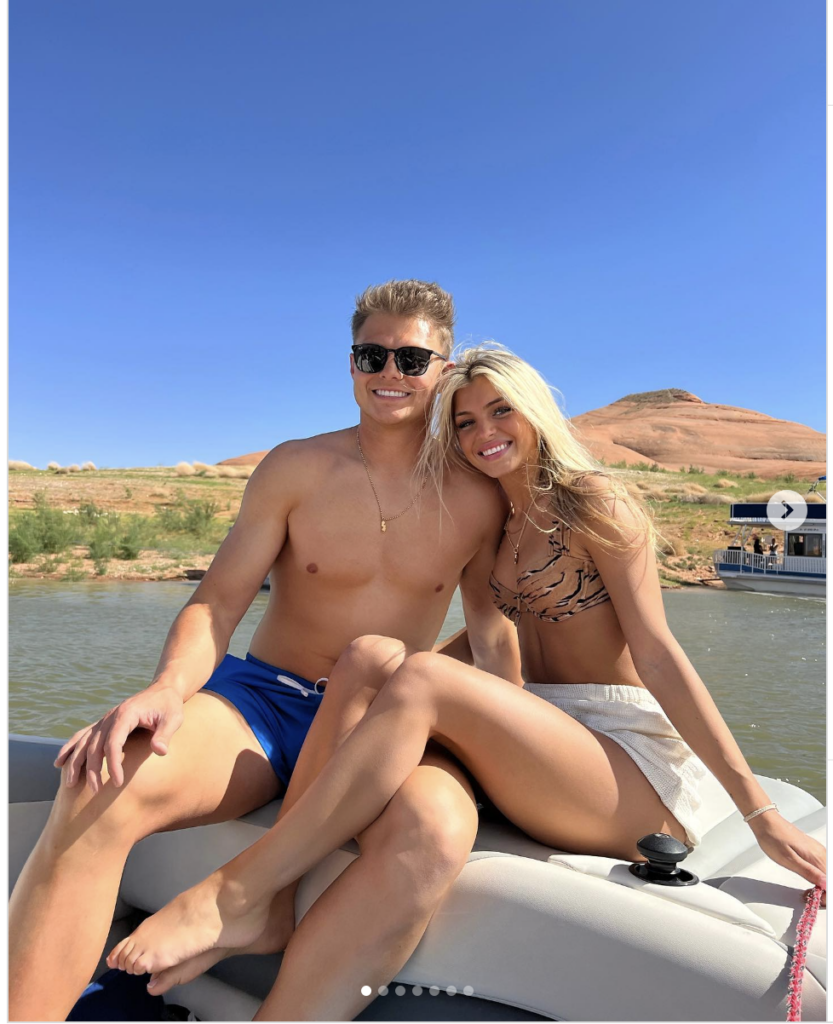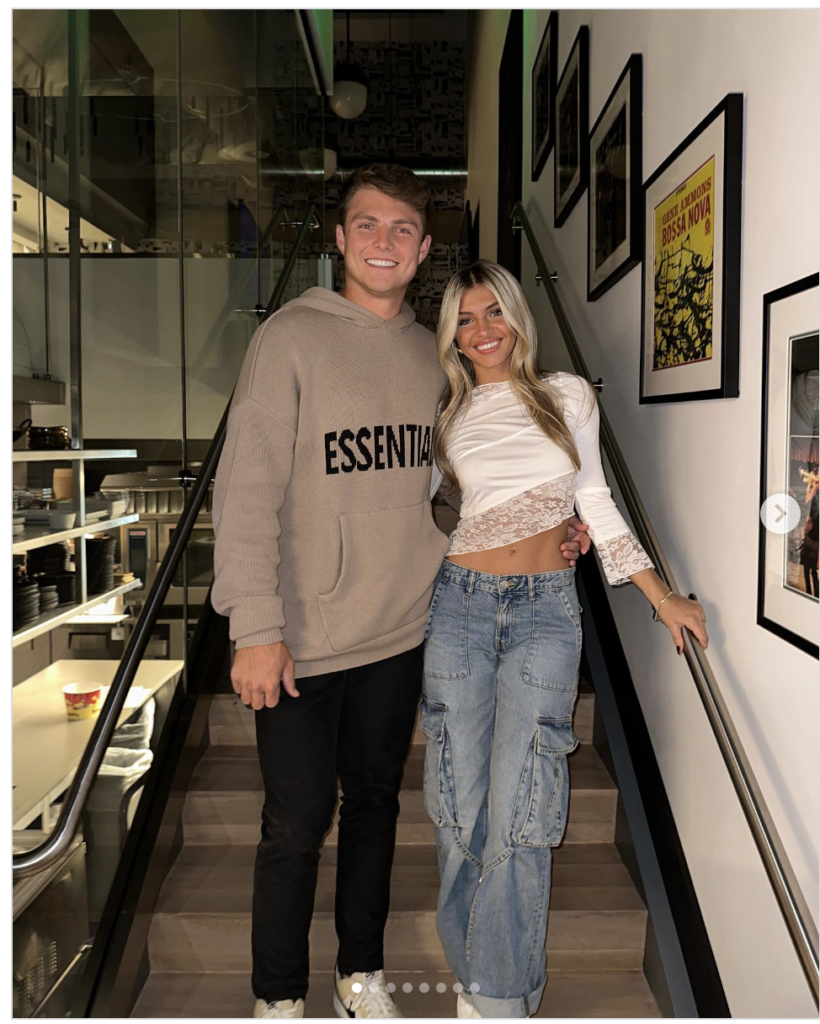 Nicolette aka Nicolette Dell'Anno is one of four children born to Kathy Dell'Anno (Jdeand Robert Dell'Anno, also proud parent to Nicolette's brothers Robert Jr., Christopher, and younger sister Sophia.
Nicolette 2017 Miss Colts Neck Teen, and 3rd runner up at Miss NJ Teen USA, , danced at Dance Mixx Studio and four years at the RBC Dance Company and Dance Department.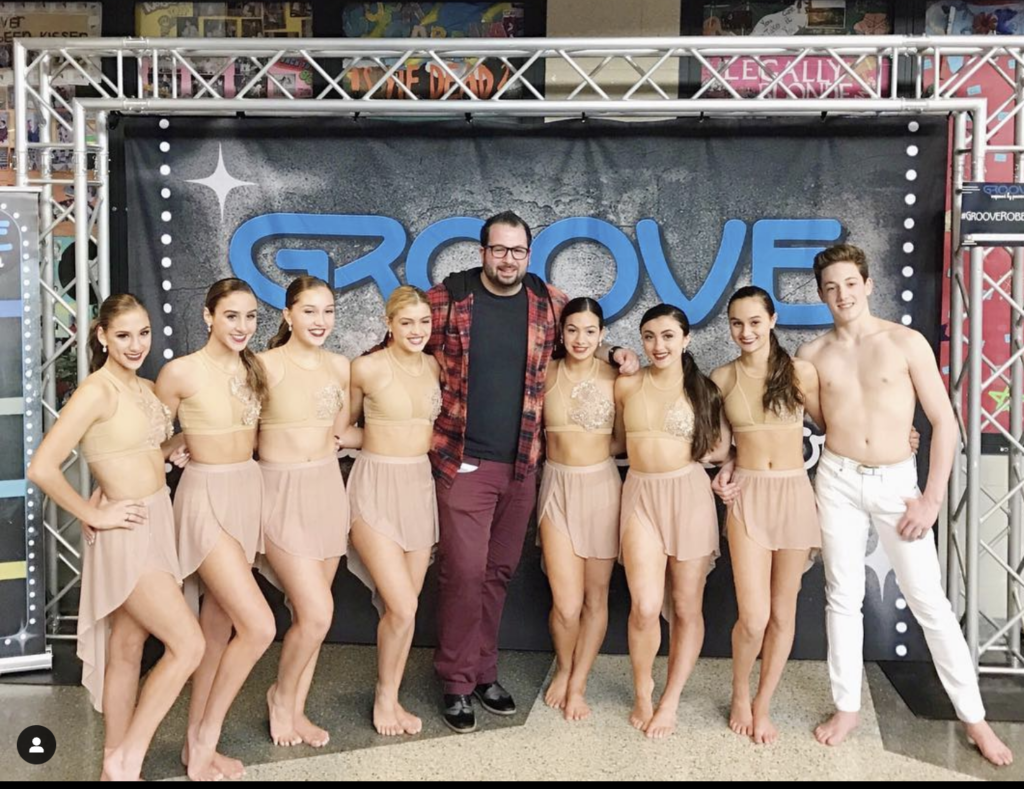 She studied at James Madison University and the Fashion Institute of Technology in New York. You can find Zach Wilson's GF Nicolette Dellanno on Instagram.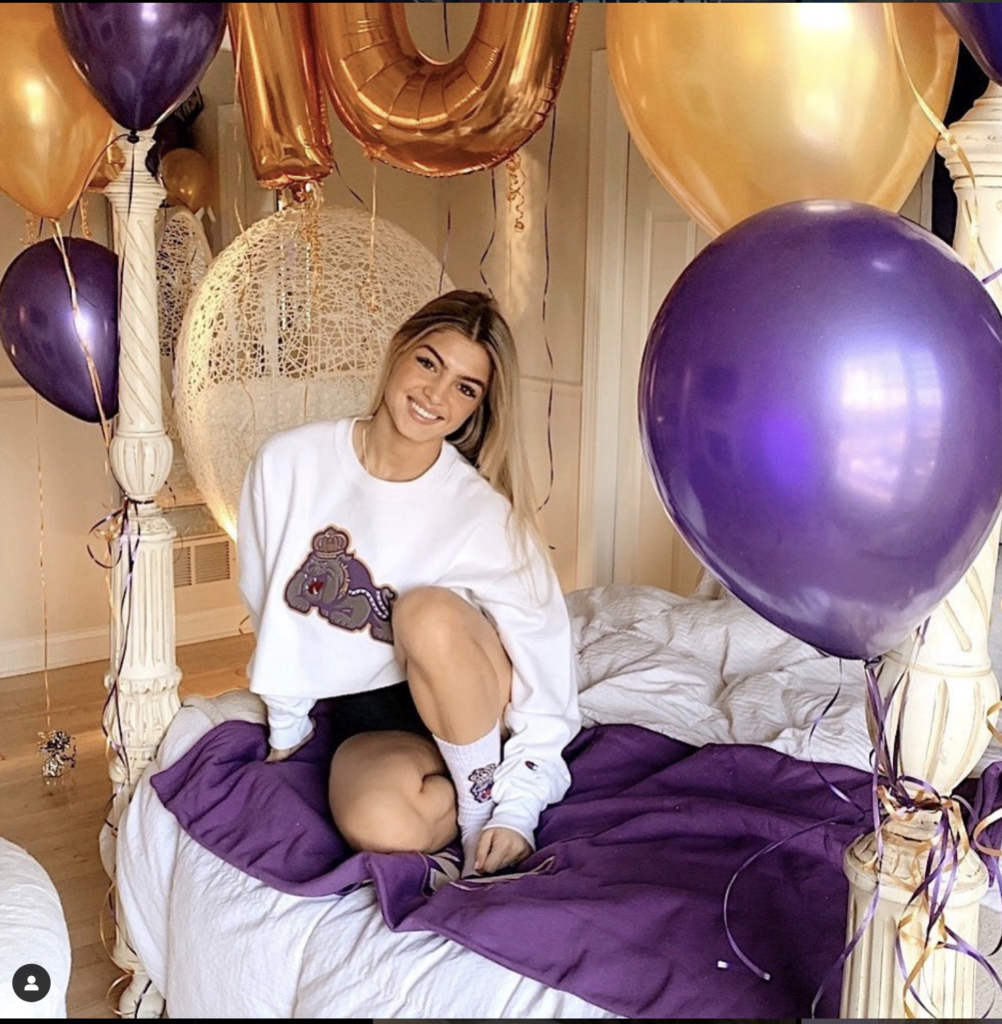 Zach Wilson Family
6'3 Zachary Wilson was born in Utah on August 3, 1999; he is one of six children born to Mike Wilson and his beautiful wife Lisa Wilson (nee. Neeleman).
He has three brothers, all athletes and two sisters. Zach is a home kid, his mother said.
"Zach is just a home kid," Lisa says. He wanted to be home for Sunday dinners, wanted to be home for Tuesday night dinners, when his beloved grandparents have a standing invitation. He wanted his family to be able to see him play.
Therefore Zach and his family were hoping he could attend a college near their home; hopefully the University Of Utah would recruit him, but they didn't.
Utah's head coach Kyle Whittingham said the reason they missed the opportunity to recruit Wilson was due to their prior commitment with Jack Tuttle, who left Utah after one season.
Zach's family owns two beautiful dogs, Koda and Kai, probably Pomskies because they look just as lovely as our fur baby Griffin!
Zach Wilson Parents
Mike and Lisa Wilson, Zach's amazing and supportive parents are without a doubt his most loyal fans, let's check out their stories.
Lisa Wilson
Zach Wilson has one amazing and beautiful mamma, a die-hard University of Utah Fan, who was pretty upset about BYU's last-minute recruitment offer.
"I was mad. They waited until the fourth quarter with one minute left and now they want to sign him?"
When Lisa, Mike, and Zach attended a BYU practice, they met with head coach Kalani Sitake and offensive coordinator Ty Detmer, but Mike said they couldn't help feeling a lack of interest. It wasn't until Detmer was fired that Mike and Lisa Wilson found out that the reason BYU didn't contact Zach before was that Detmer had a commitment with his nephew Zadock Dinkelmann.
They didn't talk to BYU after that and Zach eventually committed to Boise State.
Mrs. Wilson is a personal trainer at the Draper gym Treehouse Athletic Club where she also teaches exercise classes. Lisa graduated from the University of Utah and has been happily married to her college sweetheart Mike Wilson since March 8, 1997.
Mrs. Wilson wad born Lisa Rose Neeleman on August 8, 1972; she is one of seven children born to Gary and Rose Neeleman, ages 86 and 85, respectively, both grew up in Salt Lake City.
Her dad a former football player at South High, saxophonist, and president of the school band, had two options, serve a church mission or accept a football scholarship from the University of Utah; he chose the first option and ended up living for sevens years in Brazil.
He worked as a reporter for Deseret News, KSL and bureau chief for the United Press International in Brazil before returning to Salt Lake; at that time he and Rose had been married for 13 years and had three children; John born in the United States and David, and Pamela born in Sao Paulo, Brazil.
Once in the U.S. Gary Neeleman worked as vice president over UPI bureaus, but when he refused to return to Brazil, UPI told him they would allow him to keep his job in the U.S. as long as he took over their officers in the Nation and some abroad.
Lisa Wilson's dad spent 27 years with UPI, 17 years he worked for the LA Times and the rest with the Washington Post.
Her older brother John born in Salt Lake graduated from Brighton High School; later studied law at the University of Utah and Georgetown University is a partner at Kilpatrick Townsend & Stockton LLP in Seattle along with his wife.
Her second-oldest Brazilian-born brother David Neeleman, whose net worth is estimated at $400 million is the founder of JetBlue Airlines, Azul Brazilian Airlines, WestJet, Morris Air; Mr.Neeleman is responsible for including in-flight entertainment and at-home receptionist. That is one impressive uncle for Zach Wilson.
His other brother Mark is the founder and owner of a home security business and co-founder of the Brazilian-based bamboo business Bamazon; Stephen Neeleman is a former Academic All-American and USU Man of the Year, graduated from the University of Utah.
Stephen Neeleman quit sports after a series of injuries and became a surgeon, specializing in the head of trauma surgery at American Fork Hospital; subsequently, in 2002 founded the Utah-based health care company HealthEquity, along with David Hall and Nuno Battaglia.
Lisa's sister Pamela Neeleman Clark, born in Brazil is a Utah Valley University graduate (degree in hotel management) is the general manager of the Wyndham Hotel in Midway. Julie Neeleman Millard graduated from BYU and is the general manager at Zion Ponderosa Resort in Mt. Carmel, Utah, the land where the resort is located has been owned by her family for generations.
Mike Wilson
Mr. Wilson born Michael Lee Kalani Wilson on August 7, 1974, could describe himself as a Utah Utes fan, but he is first and foremost a caring husband and devoted father.
Mike had a difficult childhood, so when his first child was born he promised his children will have the childhood. he never had.
I always said that I'm going to be a big part of my kids' lives when I'm a parent," he says. "I would spend a lot of time with them."
His dad, who died at the age of 49, was an alcoholic; Mike moved to Hawaii when he was an infant, his momma had to work several jobs to provide for Mike and his two sisters; one of them died of a brain tumor when she was 9.
He excelled in football, and that got the attention of several college recruiters; Mike Wilson went on playing defensive tackle at the University of Utah where he graduated with a degree in sociology.
He planned to return to Hawaii but then Lisa appeared in his life and the rest is history; according to Deseret, Mike who had the opportunity to work in the fire department, chose to work on his own business, it was a challenge alright, but he could spend more time with his family and you can't put a price on that!
Mike's first job as a college student was at a mini-mart owned by Lisa's family; he later bought the mini-mart. Eventually, he had the income to purchase a laundromat and some gas station/convenience stores.
In addition to that, Mike found the time to coach Zach's little league basketball and football teams, he also became his son's quarterback coach.
"I learned everything from him," says Zach. "It was a me-and-my-dad kind of thing. If he didn't know something, he'd research it. We figured it out together rather than hire (a quarterback coach). It was a learning experience for both of us."

Dad pushed me to work hard. If I didn't want to, he made me. That work ethic just wasn't there yet. Now I'm grateful. (But) when I was younger (junior high age) I couldn't play until I went to the gym or lifted weights. I started football at 7. Even then he pushed me. But not in a bad way."
Mike is involved in everything related to Zach's football career, it was with him that BYU's coach Kalani Sitake called to apologize for not offering Zach a scholarship sooner. Mike told Sitake he would talk to Zach about changing his commitment, but the real challenge was talking to Lisa.
"Zach, you can drive home every Sunday night and have dinner with your family."
Yes, that did it for Zach, he would have a good education and the opportunity to play as soon as possible, but the problem was just one, "they all hated BYU."
Zach Wilson Siblings
As noted before, Zach has three brothers and two sisters;
Standing at 6'0 (215 lbs) Josh Wilson, is a linebacker at BYU, he played at Corner Canyon prior to joining the Cougars, he is pursuing a degree in construction management.
Brother Isaac 5'11 a senior at Corner Canyon High School plays in both football and basketball teams.
6'2 (195lbs) Micah Wilson a linebacker at Corner Canyon high who on December 19, 2020, received a football scholarship from BYU, it wouldn't be a surprise Isaac is getting his scholarship offer pretty soon!
Zach's sister Whitney Kiana studied at Pioneer High School of the Performing Arts; she is a dance teacher at Elite Dance Studio, a dance instructor at Danceology, and also works at the Odyssey Dance Theatre.
The younger sister is Sophie, 11, a talented competitive dancer and cheerleader, at Dynasty Athletics. Sophie and her teammates competed at Jamz Cheer and Dance in Las Vegas.
Zach Wilson High School Stats
Prior to BYU Zach Wilson played football at Corney Canyon High School in Draper under coach Eric Kjar.
Zach was a runner-up for Utah's Mr. Football Award; he threw for 2,708 yards and 20 touchdowns to go along with 539 rushing yards his junior year and passed 2,986 yards and 24 touchdowns; ran for 752 yards on eight scores his senior year.
In addition to BYU, Zach received scholarship offers from Weber State, Colorado State, Rice University, University of Nevada, Iowa, Oregon State, Utah State, Boise State, California, Oregon State, Hawaii, Fresno State, and Syracuse.
Zach Wilson BYU
Zach played for nine games his freshman year at BYU, started in seven; his first game as a starting quarterback was against Hawaii, becoming the youngest QB to start a game for BYU.
He threw for 1,578 yards and 12 touchdowns, his freshman year.
In 2019, Zach started in nine games; passed 2, 382 yards, completed 199 of 319 passes,11 touchdowns, and nine interceptions.
BYU Athletes in the NFL
Several great athletes have attended BYU, starting from NFL head coach Andy Reid, the leading man with the Kansas City Chiefs, that as you all know is married to his pretty wife Tammy Reid.
Other big names include linebacker Kyle Van Noy, the two-time NFL champion with the New England Patriots who is currently playing with the Miami Dolphins; he is living on cloud nine with his pretty wife Marissa, read about Kyle Van Noy's Wife Marissa Van Noy.
6'0 running back Jamaal Williams, currently playing for the Green Bay Packers; so far we haven't found he has a girlfriend or wife whatsoever; Jamal Williams' mother Nicolle Williams is his number one girl.
NFL quarterback Taysom Hill, currently playing for the New Orleans Saints also graduated from BYU, as did former NFL linebacker David Nixon; brother of Taysom Hill's wife is Emily Nixon.
Zach Wilson NFL
On April 29, 2021, the Jets drafted Zach Wilson with the 2nd overall selection in the first round of the 2021 NFL draft.
On July 29, 2021, Wilson secured a four-year contract worth $35.15 million, featuring a $22.9 million signing bonus and a fifth-year option.
September 12, 2021, In his first game against the Carolina Panthers, despite an initial interception, he managed to accrue 258 passing yards and a pair of touchdowns, even scoring a rushing 2-point conversion. However, the team lost 19-14.
During Week 7's match against the Patriots, Wilson suffered a knee injury that benched him for the rest of the game. His replacement was Mike White, but the team lost 54-13.
Following this defeat, it was revealed that Wilson had sprained his right knee's posterior cruciate ligament, causing him to miss the next four games.
Wilson made his return in Week 12, leading his team to their first road victory over the Houston Texans, where he also scored his first rushing touchdown.
Despite winning against the Jacksonville Jaguars in Week 16, Wilson lost four out of his last five games. He improved his turnover differential by avoiding any interceptions in these games.
Wilson's rookie season concluded with 2,334 passing yards, nine passing touchdowns, 11 interceptions, and a 3–10 record.
Wilson was sidelined for the first three games of 2022 due to a bone bruise and meniscus tear he sustained during the preseason opener against the Philadelphia Eagles.
In Week 4, he made his season debut against the Pittsburgh Steelers. Despite two interceptions, he managed a 2-yard receiving touchdown and inspired a fourth-quarter comeback to win 24-20.
The Jets enjoyed a four-game winning streak, though Wilson didn't throw a touchdown pass in three of these games. This streak was broken with a 22-17 loss to the Patriots, where Wilson achieved a career-high 355 passing yards and two touchdowns, but also three interceptions.
December 1, 2022, Following a game against the Patriots where he completed only 9 of 22 passes, resulting in a 10-3 loss, Wilson was demoted to third-string backup behind Mike White and Joe Flacco.
After an injury to White ahead of Week 15, Wilson was promoted to the second option and started the next two games. However, after underperforming during Week 16, he was replaced by Chris Streveler and demoted back to third-string.
April 26, 2023, the Jets signed Aaron Rodgers, Wilson was named Rodgers' backup.
September 11, 2023, Rodgers sustained a season-ending injury during the Week 1 Monday Night Football game against the Buffalo Bills, Wilson stepped in and led the team to a 22-16 victory.
Zach Wilson Contract
On July 29, 2021, Zach Wilson signed a four-year, $35.1 million contract with the New York Jets. The deal included a $22.92 million signing bonus and an annual salary of $8.878 million.
Zach Wilson Ex Girlfriend
Abbey Gile
Pretty Abigail Abbey Gile a die-hard Beyonce fan started dating the BYU quarterback when he was in high school. It seems like Abbey Gile is also from Utah and one of the children of the University of Utah graduate Nicholle Gile (nee. Dimick) and Dennis P. Gile, University of Phoenix graduate and president at Elite Custom Exteriors.
Abbey Gile who turned 21 on June 1st, has one brother named Parker and a beautiful sister named Kelsey, 25.
Her brother Parker, graduated in 2016 from Brighton High, where he also played basketball.
Abbey Gile is a dancer; she and her dance team won first place at the Utah State Class 5A in February 2019. She graduated from Brighton High School and was a member of the Accadians Drill Team.
In July 2022, things between Zach and Abby were over, but not before she accused him of sleeping with his mother's best friends. Abbey has since moved on; according to reports, she is dating Zach's former college teammate Dax Milne, who is currently a wide receiver for the Washington Commanders.