Michael Watts
Michael Watts is the father of Shelley Watts, one of just three Australian boxers in Rio and the only woman to wrap the hands in Brazil.
Women's boxing made its debut in London to high praise and clearly outshone the men's event for sheer entertainment, driven largely by Ireland's golden girl Katie Taylor. Now Australia has a legitimate medal hope in Michael Watts's daughter.
Michael's daughter was the first Australian to win a gold medal in boxing at the Commonwealth Games. Shelley Watts is the first Australian boxer chosen for the Rio Olympics.
Six years ago Michael's daughter was doing a double degree in law and exercise science at university in Lismore and she was tackled badly while playing soccer. She ended up having a knee reconstruction. She was then advised by  had a friend who was boxing at the time, that she should try it just to get her fitness up. Shelley went to a local boxing gym — Arthur Maloney's Glove Club — without any aspirations to compete. Arthur kept saying to me 'you've got some talent, you should jump in the ring.'' She said no for about four or five months but eventually she gave it a go.
To make the Olympic team, Shelley Watts had to reach the final in China and that meant winning three bouts. Her first fight was against Chinese Taipei (Huang Hsiao-wen) which she won by unanimous decision.
The second was against a fighter from Tajikistan (Mavzuna Chorieva) who won bronze at the London Olympics. She was down 2-1 on the judges' cards going into the last round but had a massive finish and ended up getting a unanimous decision.
The third fight was against a Thai (Tassamalee Thongjan) who was very tricky and hard to hit but she was able to win a split decision.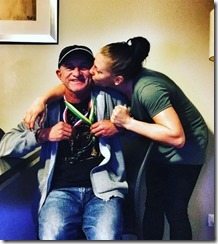 Shelley and her father are both big South Sydney Rabbitohs fans. Michael Watts is Shelley's number one fan. Following her triumph at the Commonwealth Games, he was so excited that he forgot about the time and ran outside into the street shouting "Yes, Yes!!" It was three in the morning.
Michael Watts has been quoted saying:
"I'm really proud of Shelley and what she's done over the last four or five years,"
"She's become the face of a physical contact sport. She loves what she does and she does it in a professional way."
Last December Michael Watts, was the victim of a coward punch in a totally unprovoked attack by an intoxicated man in his hometown of Laurieton –it left him unconscious. Michael Watts was taken by ambulance to Port Macquarie Base Hospital. He underwent surgery six days after the attack to repair fractures to his face.
The scary episode made Watts not just an ambassador for women's boxing and the amateur game in general but against violence outside the ring. Gold in Rio would mean everything, particularly to her father, whose support for her has remained undiluted despite the incident.
Check out Shelley Watts on Instagram here.