Meet Nina Lancaster
Nina Lancaster is the entrepreneur wife of 45-year-old Rugby Coach Stuart Lancaster. Her husband is the current Head Coach of the English national rugby union team.
Stuart Lancaster sure has had a busy year, for those not in the know the Rugby World Cup is on UK soil this year, and is set to take place this Friday.
According to his ESPN profile, Lancaster was appointed as the English head coach, following a successful Six Nations campaign in 2012. A flanker and captain in his playing days at Leeds from 1992 to 2000, he served as academy manager from its inauguration in 2001 until 2005 before a brief spell as director of rugby during which he steered them back into the top flight. He joined the RFU in 2007 before taking charge of the Saxons the following year.
He steered the Saxons to Churchill Cup glory in 2008, 2010 and 2011.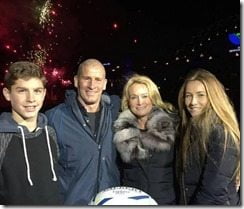 Nina runs Busy Women Fitness which provides bootcamp and fitness classes across Leeds. She previously ran a ladies circuits session at David Lloyd in Leeds. With her website, Nina Lancaster expects "to provide support to the thousands of women out there who struggle to exercise, are not sure what to do to lose weight, lose fat, or even, if you're one of the lucky ones, put on weight!"
In fact, Nina is an experienced instructor who has been teaching in the Leeds health clubs for the past 15 years, so you know you are in good hands.
She was the first instructor to teach a class at The Village Hotel and Leisure Club in 1995. She is also a Physical Education teacher and was Head of P.E. at a school in Pontefract for 13 years. She holds a degree in Sports Science and a Level 3 Personal Trainer qualification.
Nina Lancaster is also the mother of the couple's two children: 15-year-old daughter Sophie and 14-year-old son, Dan.
Find Nina Lancaster on Facebook here.