Meet Chloe Madeley
Chloe Madeley is the girlfriend of 30-year-old English rugby star, James Andrew Welbon Haskell, better known as James Haskell. Chloe's vet man currently plays flanker for the London Wasps and is also the captain of the team.
According to his player profile, Windsor-born James, originally a Wasps player, spent two seasons with Stade Français before being released by the French Top 14 club in June 2011.
He played for Ricoh Black Rams in Japan after the 2011 Rugby World Cup and then secured a Super Rugby contract with Otago Highlanders.
He had been man of the match when England beat Scotland 22-16 at Twickenham in March 2011, was his country's top tackler with 57 in that Championship and scored his fourth Test try against Wales at Twickenham the following August. He has won 60 senior caps, 23 of them consecutively.
Girlfriend Chloe Madeley must be super excited for her man who'll be soon doing what he does best in the upcoming Rugby World Cup 2015. The pair have been dating for the past 10-months and they have lots in common!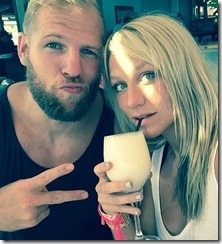 Chloe Madeley is a TV host, model, personal trainer and nutritionist. The 28-year-old who has a rocking body, recently talked about how she met her rugby man, saying she had no idea who he was when he began flirting through the internet!
Chloe Madeley is the daughter of British TV presenter Richard Madeley and Judy Finnigan –also a TV presenter, author and columnist. She was born Chloe Susannah Madeley on July 13, 1987 in Manchester, England.
Chloe has one brother Jack, and two older twin half-brothers: Dan and Tom Henshaw from her mother's first marriage.
The blonde, blue eyed, gal runs her own website called Fitness Fondue. According tot her site, she is a free lance journalist and qualified fitness professional who became a fanatic after she transformed her body through weight lifting. Since then, she has made it her mission to inform and support those wanting to improve their physique.
Her aim is to inform, inspire, motivate and support everyone and anyone looking to achieve their fitness goals.
Before she got the fitness bug –which was after dating a former personal trainer who wanted her to look like Britney Spears –Chloe Madeley used to present Big Brother's Big Mouth with her brother Jack; and also did some reporting work for her parents show. She also used to be a contestant on Dancing on Ice. 
Since then, she's mostly known for her modeling shoots where she is seen looking smoking hot!
In 2009, at age 22, Chloe Madeley was arrested and charged with drunk driving; that same year, she sparked controversy after a photo of her smoking emerged online.
You can find her on Instagram here.