Andrea Brazilian Miss
Meet Andrea Brazilian Miss also known as Andreia and Brazilian Miss; she in the insanely hot girlfriend of Dutch MLB player Ozzie Albies, the  5'8″ second baseman for the Atlanta Braves. Andrea's stud was born in Willemstad, Curacao on January 7, 1997.
Ozzie is the eldest of three children born to Judari and Osgarry, also proud parents of Zhhihir and Jeanalyn. Mr. Albies was 40 in 2013 when he died from a heart attack. Ozzie was selected by the Atlanta Braves that same year after he was discovered in Curacao.
He started his career with the minor league team, the Gulf Coast Braves; he eventually got to play with the Atlanta Braves in August 2017.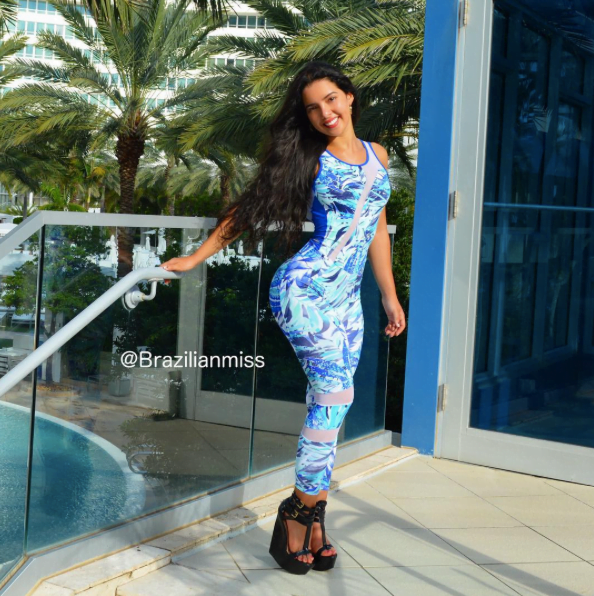 Ozzie and his pretty girlfriend Andreia made quite an entrance at the All-Star Game Red Carpet, it is unknown how they met or when they started dating. What exactly do we know about her? Andrea is probably from Brazil, makes perfect sense considering her Instagram handle is Brazilian Miss, which is also the name of her jumpsuit business.
Andreia is the creative director at Ozzie Albies Merch Store.
"Andreia works alongside Ozzie in the creation of OA merchandise. Andreia was born in Brazil but raised in Atlanta, GA. She speaks Portuguese and English. Andreia likes the color green, and prefers salty food over sweet treats. Her favorite attire is cute cropped t-shirts, and sweatpants. Andreia loves being creative and coming up with new designs for the t-shirts."